July 2023 was a busy month for getting out and about, with Future Food Systems staff, research leads and PhDs presenting FFS project findings and driving our mission to advance smart, sustainable future food systems at conferences, expos and agrifood-related events across Australia and beyond.
We've soaked up new knowledge, gained valuable insights, been excited and inspired. We've discussed the latest science with experts in the field. And we've done plenty of productive networking at events including:
Collaborate Innovate (10-12 July) in Adelaide;
IFT FIRST (16-19 July) in Chicago, USA;
the Protected Cropping Australia Conference (17-20 July) in Brisbane;
foodpro 2023 (23-26 July) in Melbourne;
the AIFST23 Convention (24-25 July) in Melbourne;
the Developing Northern Australia Conference in Darwin (24-26 July); and
our own online FFS Research Showcase (27 July).
Here are a few of the highlights.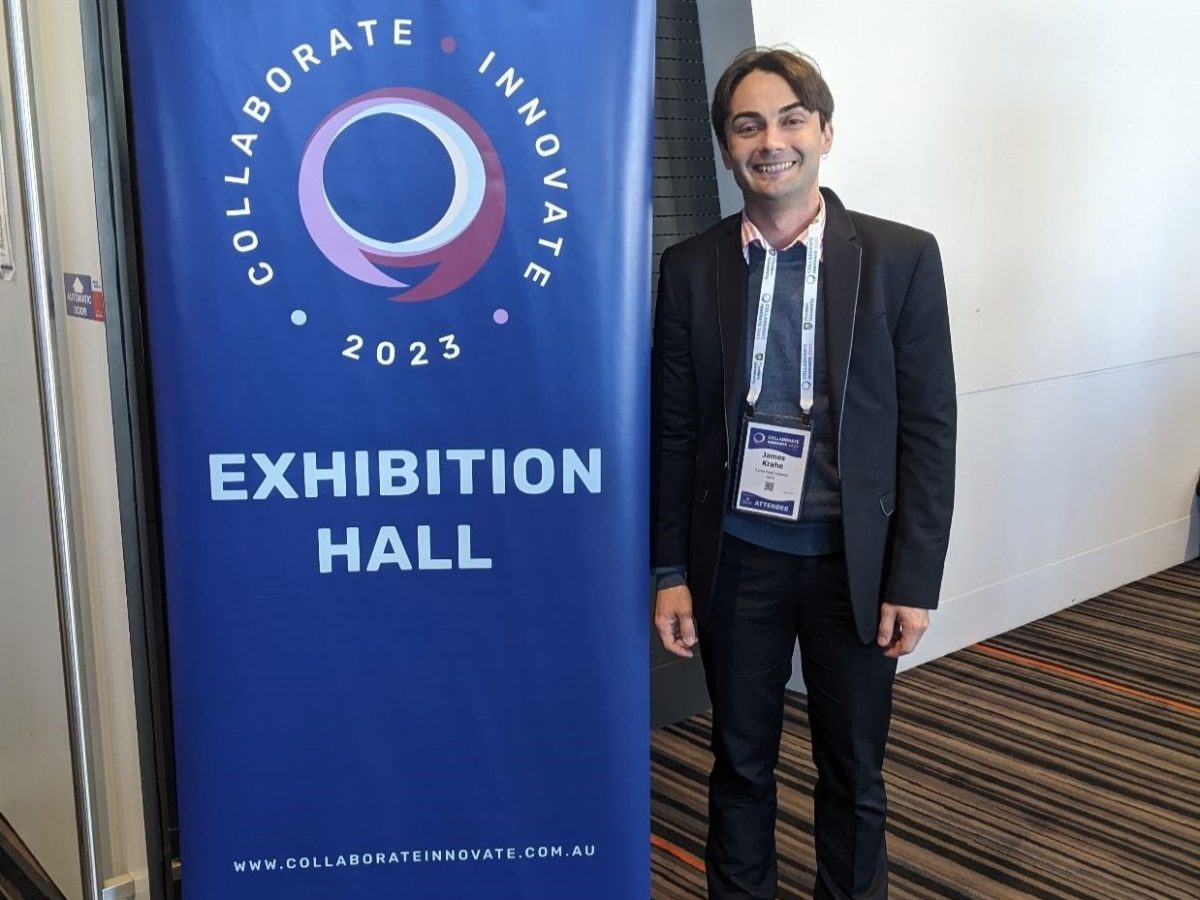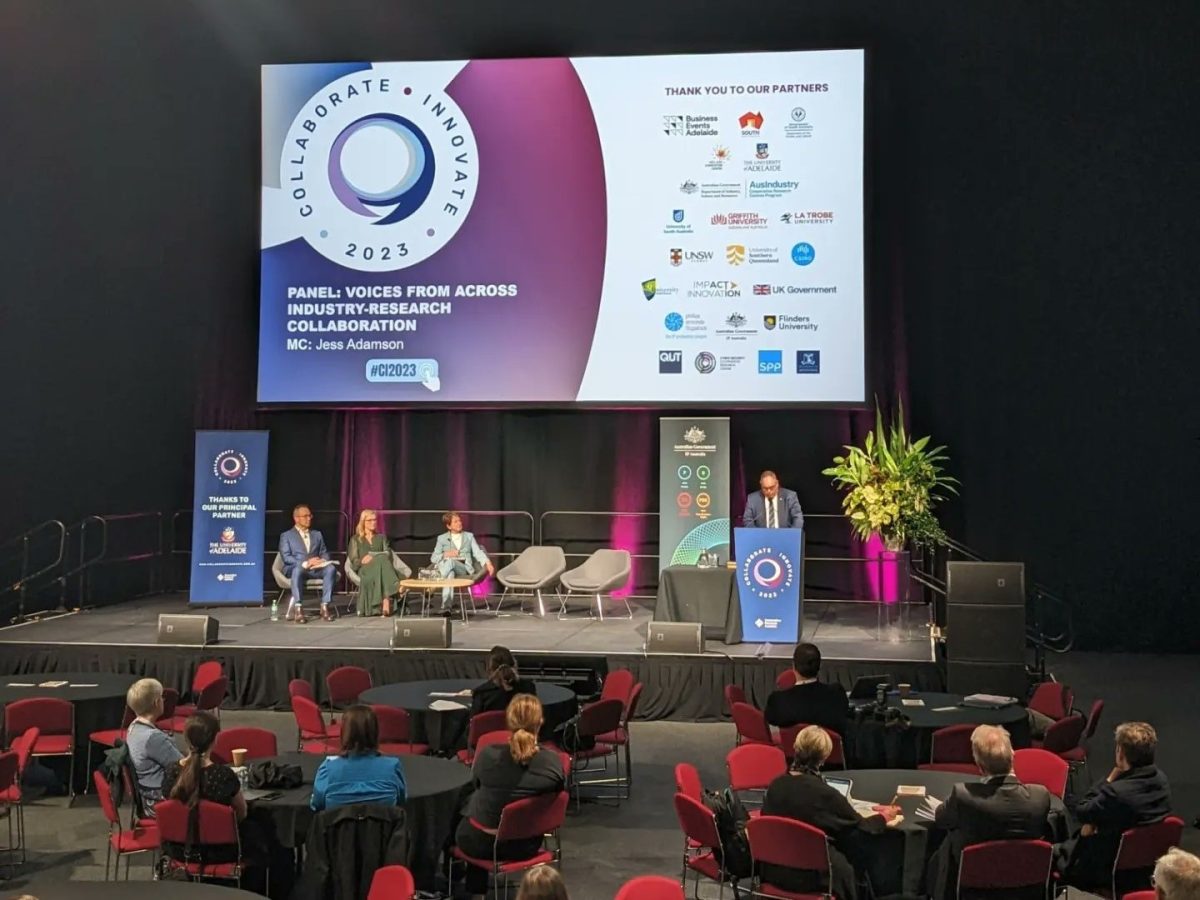 Connecting at Collaborate Innovate
Hosted by Cooperative Research Australia at the Adelaide Convention Centre, Collaborate Innovate 2023 was attended by FFS CEO Dr James Krahe and our Engagement Manager Luke McQuillan. This year's confab explored sub-themes including what makes successful industry-research partnerships, transitions across the innovation system to enable scale-up; and the highly skilled workforce that is critical to transforming our economy in coming years and decades.
"It has been a great couple of days at Collaborate Innovate 2023 in Adelaide, with CRC representatives and keynote speakers sharing insights and key learnings on how research and industry can work together to help Australia tap into its full potential," Dr Krahe posted on Linked In following the event.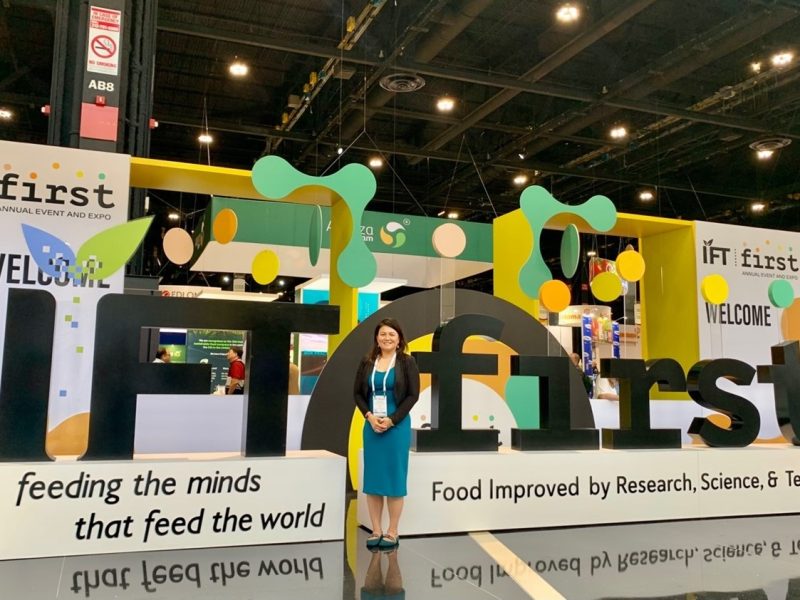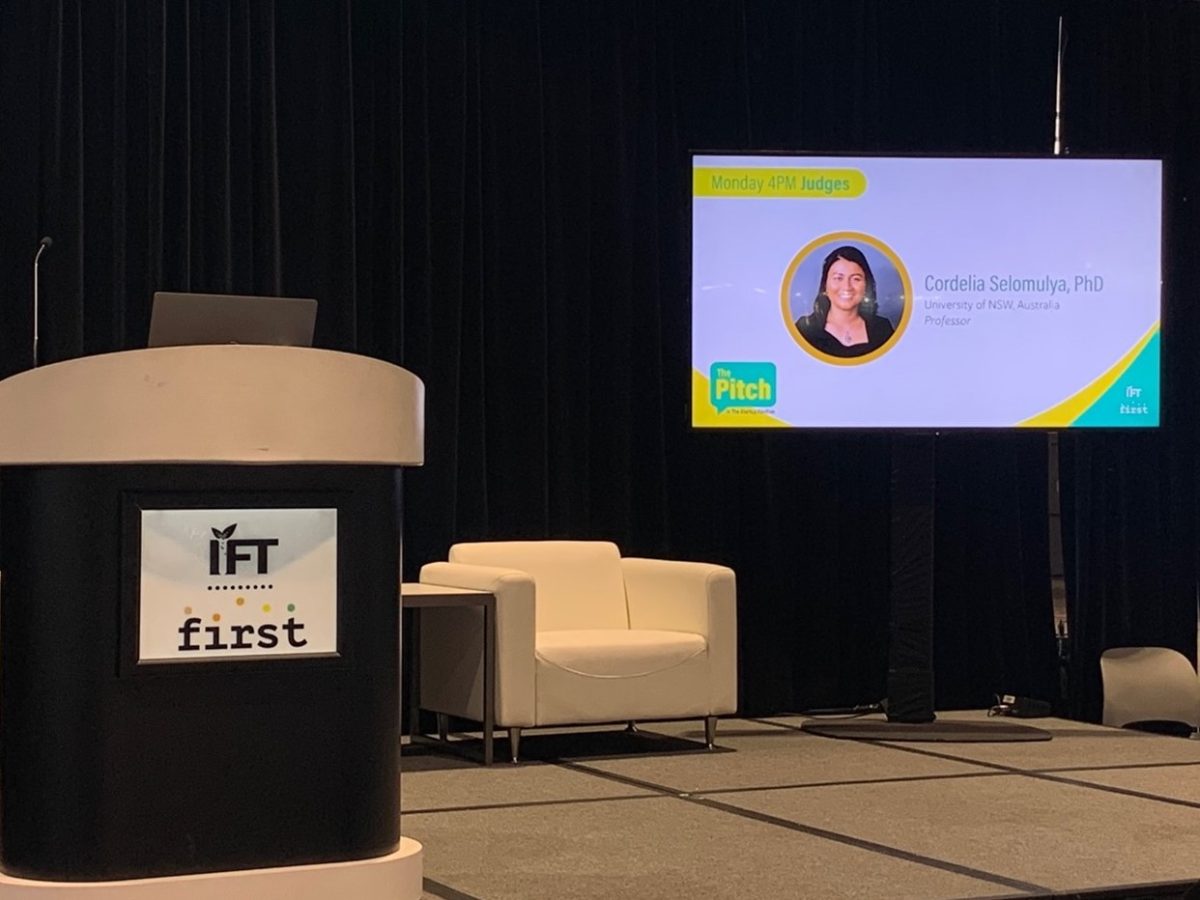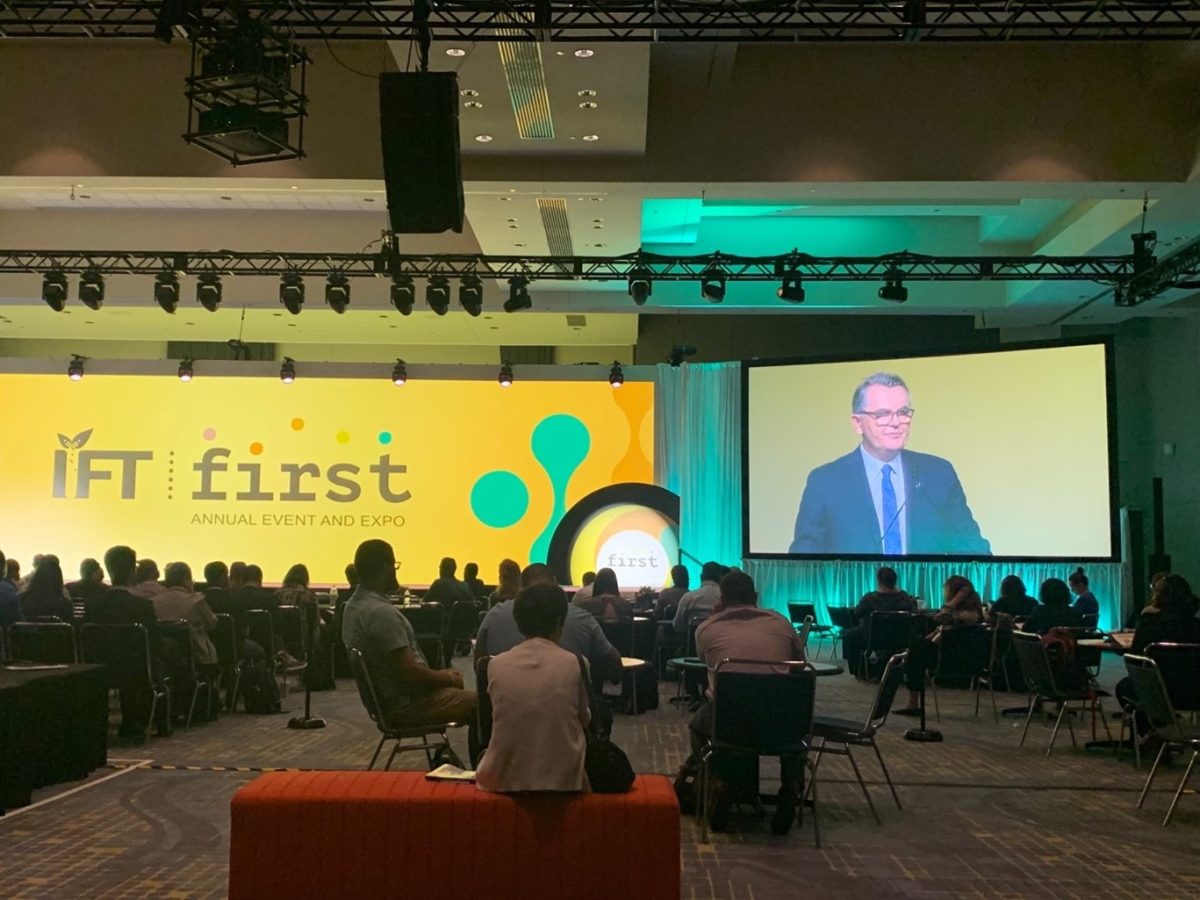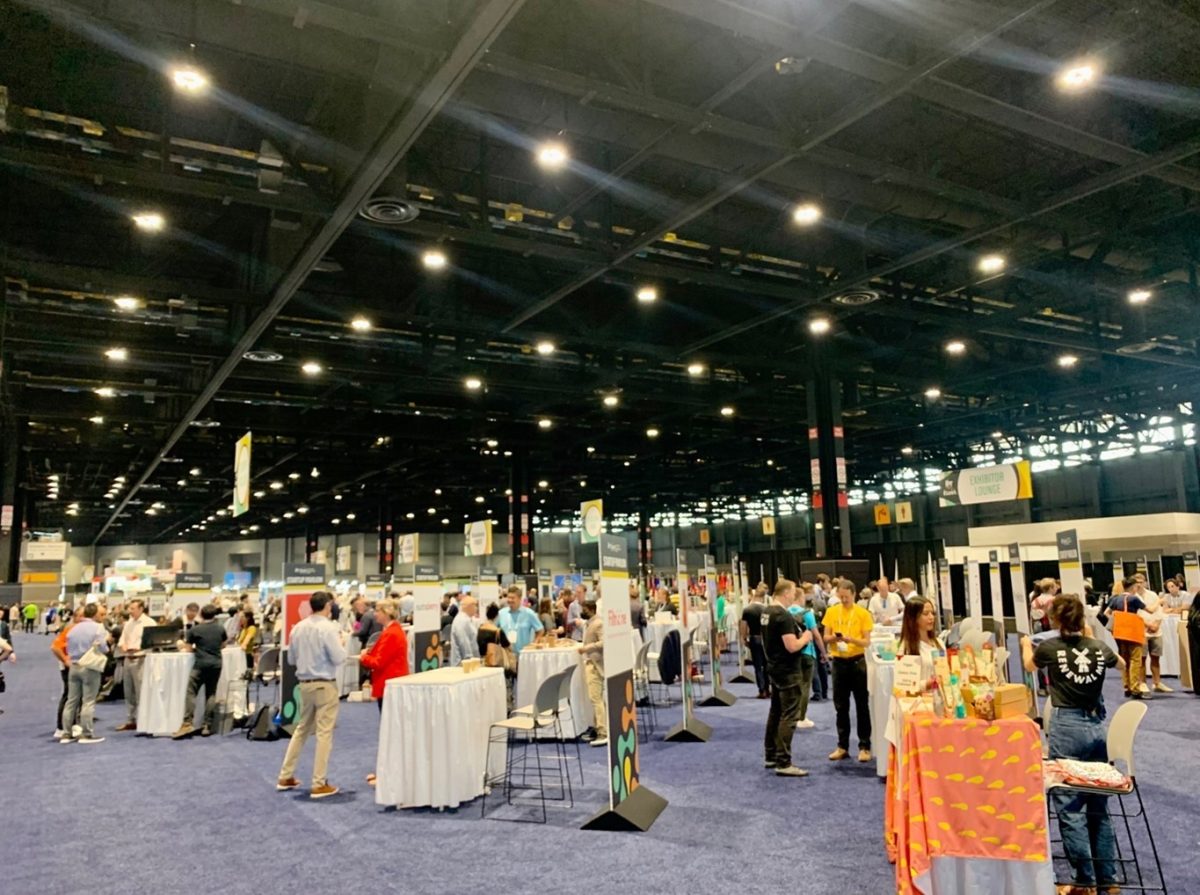 Cutting-edge food-tech at IFT FIRST 23
FFS Research & Commercialisation Director and UNSW School of Chemical Engineering Professor Cordelia Selomulya flew to Chicago, USA, in July for IFT FIRST 23, a global gathering of food technology experts accompanied by a major exhibition. Prof. Cordelia was there as one of the judges in the IFT First Pitch competition at the Startup Pavilion, where more than 80 start-ups exhibited their innovative products.
Sessions covered the food-tech spectrum, from upcycling food waste into value-added products, to solutions along the supply chain for health and sustainability, to the use of technology including generative AI and wearable sensors – set to change the way we design and consume products for health and wellbeing. There was also a consumer insight forum and an onsite Innovation Lab enabling anyone with a few spare minutes to participate in an immersive, interactive experience designed to spark new product development ideas – fast.
"I was impressed by the interactive quality of the technical sessions and presentations, and with the sheer amount of innovation in food and beverage products and technology on the expo floor," Prof. Selomulya said.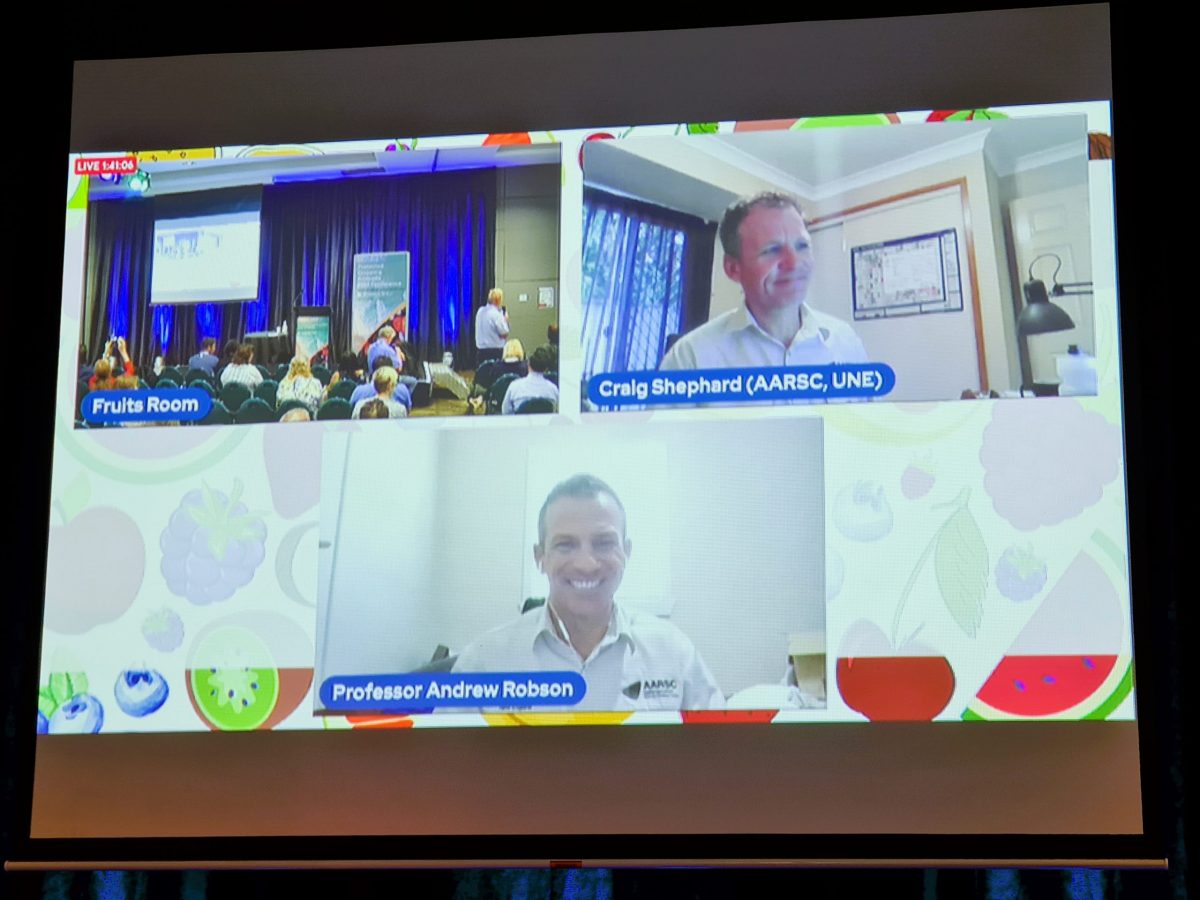 Innovations in protected cropping tech at the PCA Conference
A number of FFS project leads presented their research at this year's Protected Cropping Australia Conference in Brisbane.
Dr Chris Lehnert from Queensland University of Technology's QUT Centre for Robotics talked about his work developing an automated mobile platform capable of navigating the pipe rails and rows of commercial horticulture grower P'Petual Holdings' high-tech glasshouses.
Craig Shephard from University of New England's Applied Agricultural Remote Sensing Centre (AARSC) presented the outstanding outcomes of a PCA-Hort Innovation initiative backed by the FFS to map PC systems nationwide.
Western Sydney University Distinguished Professor David Tissue, National Vegetable Protected Cropping Centre Director and FFS Program 2 lead, also attended, as did Dr Sophie Parks, NSW DPI representative on the FFS-backed 'Blueberry nutrition optimisation' project team with Western Sydney University researchers and FFS PhD Gareeema Pandey;  from FFS government partner NSW DPI; and representatives of FFS industry partners Perfection Fresh, Hort Innovation; Rijk Zwaan; LLEAF Pty Ltd and, of course, Protected Cropping Australia (PCA).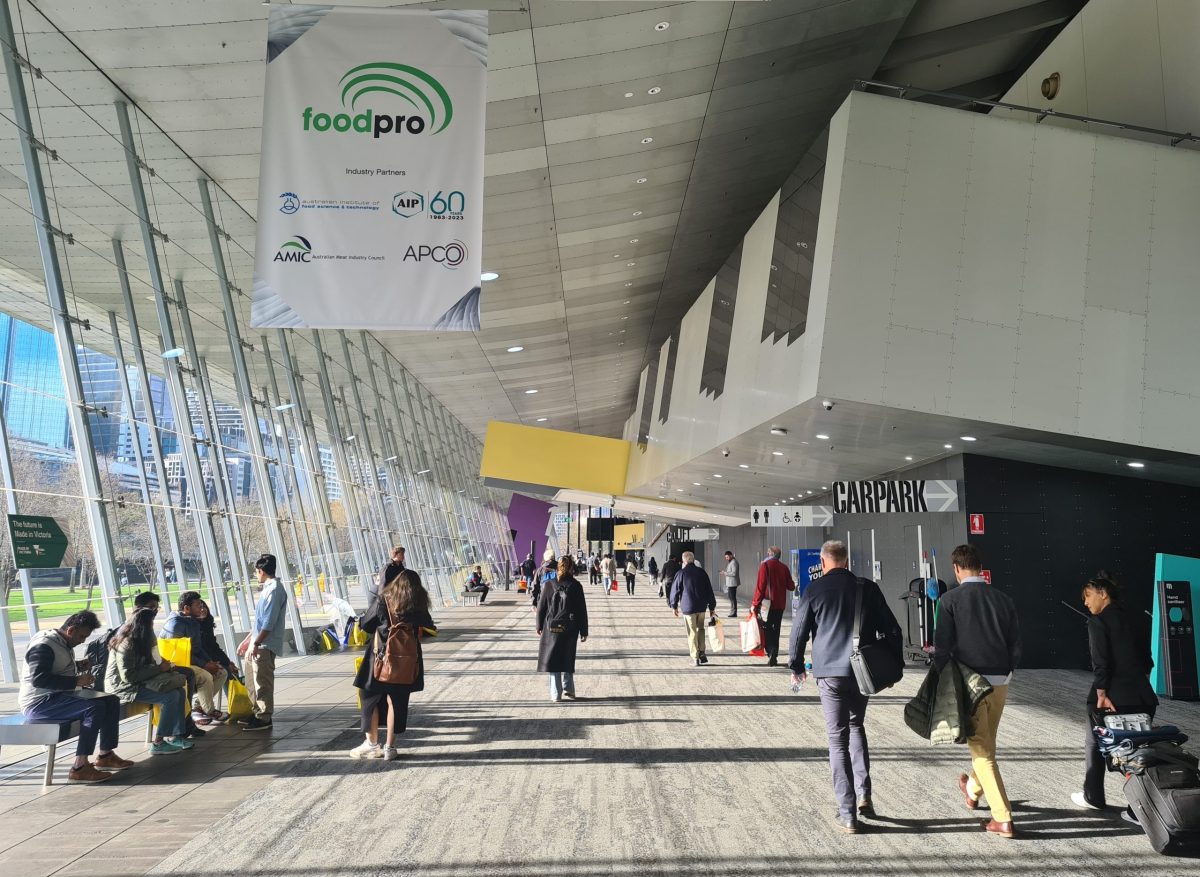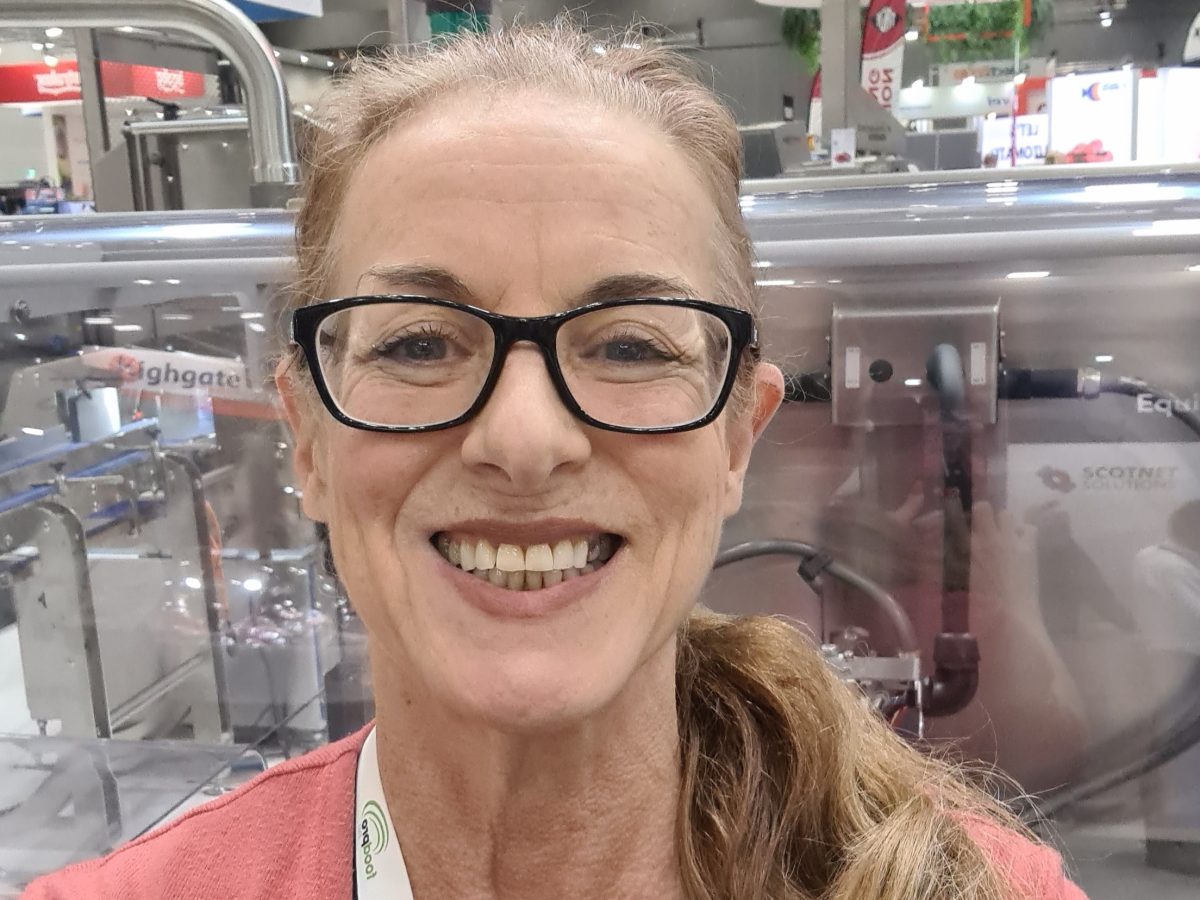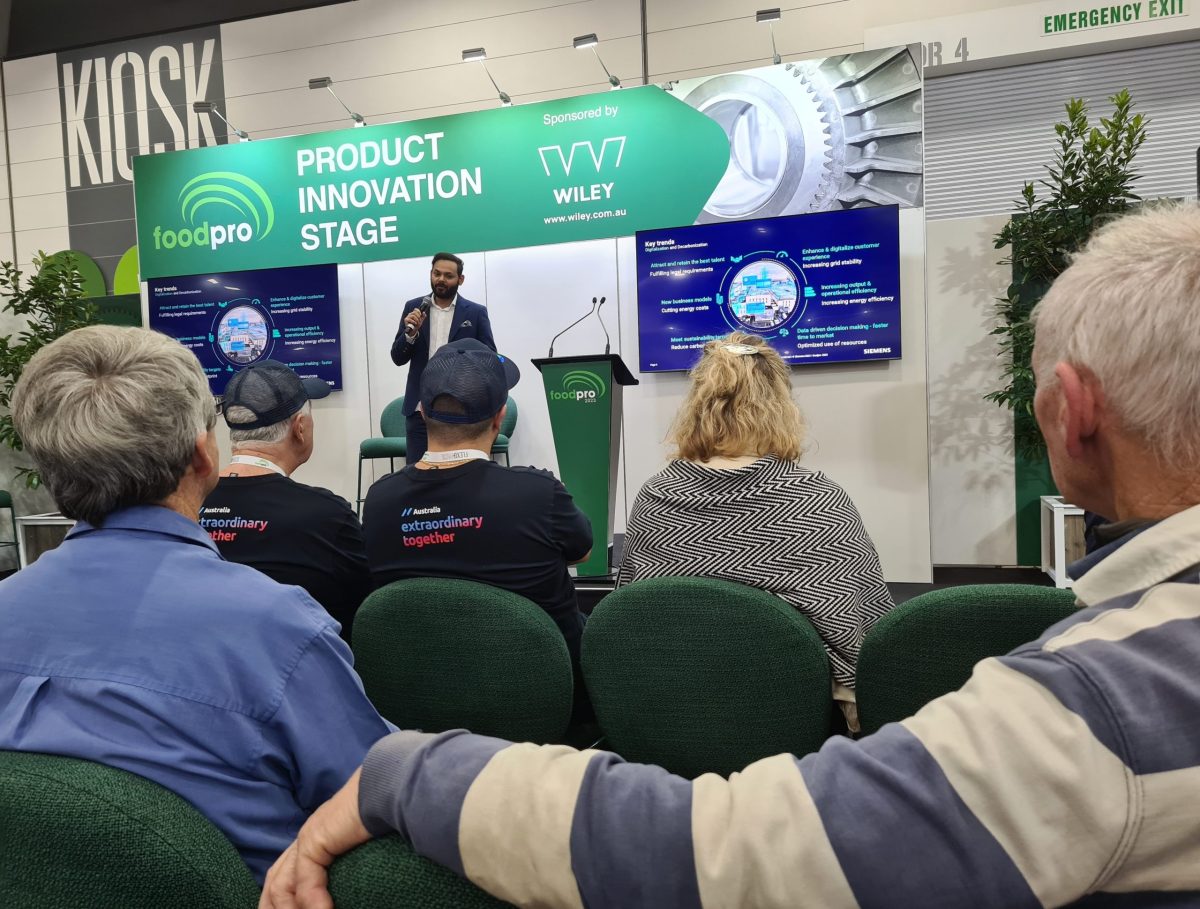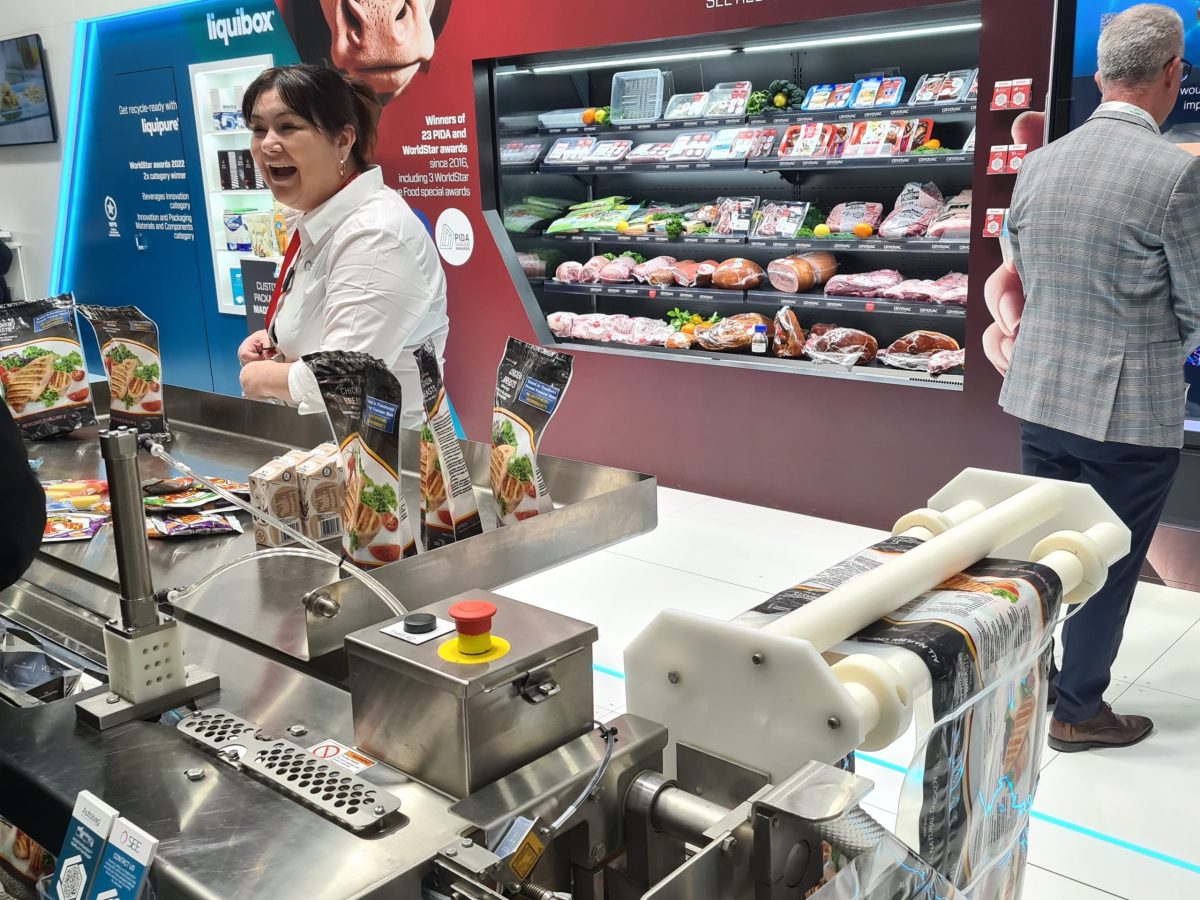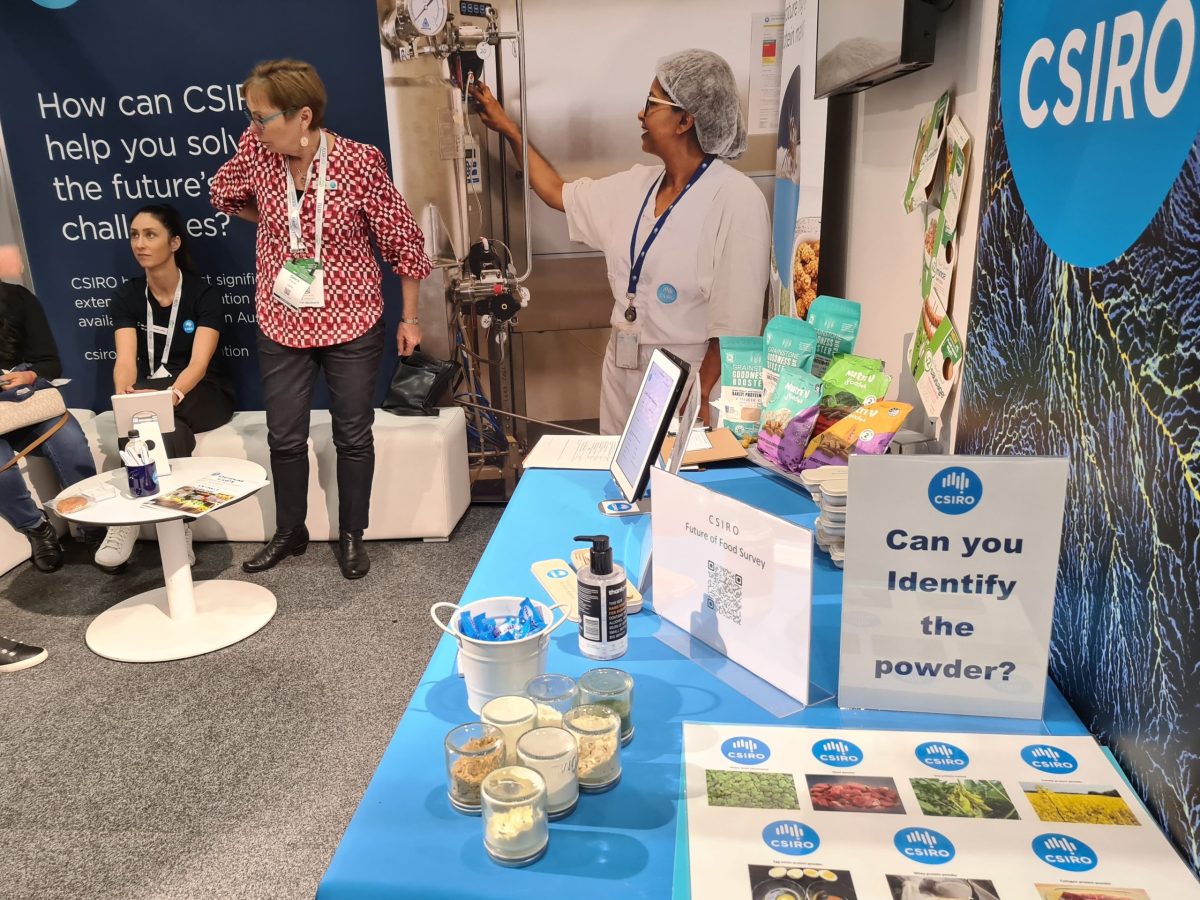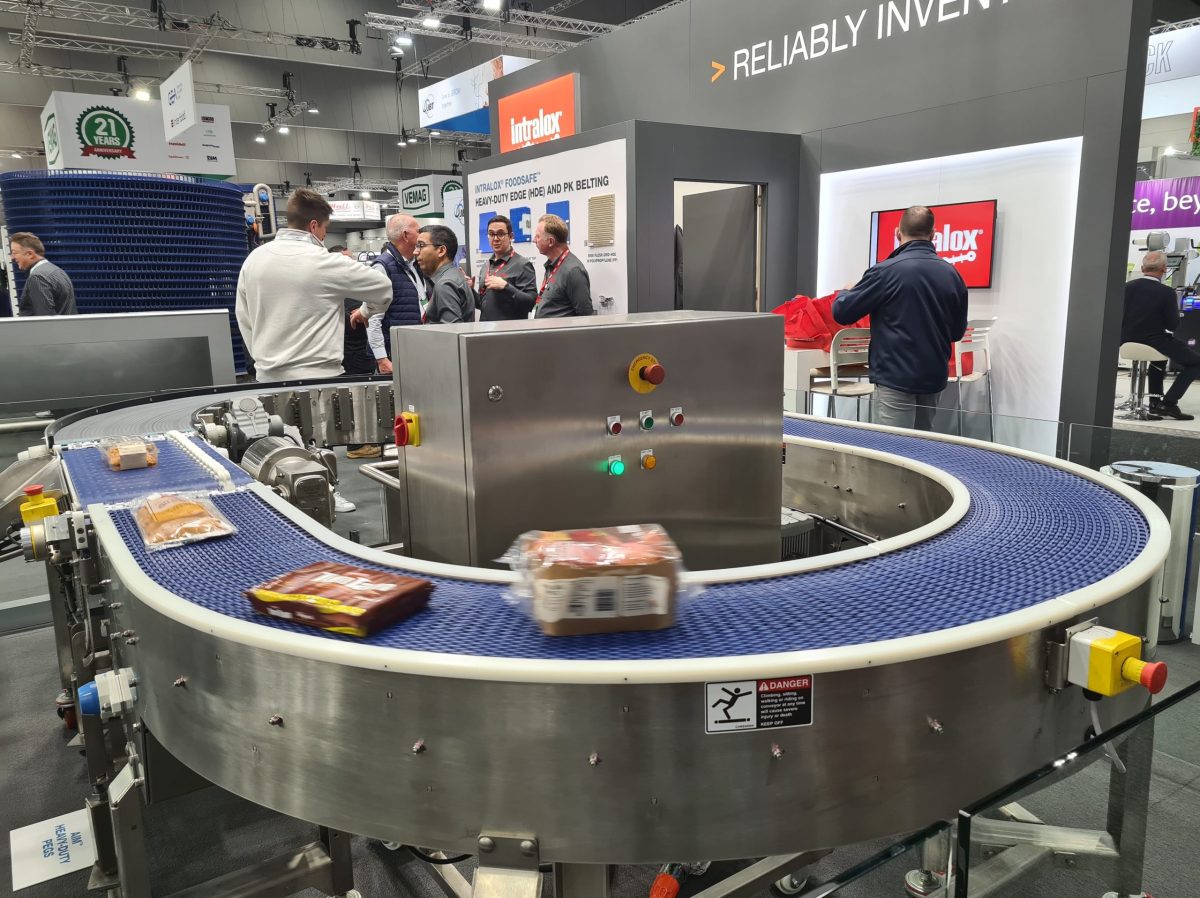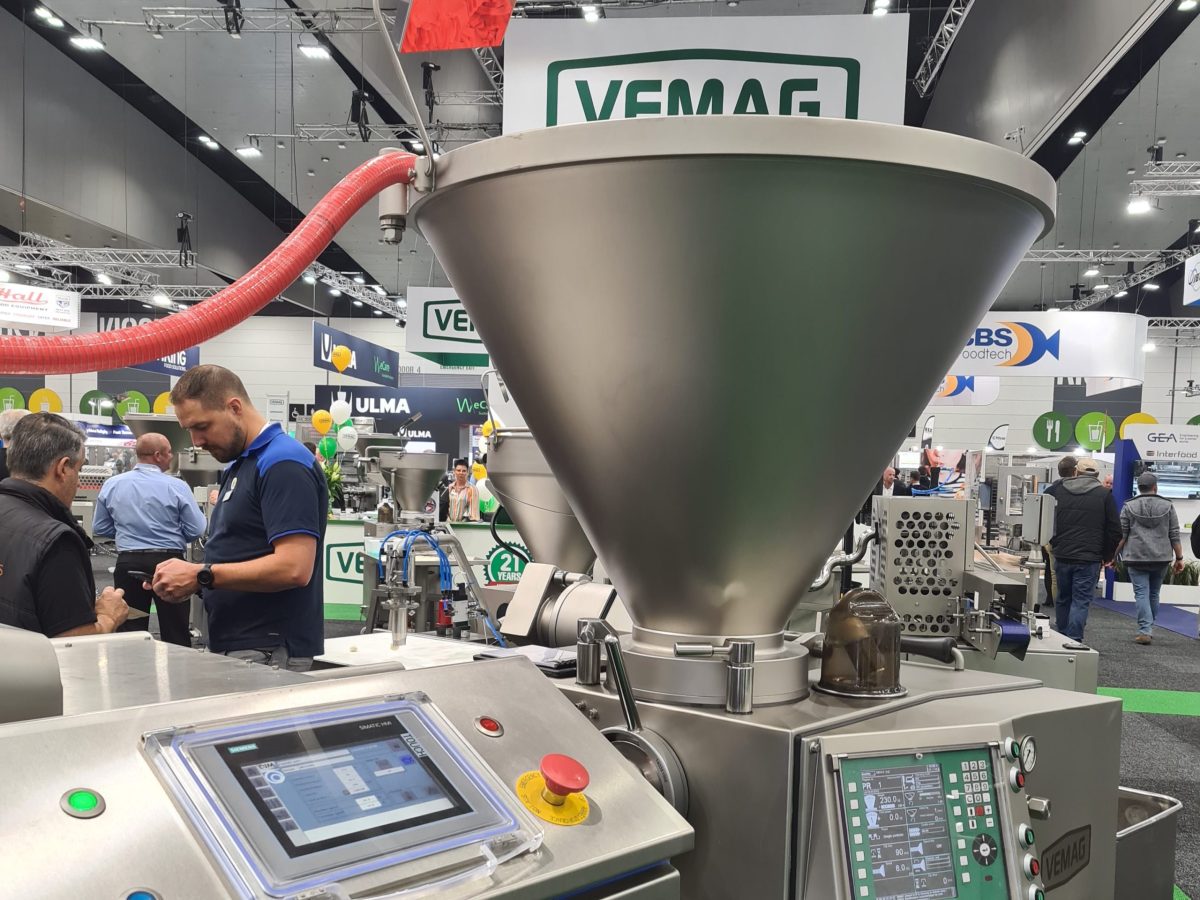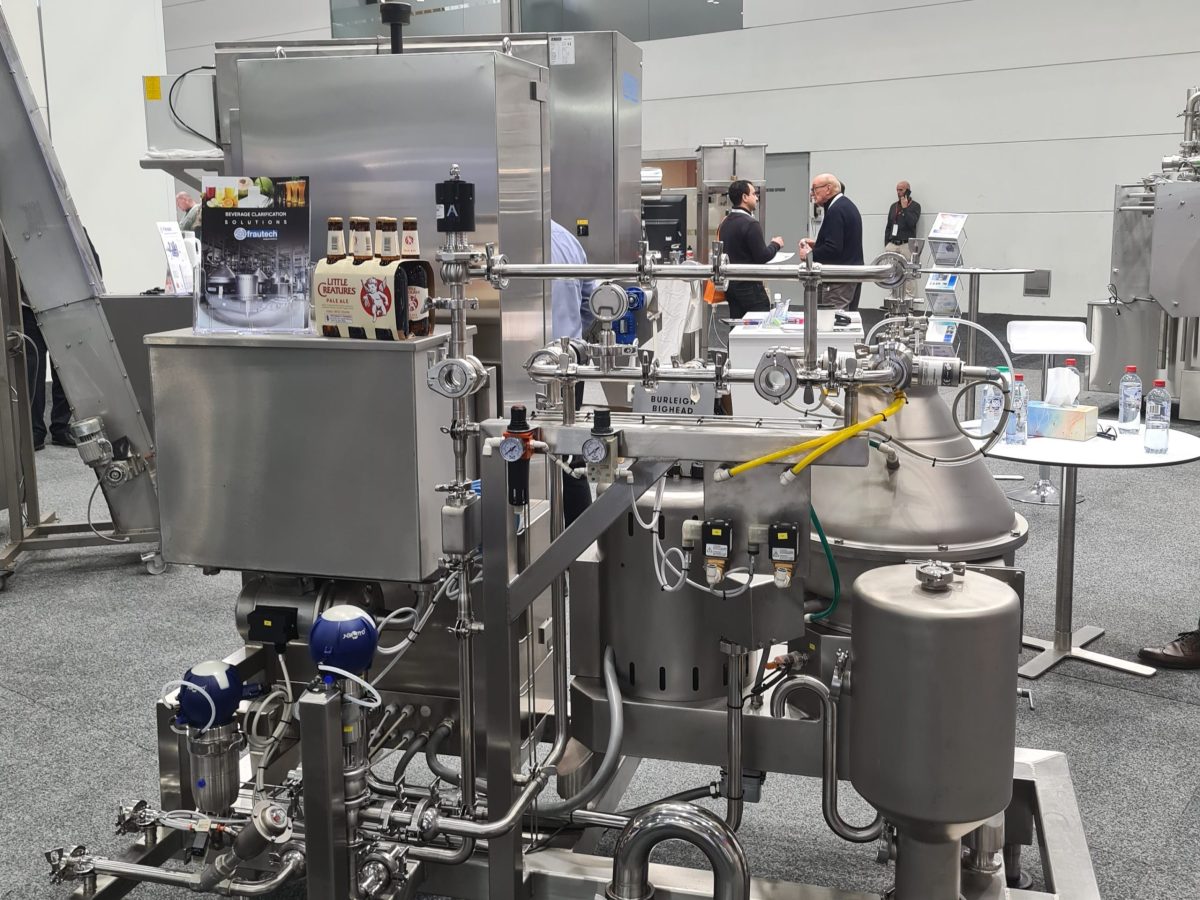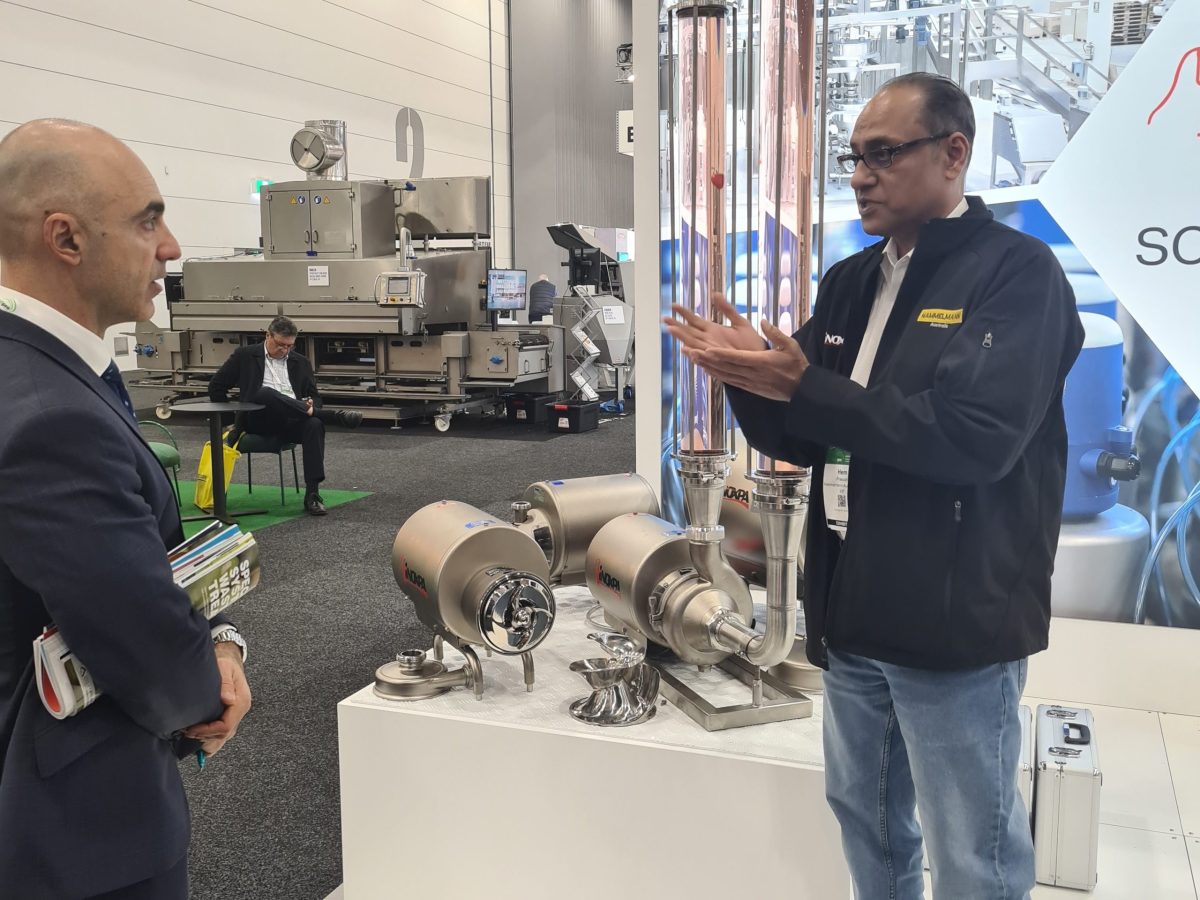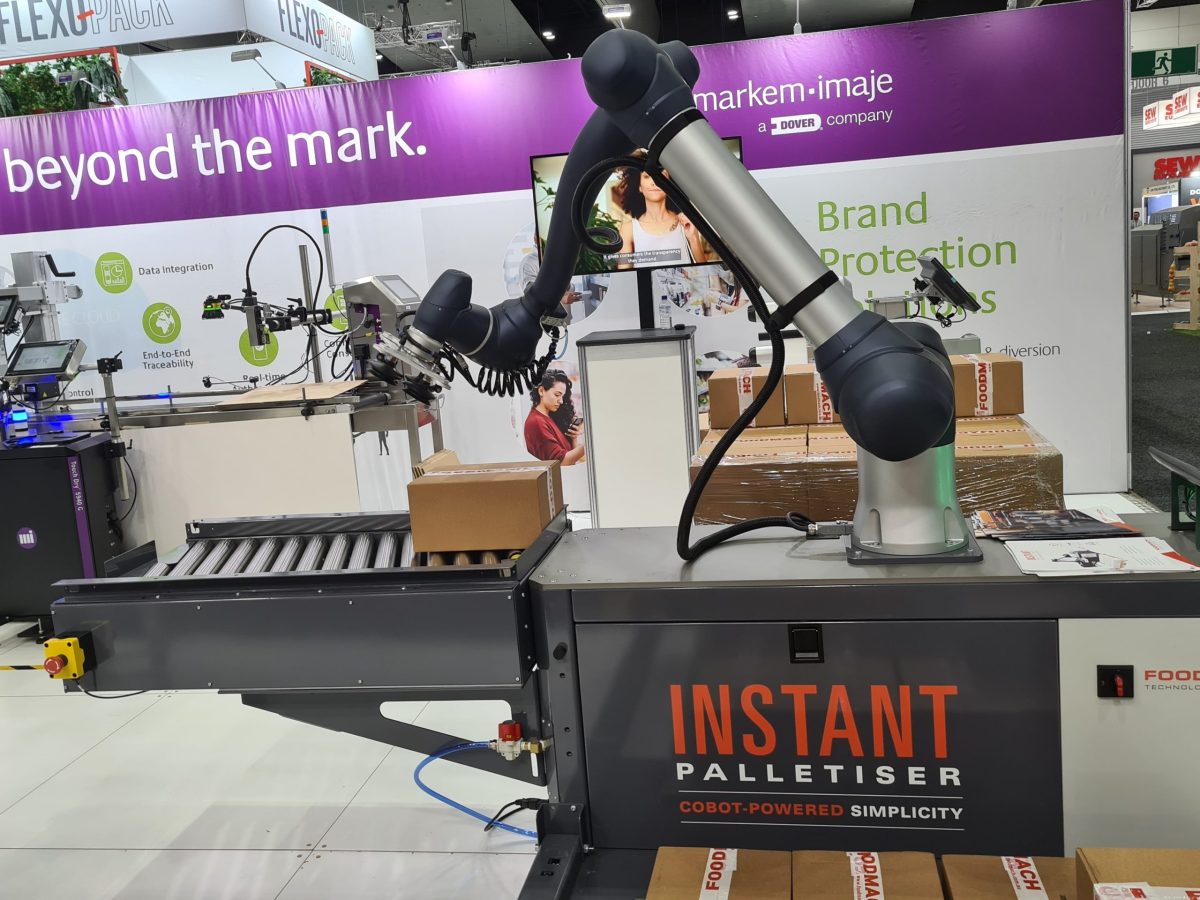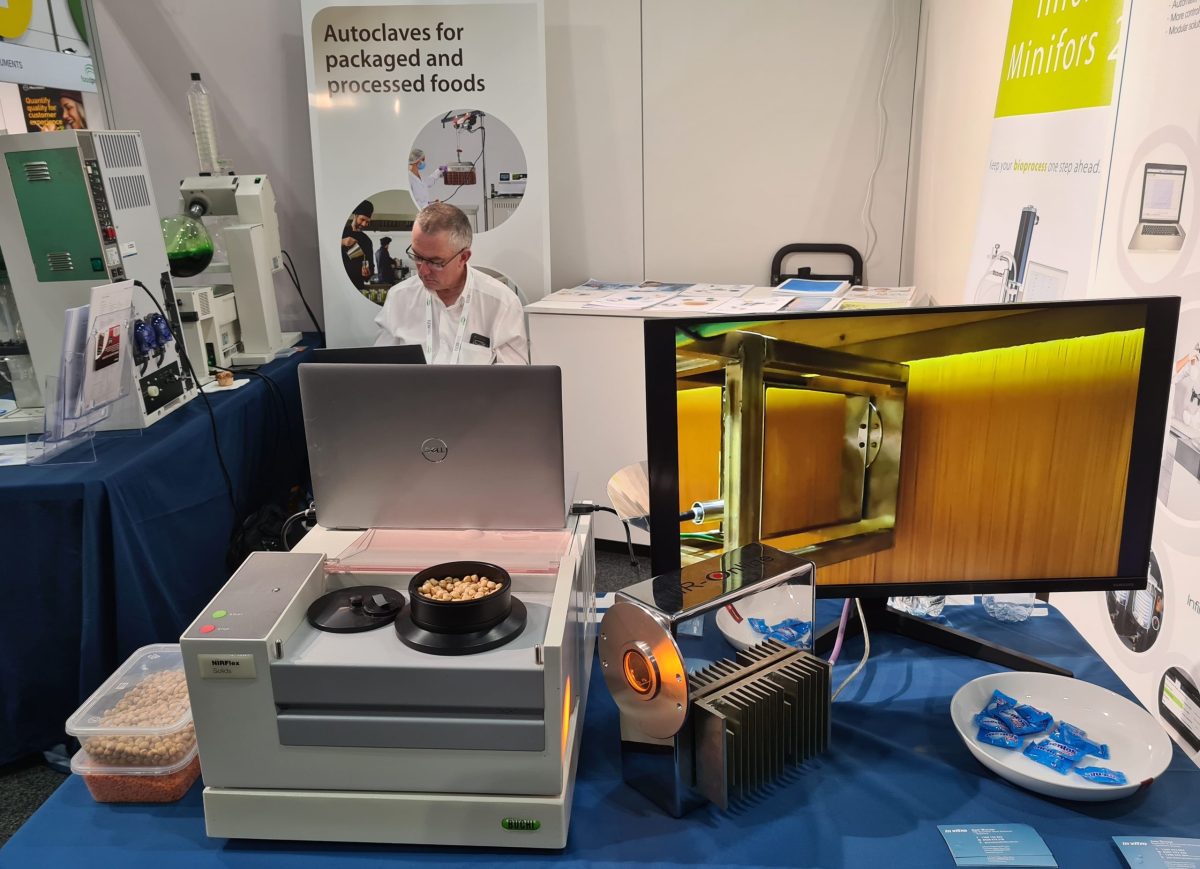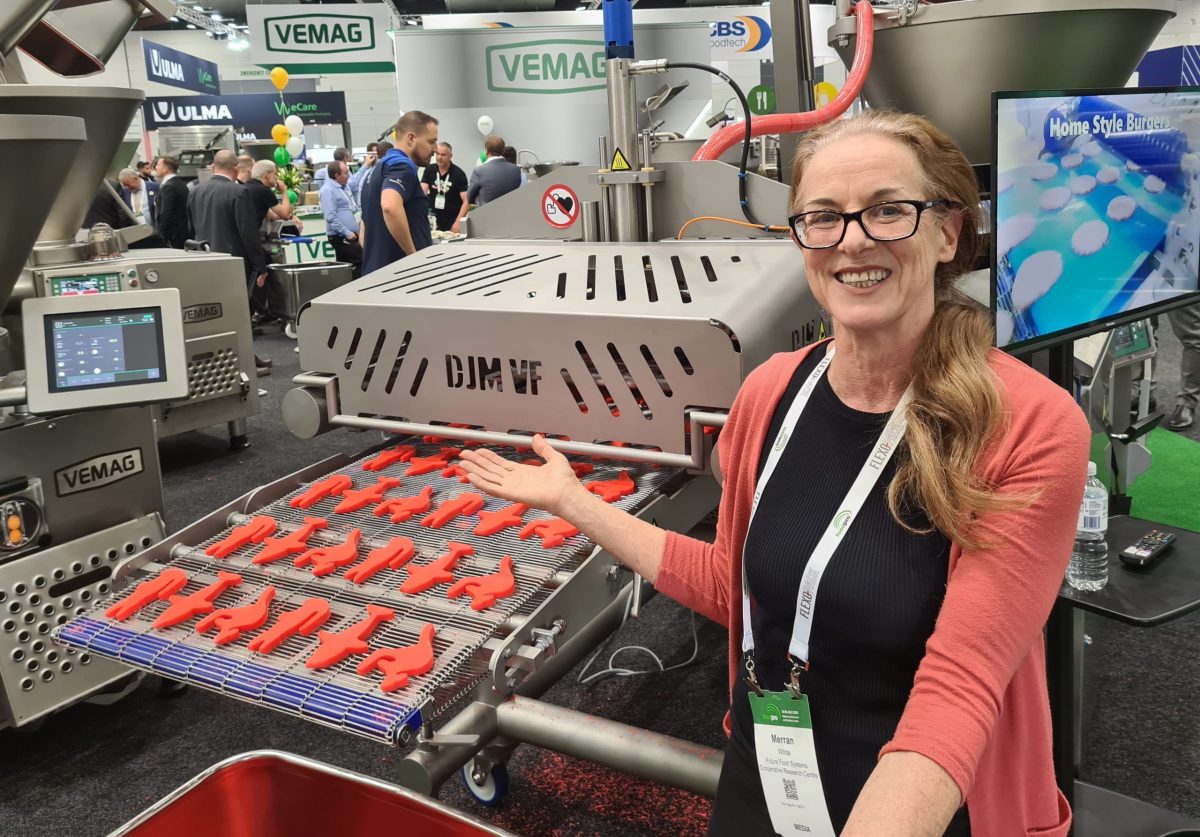 Food tech on show at foodpro
FFS Communications Manager Merran White paid a visit to foodpro 2023 (23-26 July), at Melbourne Convention and Exhibition downstairs from the AIFTS Convention, to check out the latest advances in food tech and F&B product development. Here, she talked with the makers and distributors of everything from package-picking and pallet-shifting robots to automated mixers, extruders, conveyor belts, pumps and packaging machines, and sampled an array of new products from flavour ingredients to collagen gummies. Merran also caught up with FFS PhDs Rishi Naik and Andrew Tilley, both of whom put in some quality facetime at foodpro between sessions at AIFST23.
"It was fascinating to see and hear about all the new developments in food and beverage manufacturing, especially with regard to automation," she said.
"While some of the  equipment was best suited to bigger players, many of the solutions on display were flexible and/or affordable enough to be of potential use to boutique manufacturers and toll factories looking for fitouts or upgrades. There were also some great sustainability initiatives on show, and some healthy-and-delicious new flavour ingredients, as well as pumps, HVAC and solar energy solutions, water-saving technology and useful WHS gear."
"The floor was a hive of activity and I got to talk to terrific people from all parts of the food-tech industry, as well as to research and government reps. Definitely time well spent."
FIPWA Food Technology Facility GM Stuart Johnson was also at foodpro, looking at potential kit for the fitout of the new production centre at the Food Technology Facility.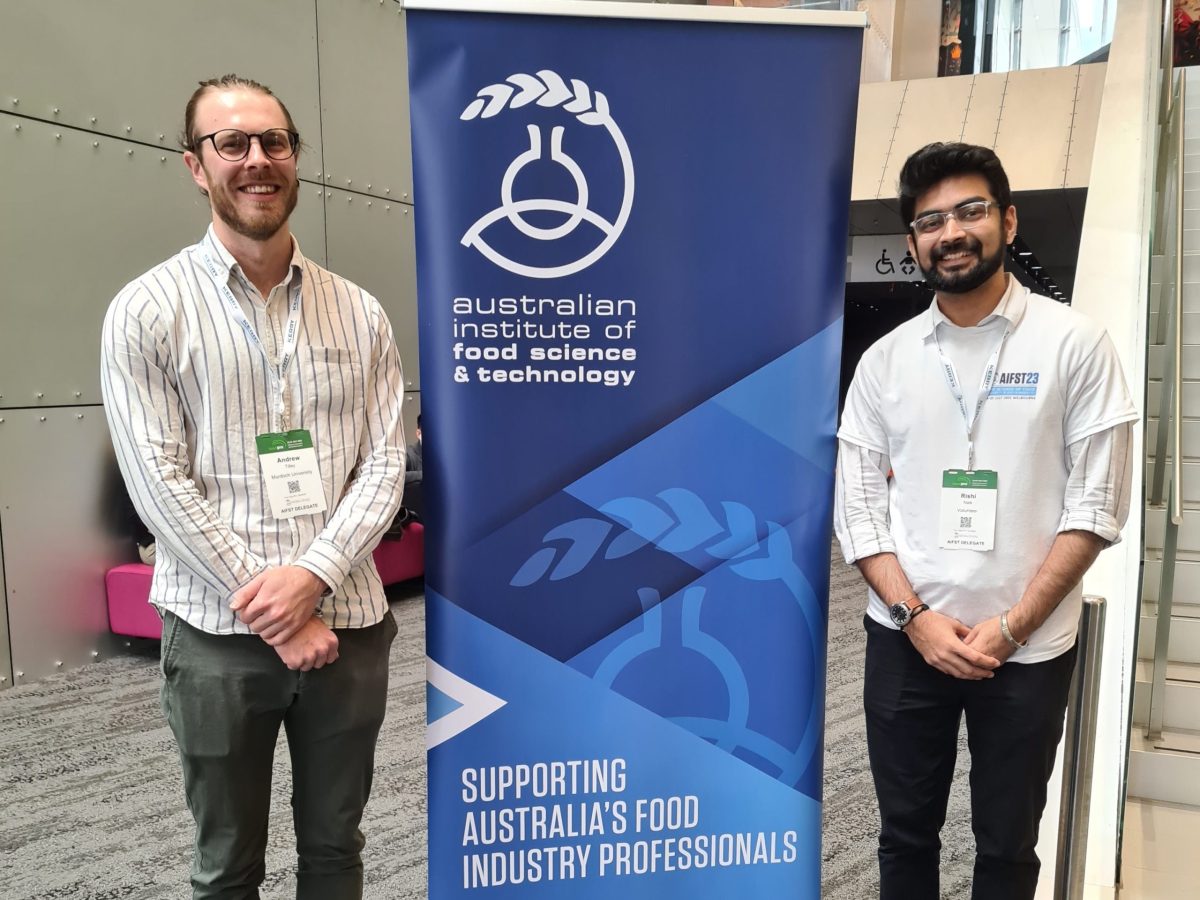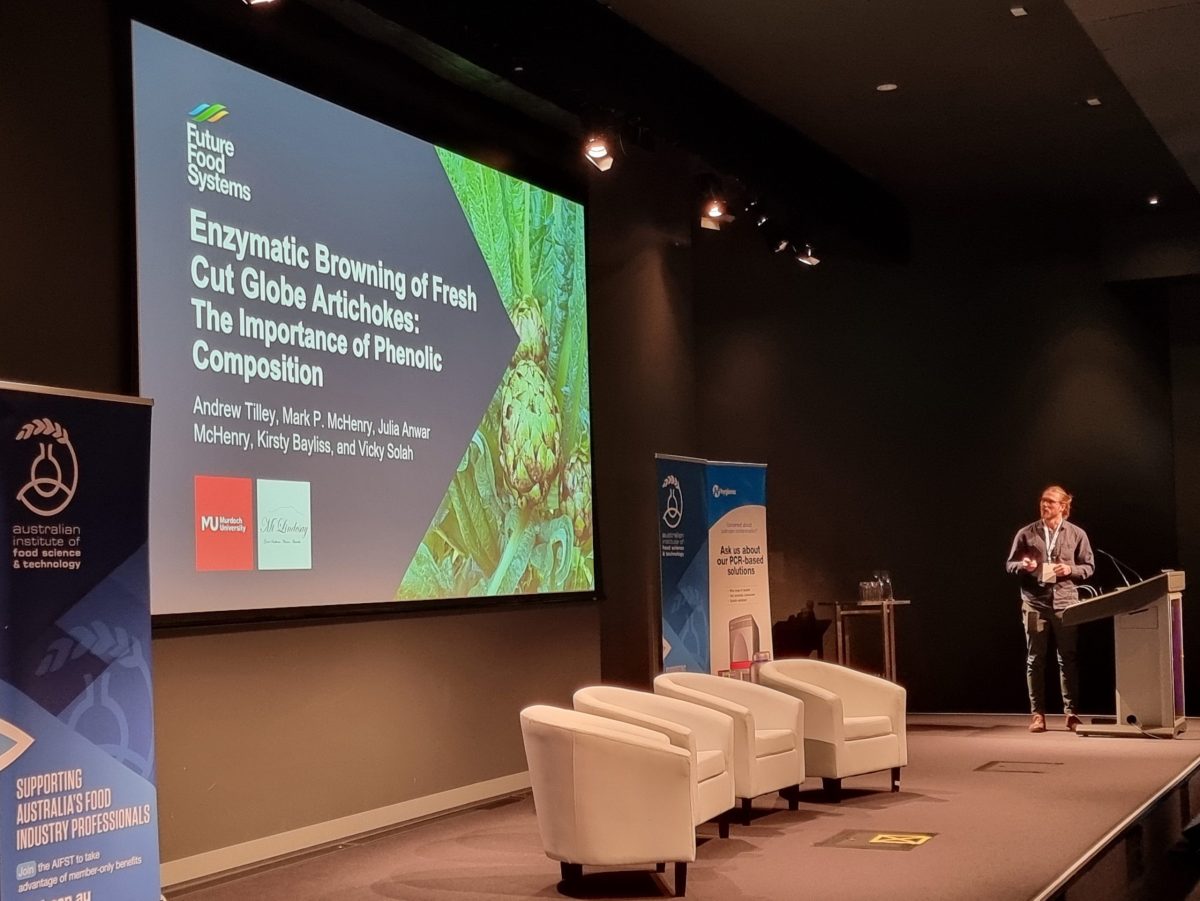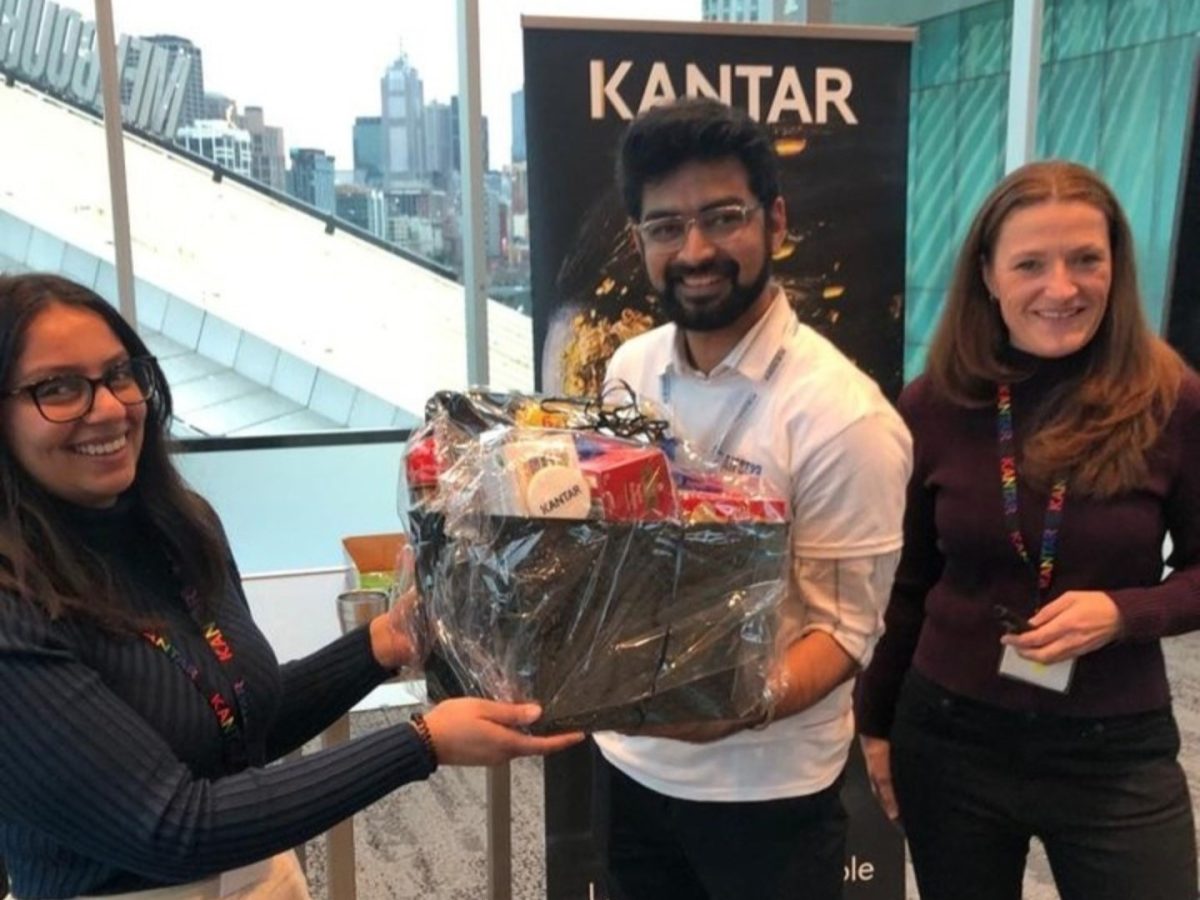 FFS PhDs showcase Future Food Systems-backed projects at AIFTS23
Two FFS PhD students attended the AIFTS23  Convention (24 and 25 July) in Melbourne.
Murdoch University-based doctoral student Andrew Tilley presented his findings from the FFS-backed 'Artichokes' project in the 'Emerging researchers' session. Andrew talked about working with mixed farming operator and Murdoch academic Dr Mark McHenry to explore causes of and solutions to enzymatic browning in globe artichokes.
UNSW School of Chemical Engineering PhD student Rishi Naik presented a poster of his research exploring new ways to create functional plant-based foods, for which he won second prize in the AIFST23 poster competition.
"Overall, AIFST23 has been a comprehensive and engaging event that brought together experts from various fields within the agrifood sector to exchange knowledge and insights on creating a more secure, sustainable, and innovative food future," Rishi said. "Key topics and areas of discussion included food safety, advances in health and nutrition, sensory and consumer science, food security and resilience, sustainability and packaging. The accompanying networking events, including the Annual Awards ceremony and the Young Professionals & Mentoring Networking Breakfast, gave us opportunities to connect with industry peers, share ideas and foster new collaborations."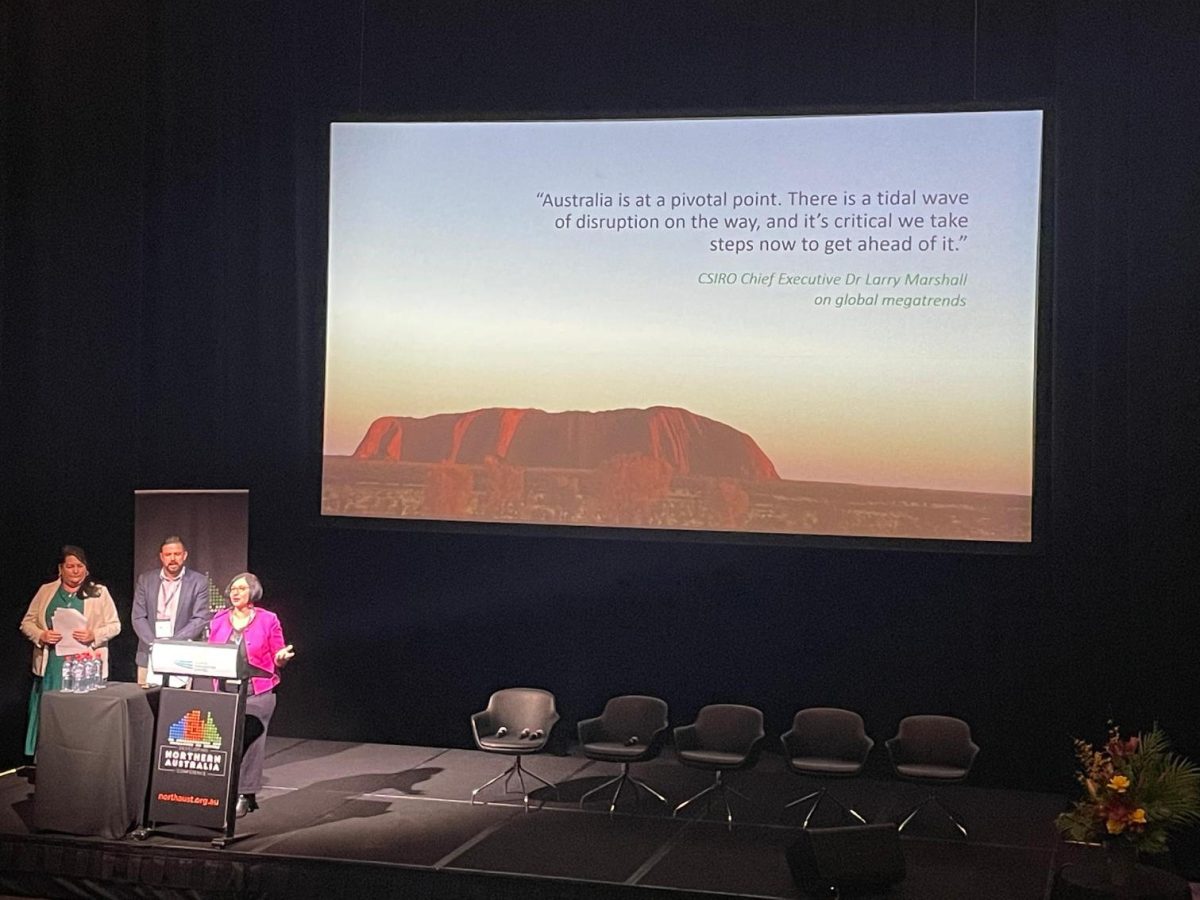 Top End networking at the Developing Northern Australia Conference
FFS CEO Dr Krahe attended this important three-day gathering of influential voices from across Northern Australian – politicians, industry leaders, Indigenous representatives, academics and agrifood producers – in Darwin (24-26 July). The North's flagship annual event was co-hosted by FFS partner the CRC for Developing Northern Australia (CRC-NA) and involved representatives of FFS government partner Northern Territory Department of Industry, Tourism and Trade (DITT) and partner research institution Charles Darwin University.
Themes and session topics of interest to Future Food Systems at this year's DNA Conference included Indigenous involvement in Top End development; building sustainable and circular-economy principles into agriculture; infrastructure projects; regional supply chain mapping; and more.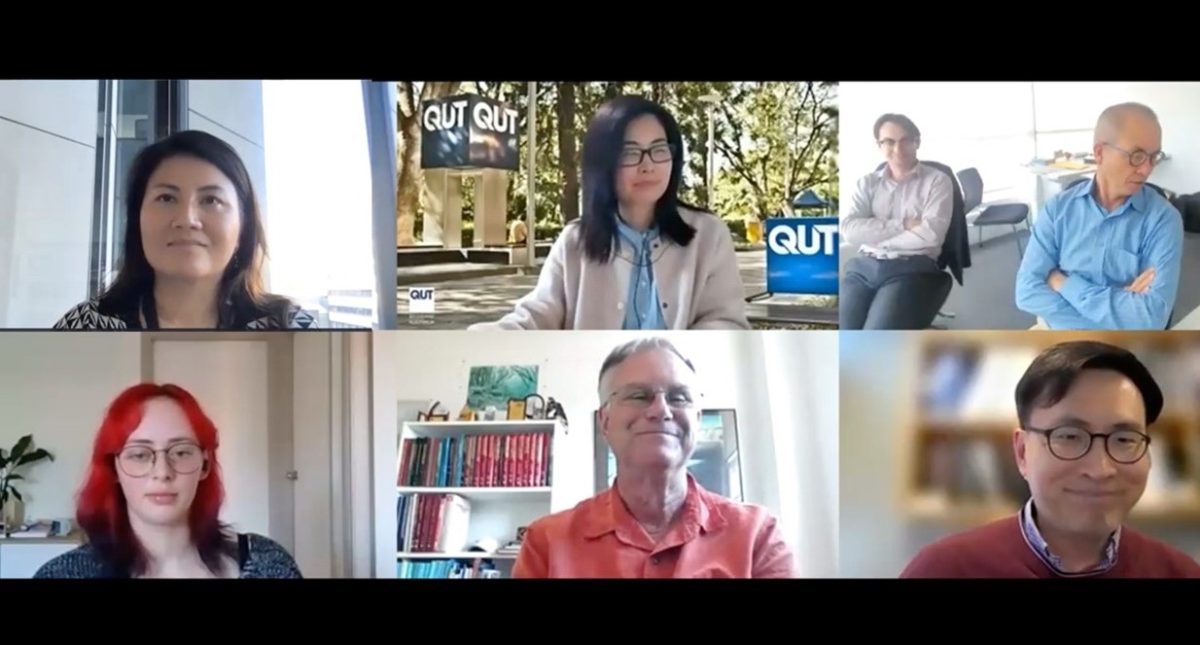 Ground-breaking collaborations at the FFS Research Showcase
On the afternoon of Thursday 27 July, Future Food Systems Research Program and project leads, key researchers and PhDs presented their findings to an online audience of close to 100 people from government, industry and academia.
This year, iour Western Australian collaborations took centre stage: They included projects investigating the all-important microbiomes of popular crops including avocado, potato and tomato; and the chemistry and cutting-edge scientific equipment and analysis that underpins health, nutritional and provenance claims for food and beverage products including globe artichokes.
Other FFS projects under the spotlight this year included findings from an exciting second collaboration between the University of New South Wales Sydney (UNSW) and EcoMag Ltd to create low-carbon 'circular-economy' construction materials from three waste streams; a partnership between UNSW and the Namoi Regional Organisation of Councils that resulted in an AI-enabled a multi-criteria decision-making tool for land-use suitability that detailed agrifood and ancillary businesses and related infrastructure across the region; a collaboration between Western Sydney University (WSU) and exploring sustainable, bio-based ways to manage key root pathogens in glasshouse-grown crops; and a just-completed PhD project exploring urban food policy in Australia.
Presenters included FFS Research Program leads Professor Doug Baker from Queensland Universtiy of Technology (QUT) (RP1), WSU's Distinguished Professor Tissue (RP2) and WA's Dr David Doepel (RP3) as well as project leads Professor Kirsty Bayliss ('Novel microbiome technologies' project); Dr Ruey Leng Loo ('ANPC Analytics' project); Professor Hoon Han ('Namoi agribusiness planning' project); Professor Zhonghua Chen ('Sustainable fertigation' project); and postdoctoral fellow and project team member Dr Hongwei Lui ('Novel bio-based solutions for managing key root pathogens' project).
PhD students presenting included Andrew Tilley from Murdoch University ('Artichokes' project), Lijun Summerhayes from QUT ('Urban food policy' project), and Natalie Aaron from UNSW ('Circular-economy construction materials' project).
Lead image: In July 2023, members of the Future Food Systems cohort including Executive staff, research leads and PhDs, presented findings from FFS-backed projects and helped promote our mission – of supporting collaborative research that advances smart, sustainable, healthy food products and systems – at events across Australia and beyond. Credit: Future Food Systems