CRC project 'Smart Glass film impacts on energy use and productivity in greenhouse lettuce' is evaluating the performance of energy-saving Smart Glass and light-shifting LLEAF film in greenhouse lettuce production.
The project involves crop scientists at Western Sydney University (WSU) working with Hort Innovation, with support from industry partners LLEAF Pty Ltd and Rijk Zwaan.
The project team, led by WSU's Distinguished Professor David Tissue, is evaluating the impacts of two novel prototype technologies that modify the spectral performance of glasshouses – energy-reducing 'Smart Glass' film ULR-80 (SG); and LLEAF-Red film, which shifts green light to red for maximum vegetative growth.
The aim is to ascertain how each technology impacts on the growth and productivity of lettuce crops grown in a state-of-the art controlled-environment glasshouse.
The project is scheduled for completion on 1 May 2022.
Smart Glass selective light-diffusing film: previous trials
Smart Glass ULR-80, designed by Australian scientists for use in commercial greenhouses, blocks much of the solar radiation that contributes to heat gain, while transmitting most of the wavelengths required by plants for photosynthesis and growth.
However, as it changes light intensity and spectral quality, SG may adversely affect plant growth and development, photosynthesis, biomass partitioning, yield and quality.
In a recent project with Hort Innovation, WSU scientists trialled SG ULR-80 on eggplant and capsicum crops at the National Vegetable Protected Cropping Centre (NVPCC).
"In the eggplant trials, we found that SG increases energy and resource-use efficiency while minimally affecting fruit quality, but there was a significant reduction in photosynthesis and eggplant yield," Distinguished Professor Tissue says. "Capsicum production was less negatively affected by SG, perhaps due to smaller fruit size."
"To minimise negative impacts, we concluded, Smart Glass should be re-engineered to increase penetration of UV and photosynthetically active radiation (PAR) but continue to block long-wave radiation contributing to heat gain," he says.
The researchers also recommended testing SG ULR-80 on non-fruiting crops such as leafy greens: hence this project.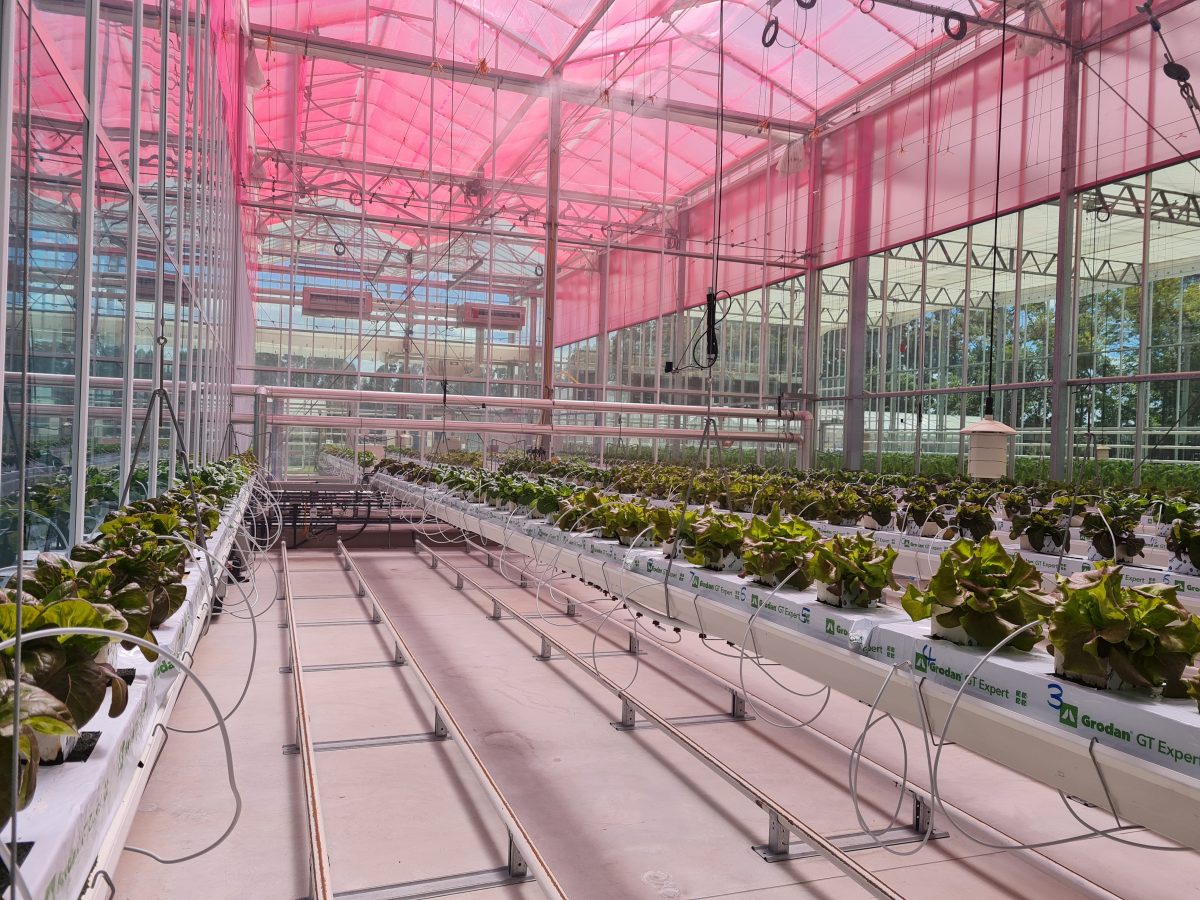 LLEAF film luminescent technology: previous trials
LLEAF is an ag-tech start-up that has developed a patented luminescent technology in collaboration with UNSW. LLEAF films have been shown in previous trials to deliver significant increases in production and in energy and water-use efficiency.
"Our luminescent light-emitting agricultural film, LLEAF, is designed to 'supercharge' natural sunlight by shifting the natural light into a light spectrum that is more beneficial for plant growth," company co-founder Dr Alex Soeriyadi explains. "Our trials indicate potential to increase yield, improve plant cycle and harvest control.
"Our collaboration with the CRC and WSU is allowing us to test LLEAF in a state-of-the-art glasshouse to further validate our technology," Dr Soeriyadi says.
"This will allow us to approach growers with our products and, potentially, develop further product lines."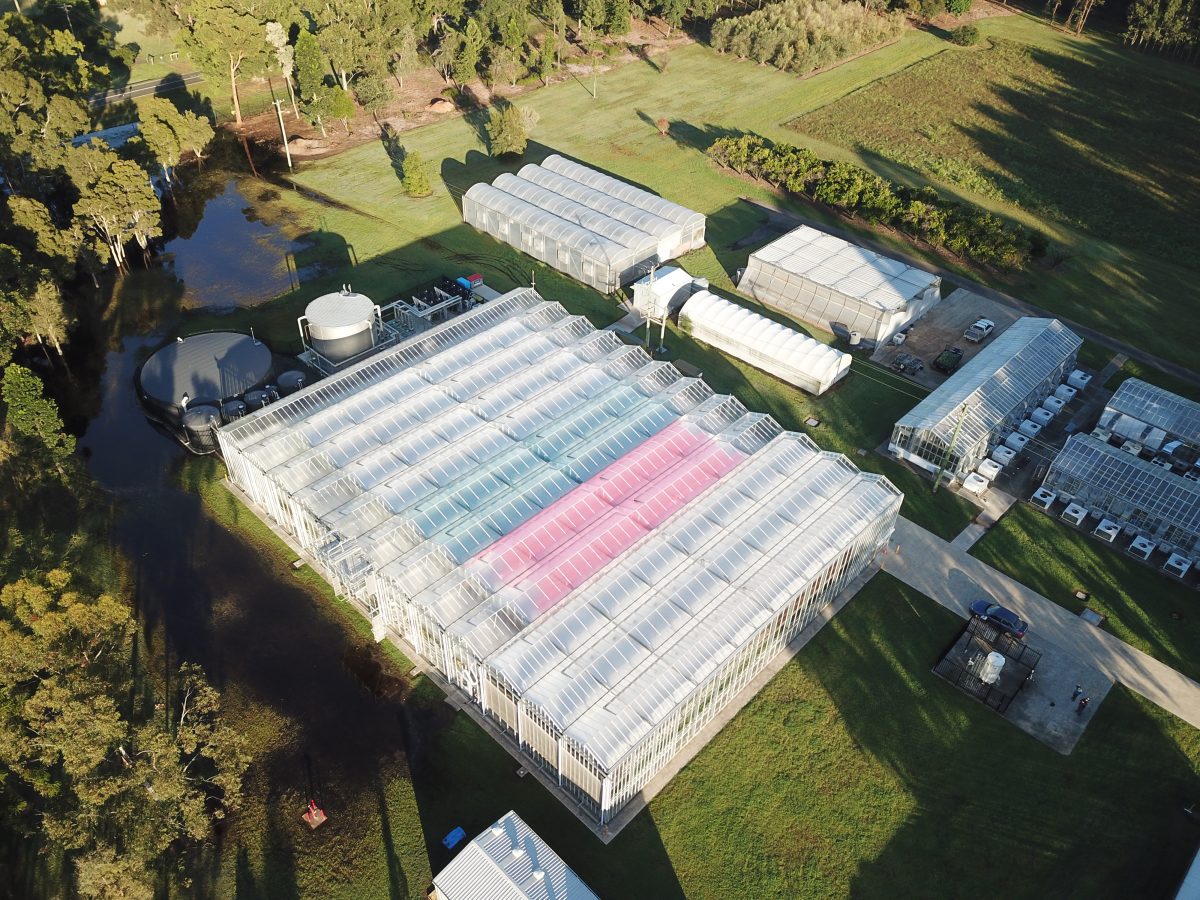 Project methodology
For the current study, the project team is using SG ULR-80 film already installed in two NVPCC research bays, now planted with three varieties of lettuce supplied by Rijk Zwaan. LLEAF-Red film has been installed in two adjacent bays planted with the same lettuce varieties, and two bays are equipped with high-tech glasshouse hazed glass as controls.
The team is deploying the glasshouse's sophisticated sensor systems to compare the impacts of SG and LLEAF films on vegetative growth and other physiological processes in the lettuces with those of the control glass, and to yield a data-based assessment metric for evaluation. They'll also identify positive and negative impacts of both light-shifting films on crop yield and nutritional value.
The team will use the resulting data to determine optimum levels of light quantity and quality needed to generate energy, water and nutrient-savings while maintaining or increasing crop nutritional value.
The findings will support the commercialisation and adoption of both prototype products by the protected cropping industry.
"Ultimately, our objective is to reduce resource use (energy, water and nutrients) and increase crop productivity and quality in a sustainable protected cropping environment," says Distinguished Professor Tissue.
The project is a collaboration between CRC partners Western Sydney University, Hort Innovation, LLEAF Pty Ltd and Rjik Zwaan. It is an extension of an existing Hort Innovation-funded project.
Lead image: Luminescent Light-Emitting Agricultural Film (LLEAF)-Red, installed above a trial lettuce plot in the state-of-the-art experimental glasshouse at the National Vegetable Protected Cropping Centre (NVPCC) on Western Sydney University's Hawkesbury campus. Credit: LLEAF Pty Ltd