For several years, Sydney-based SME LLEAF has been running trials of its light-spectrum-shifting agricultural films – most recently at Western Sydney University, in a series of Future Food Systems-backed projects involving industry and government partners including leading industry research body Hort Innovation and global seed supplier Rijk Zwaan.
These trials have shown that retrofitting LLEAF-Red film to greenhouses can promote vegetative growth and yield in various vegetable crops, including lettuce and capsicum, by up to 20 per cent.
Now, LLEAF's grower-friendly crop-enhancing polycarbonate films are gaining global traction, with the SME securing an EU supplier, Vink König Deutschland GmbH. as well as international media coverage via Hortidaily.
Vink Konig is Europe's leading supplier of semi-finished plastics materials and technical films for specialist applications, and is one of a consortium of major suppliers represented by global plastics distributor Vink Holdings.
"The growth acceleration effect of the film has been proven for a wide variety of green plants such as lettuce, cucumbers, tomatoes, basil, peppers, aubergines, Asian vegetables, strawberries, or cannabis," Vink König Deutschland GmbH spokesperson Hubertus von Henninges told Hortidaily in October 2023.
"The film is placed between the sun and the plant and can be easily installed. It can be used in greenhouses, agrivoltaics with solar panels, algae cultivation, indoor farming and many other applications.
"LLEAF's technology allows custom sunlight spectrums, termed "sunlight engineering," resulting in various beneficial outcomes such as seasonal shifting for out-of-season or new location fruiting," von Henninges said.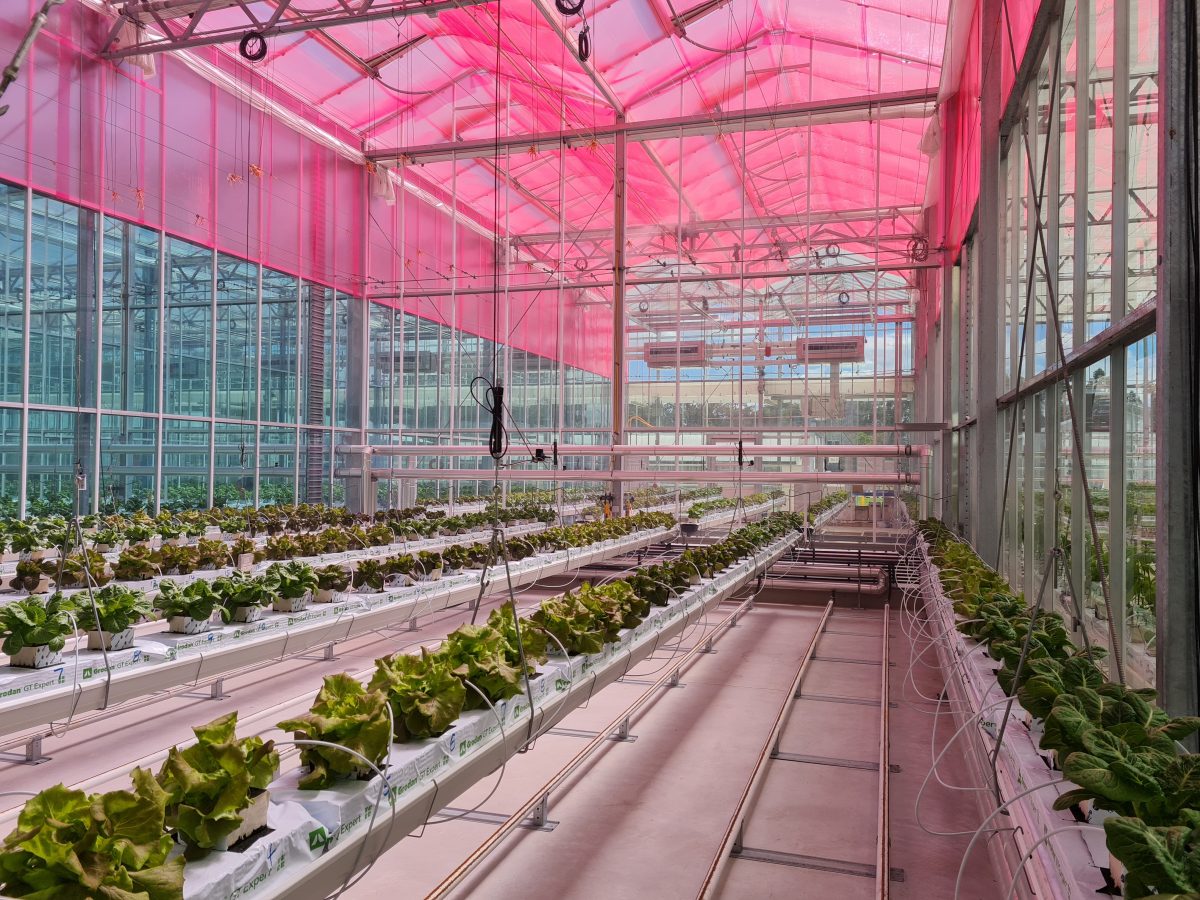 How do LLEAF's agricultural films work?
LLEAF is short for 'luminescent light-emitting agricultural films': each sheet of the flexible transparent cladding contains a patented dye that changes the colour spectrum when sunlight passes through it, turning part of the green light into additional red light, increasing plant photosynthesise. Additional red light enables plants to grow faster, enhancing efficient growth, increasing yield and hence boosting the profitability of crops grown in protected cropping (PC) facilities.
"The technology allows for greenhouse plastic to behave like an LED light-emitting additional red light into the greenhouse, which is what plants use to produce cellular energy," explained LLEAF Chief Operating Officer Chris Wilkins.
The film also reflects red light, which makes it a suitable candidate for use in the construction of next-generation solar panels for PC applications – a potential game-changer for indoor agriculture, where high energy costs are currently an obstacle to wide-scale uptake, limiting profitability.
Source: This film accelerates the plant growth by approximately 20% I Hortidaily – Global Greenhouse News
Lead image: LLEAF-Red, installed over the roof of the company's new 'solar lab' glasshouse facility in Mona Vale, on Sydney's Northern Beaches.  "It's a luminescent light-emitting agricultural film – hence, LLEAF," company co-founder Dr Alex Soeriyadi said. "LLEAF film is designed to 'supercharge' natural sunlight by shifting the natural light into a light spectrum that is more beneficial for plant growth. Credit: Future Food Systems