Future Food Systems' flagship 'Establishing a National Hub for Smart Greenhouse Technology – Energy Saving Films' ('Glasshouse films') project is a ,collaboration between crop scientists at Western Sydney University, RMIT, glasshouse film producer Innofocus, SME industry partner LLEAF and grower-owned R&D corporation Hort Innovation.
The four-and-a-half-year, $3.5m project, commenced in Q4 2022, is trialling the latest iterations of two retrofitted films: heat-blocking 'smart glass' (SG ULR-80); and light-spectra-shifting agricultural film LLEAF.
"We know that vegetable growers in protected cropping have energy efficiency as a key challenge," says Hort Innovation Research and Development Manager Dr Adrian Hunt.
"Building on the findings from previous work, this project will develop films specifically designed to improve energy efficiency without sacrificing yield."
The 'Glasshouse films' project is based at the National Vegetable Protected Cropping Centre (NVPCC) on Western Sydney University's Hawkesbury Campus. Part of an ongoing FFSCRC research program that seeks to reduce energy use and increase resource-use efficiency in commercial protected cropping facilities, it builds on the findings of the 'Smart glass' project completed in mid-2022.
The project is led by Distinguished Professor David Tissue, Scientific Research Director for the NVPCC. It will engage a number of higher-degree by research and early-career researchers, including FFSCRC PhDs.
The project commenced on 25 October 2022 and is due for completion by 30 June 2027.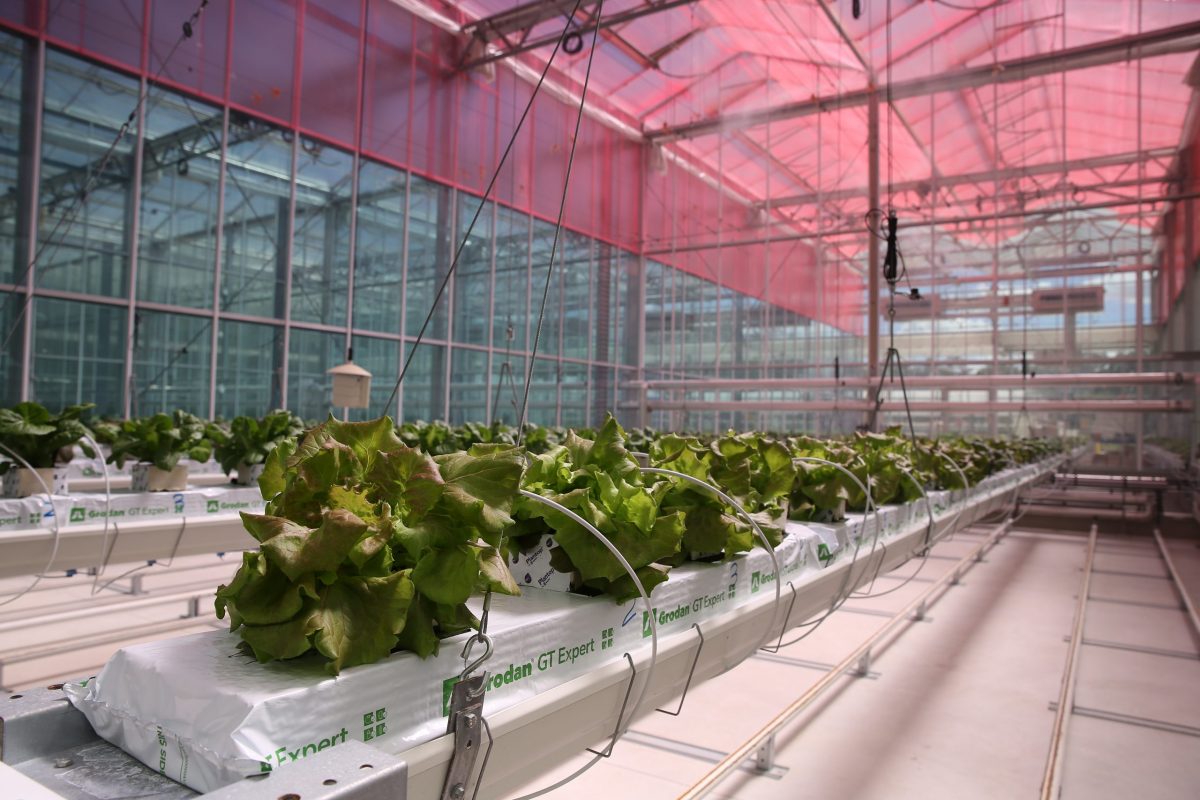 The research
The 'Glasshouse films' project team is conducting trials of smart glass (SG ULR-80), designed to reduce energy use; and light-shifting LLEAF-Red film, developed to cut energy use while boosting plant productivity, on climbing vegetable crops in the NVPCC glasshouse.
Following the trials, the project team will conduct modelling and economic analyses of both types of glasshouse films to determine capital expense and running costs, return on investment, changes in productivity, and the value to growers.
They'll then run interactive sessions with industry and R&D practitioners for input to maximise the value of the project to industry, and ultimately uptake and use to benefit growers.
Drawing on the results of its analyses and stakeholder feedback, the team will develop a pathway to successful commercial outcomes for both SG and LLEAF films.
"The main objective of the project is to determine which films reduce energy use without sacrificing crop production and quality," says Dist. Prof. Tissue.
"We need to provide growers with glasshouse films that are affordable, maintain or increase production, and have a good return on investment."
The impacts: Greater productivity, reduced inputs
The research will increase our collective knowledge about the impact of glasshouse coverings on energy use and on water and nutrient use efficiency, says Dist. Prof. Tissue.
"These are areas of great concern to vegetable growers and may provide new avenues for research and technological advancement in the future," he notes.
"The project will also make substantial contributions to the body of knowledge in plant science, engineering and data science – adding to our expertise in the fields of horticultural science, photonics, materials science and plant physiology in protected cropping systems."
If the latest versions of SG and LLEAF can effectively reduce heat transfer in glasshouse facilities, lowering energy costs, this will incentive growers to buy in, says Hort Innovation's Dr Hunt.
"Vegetable growers are looking for some compelling lifts in energy efficiency to drive uptake of the emerging light-modifying technology," he says.
"Investing in this research through the Future Food Systems CRC gives vegetable growers strong leverage on their levies."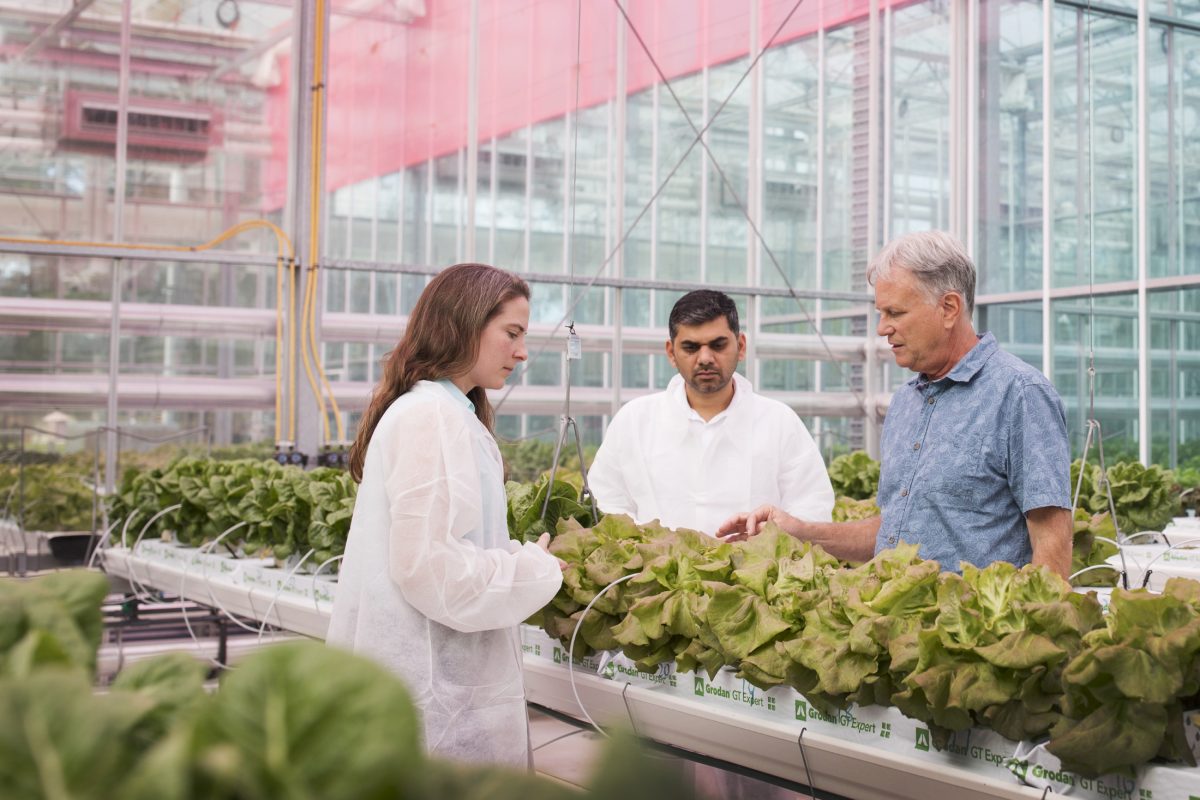 Upskilling the future PC workforce
The project will further enable HIE's National Vegetable Protected Cropping Centre (NVPCC) to provide a dedicated research centre with university, government and industry engagement, in which new technologies can be trialled to drive the success of Australia's fast-growing protected cropping industry.
By contributing to the education and training of students and personnel, it will also help to upskill a future protected cropping workforce, Dist. Prof. Tissue says.
"It is crucial for the Australian industry to have well-trained and knowledgeable workers that can assess crop production and quality, and can solve problems," he says. "Our goal is to contribute to those skill sets to the industry."
Acknowledgement
Funding for this project is provided by Hort Innovation's vegetable levy fund and Future Food Systems CRC.
Lead image: Capsicum crop in the National Vegetable Protected Cropping Centre's high-tech glasshouse facility, part of Western Sydney University's Hawkesbury Campus: The $3.5m 'Glasshouse films' project with Hort Innovation and LLEAF P/L is trialling two prototype smart crop coverings, LLEAF-Red and SG-ULR-80, on climbing vegetable crops in the WSU glasshouse. Credit: Western Sydney University