Meet Gareema Pandey, a Future Food Systems PhD candidate and a passionate researcher who is implementing innovative strategies to enhance the nutritional quality of blueberries.
Gareema's project aligns with Future Food Systems' goals and the Australian Government's vision to improve the nutritional value of food through modern and sustainable agricultural methods, leading to increased food exports.
Her research is looking to enhance the antioxidant potential and nutritional attributes of polytunnel-grown blueberries. The goal is to encourage sustainable agricultural practices and provide consumers with healthier food choices.
Gareema's research is using photo-selective films that have been specifically modified to alter the light spectrum reducing the need for supplementary lighting in protected cropping environments and thereby greatly reducing energy requirements.
Background
Gareema joined the CRC in 2020 as an Industry-supported PhD working on the 'Blueberry nutritional optimisation' project, situated at the NSW Department of Primary Industries (DPI) and affiliated with Western Sydney University's Hawkesbury, Richmond campus.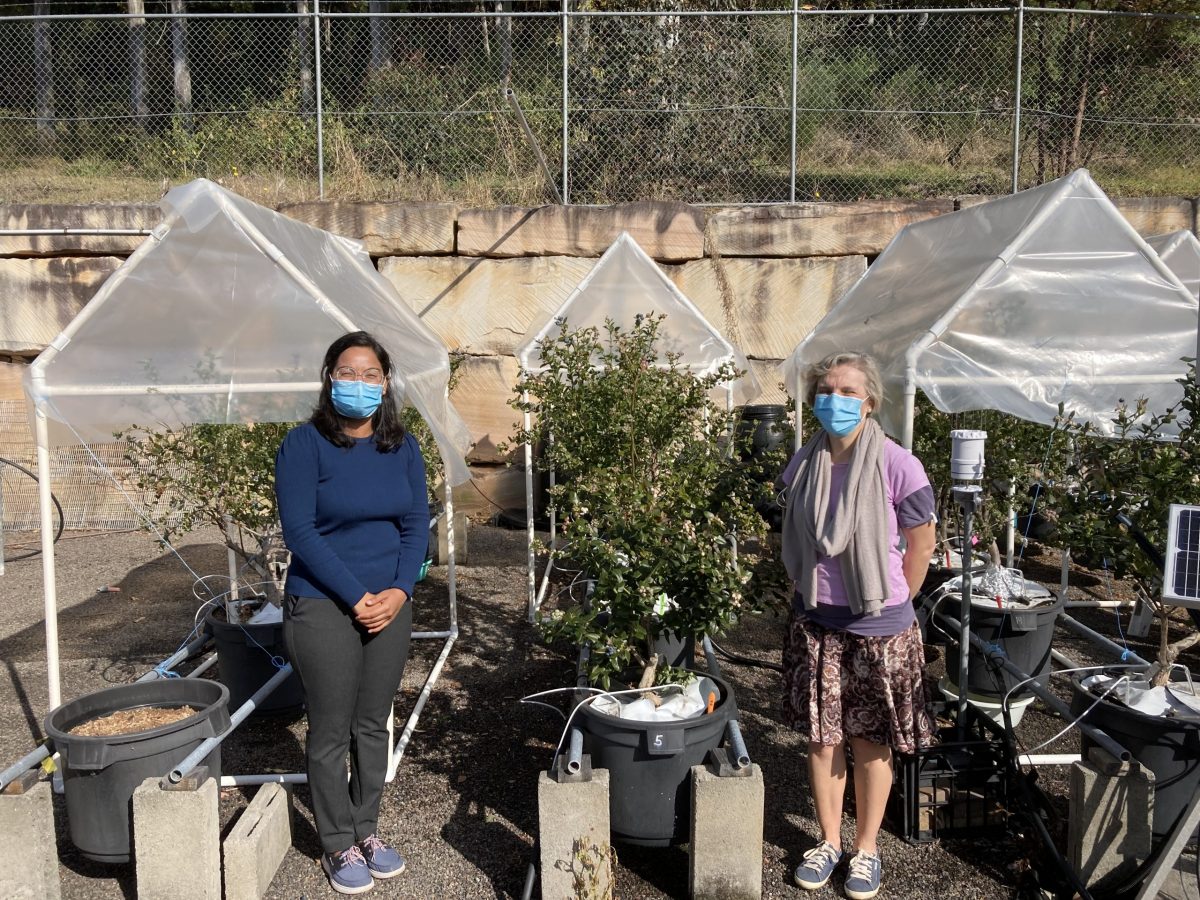 Gareema conducts her research under the expert guidance of Dr Richard Thomas and Dr Nijat Imin from Western Sydney University, complemented by the mentorship of Dr Sophie Parks, an industry partner at DPI.
Academic excellence meets real-world challenges
Gareema's commitment to excellence in the fields of biotechnology, molecular biology and bioinformatics resulted in some outstanding early academic achievements, including scholarships and awards.
After acing her Masters (Research) studies at La Trobe University, focusing on Biotechnology and Bioinformatics, she was keen to pursue a PhD.
"I wanted to explore my interest in crop sciences, learn more about protected cropping systems and put scientific principles into practice, translating ideas into tangible working models and becoming an expert in the field," Gareema says.
"Collaboration with NSW DPI as an industry partner enables a perfect balance of academic exposure and gaining effective industrial experience."
Gareema also sees it as a chance to "practice the scientific method – from initial inception of a project to hypothesis testing and communication of results."
Research focus: Enhancing the nutritional properties of blueberry fruits using stress interventions
Gareema's doctoral research focuses on enhancing the quality and nutritional profile of blueberries grown in polytunnels. Polyethylene tunnels, while they protect berries from adverse weather conditions and pests, create a controlled environment that lacks some essential abiotic stressors and specific light radiation crucial for maximising the berries' nutritional profiles.
Gareema's research seeks to optimise berry quality and nutritional value through a range of interventions, including fine-tuning light exposure and introducing mild abiotic stressors to simulate outdoor conditions.
The project takes her between Western Sydney University's School of Science and various field sites forming part of DPI's network of research stations across the state, been working closely with DPI Senior Research Scientist Dr Sophie Parks to answer various research questions."The blueberry plants are growing in the greenhouse at the Central Coast Department of Primary Industries, Ourimbah, NSW – and all the morphological analyses, including fertigation, are performed in an open area," Gareema says.
"My current research is about enhancing nutraceutical traits in blueberry fruits through interventions such as introducing light-emitting diodes (LEDs); covering the polytunnels with photo-selective films; and exposing the plants to mild stresses.
"The aim of all these interventions is to optimise blueberry fruit characteristics and nutrient composition.
"If my hypotheses are correct, some or all of these interventions – including using light conditions (UV-B radiation, and LLEAF technology in the form of spectral selective light luminescent films) and mild abiotic stress – will increase the antioxidant potential of blueberry fruit in protected environments."
Through her research, Gareema hopes to advance understanding of differences in the nutrient composition of fruit produced by blueberries grown in ambient sunlight as opposed to that of blueberries grown in protected polytunnel conditions, she says.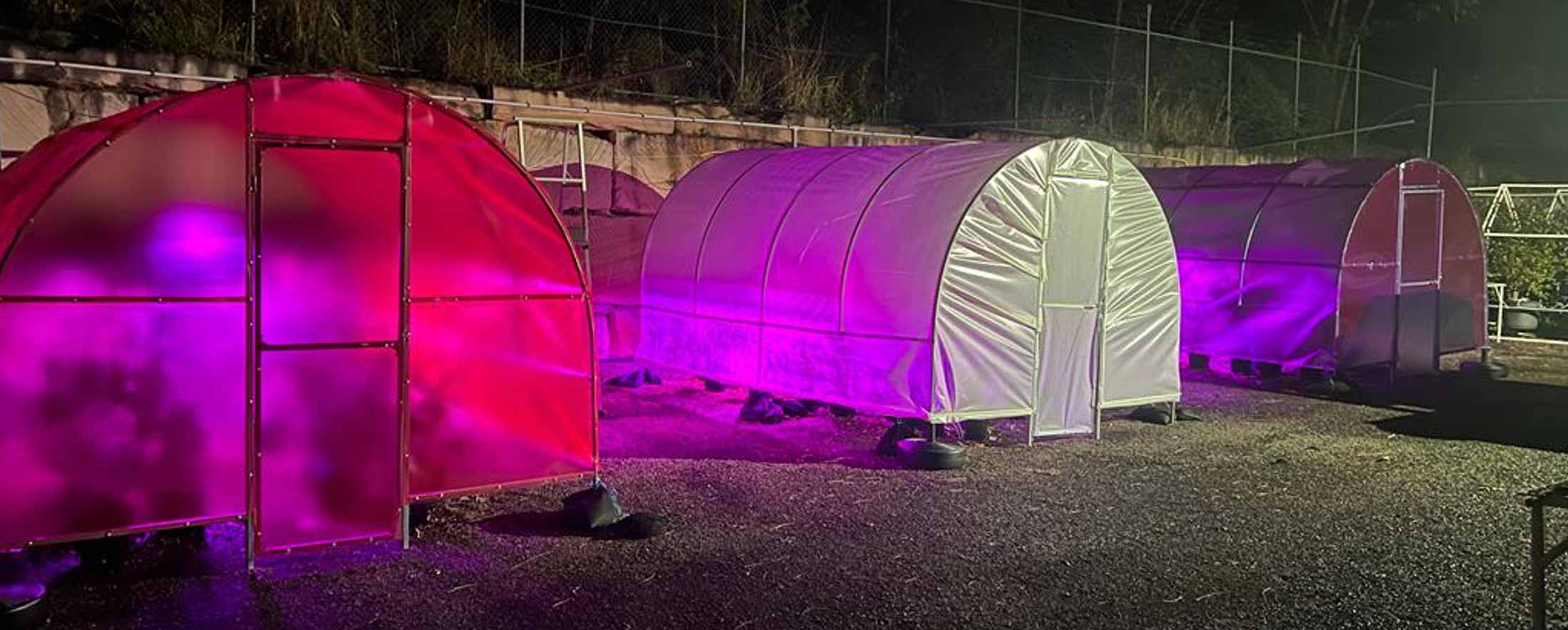 Setting up the experiments involved constructing polytunnels and installing irrigation systems at DPI Ourimbah, as well as installing LED lights to enhance the nutritional quality of blueberries.
Gareema's successful completion of the experimental setup marks a significant milestone in her academic journey, showing her dedication to working outside her comfort zone
Contributions to the field
Over the course of her doctoral studies, Gareema has made usefulcontributions to the field of horticulture through her research publications. These omprehensive review articles provide valuable insights into the genetic and physiological parameters that contribute to enhancing the nutritional quality of fruits, and the pivotal roles light and cover materials play in plant growth.
Better polytunnel conditions for better, healthier blueberries
"The desired outcome is to provide a potential method for developing optimal polytunnel conditions that ensure superior nutritional value in Australian blueberries," Gareema says.
"These nutritionally enriched blueberries will benefit community health, improve growers' profitability and secure export and existing markets.
"In addition, the knowledge gained through this project could be applied in blueberry breeding programs," she says.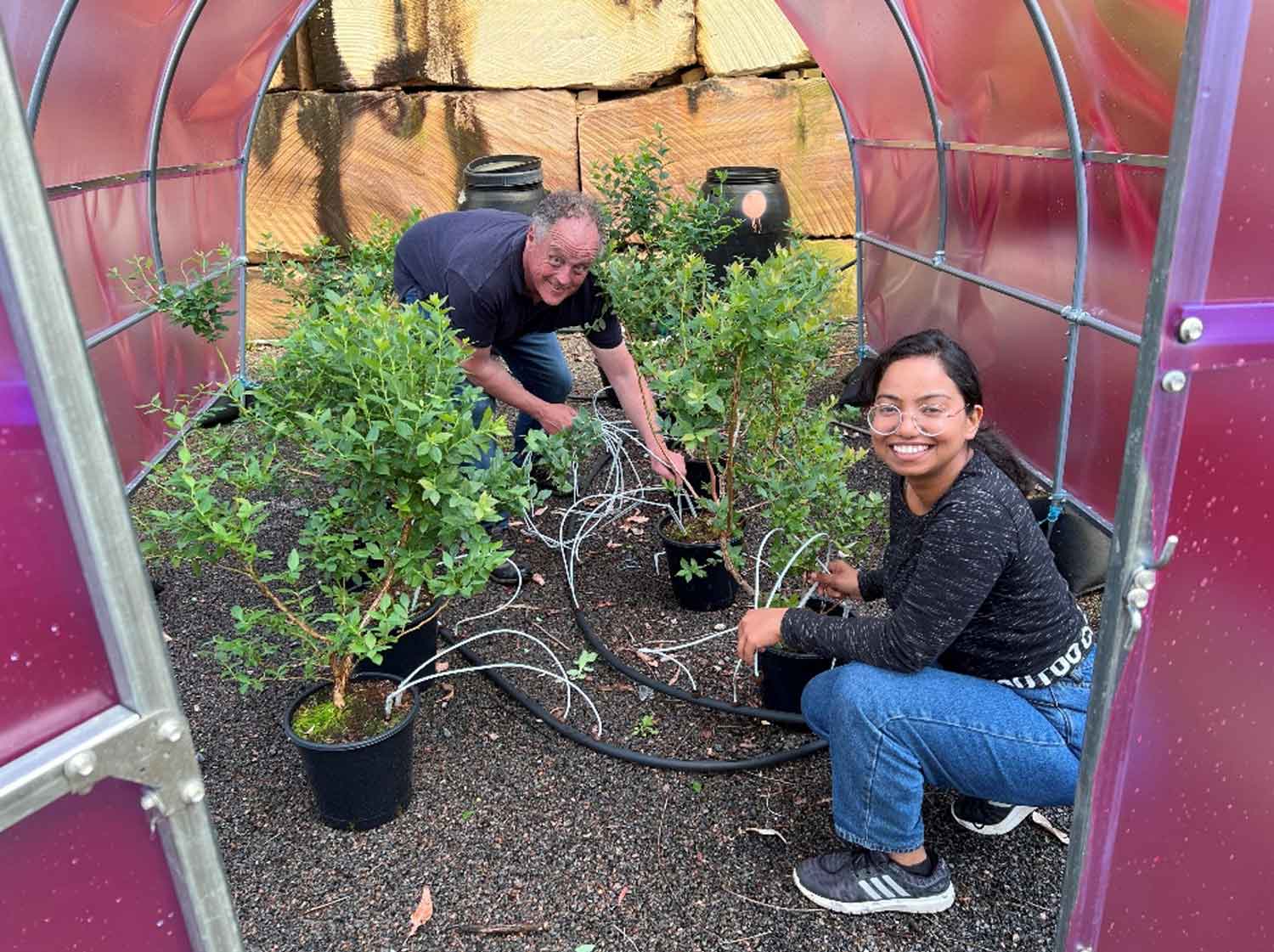 Learnings
"NSW Department of Primary Industries is well-equipped to pursue research in plant protected cropping and DPI's laboratories contain the latest analytical technologies, enabling us to perform thebiochemical analyses needed for this project," Gareema notes.
"My industry experience with DPI has given me the advantage of being able to develop my knowledge of protected cropping, one of the fastest-growing food-producing sectors in Australia, in a setting that fosters gaining real-life experience and skills, with a focus on intensive horticulture.
"The local protected cropping research environment of NSW DPI is supportive and has provided complementary expertise in the use of various tools and techniques. I am receiving an excellent level of support to achieve my career goals and excel in this ever-so-important research field.
"Under the supervision of Dr Sophie Parks, I am getting hands-on, real-world protected cropping experience. I will get to apply the skills I'm currently learning from Sophie in my research project.
"The practical experience gained through DPI will allow me to be part of a sustainable solution that focuses on protected cropping management, enhancing the nutritional quality of blueberry fruits and using cultivation practices to advance production," Gareema says.
Gareema looks forward to completing the final stages of her PhD project.
"I am committed to making a meaningful academic and commercial contribution to the field of crop sciences," she says.
More about Gareema Pandey
For further information about Gareema, viewed her LinkedIn profile.
Lead image: Gareema NSW DPI on blueberry greenhouse. Credit: NSW DPI
This article was first published on 25 October 2021. It was updated on 8 November 2023.