Doctoral candidate Charlotte Rowley is on a quest to find out more – a lot more – about some of the WA-produced foods millions enjoy across Australia and the world.
To further that quest, Rowley is working with a team of world-leading scientists at Murdoch University's Australian National Phenome Centre (ANPC), using cutting-edge Bruker scientific equipment to produce detailed molecular-level profiles of Western Australian-produce, including olive oils and fruit.
Rowley is hoping her findings can be used to formulate precision nutrition products and back provenance and health claims.
Generating molecular profiles of olive oil and fruit
Rowley's two-part thesis is titled 'Development of Precision Nutrition Strategies Using 1H-NMR Metabonomics'. The research entails deploying some of the sophisticated spectroscopic technologies available at the ANPC – specifically, Bruker NMR FoodScreener® methods (ISO number 17025) – to obtain molecular phenotypes of Western Australian fresh produce including olive oils sourced from different WA regions, seasons and stages of growth, and edible fruits.
Right now, Rowley is testing various olive oil samples in the ANPC lab. The resulting data, comprising detailed information on the provenance, authenticity and quality of these samples, will become part of Bruker's existing olive oil database.
Rowley will also generate molecular profiles of fruits, including berries and bananas, using Nuclear Magnetic Resonance (NMR) and Rapid Evaporative Ionization Mass Spectrometry (REIMS) techniques.
She will use these profiles to establish potential biomarkers indicating ingestion of particular fruits, conducting human clinical trials to assess subsequent changes in metabolism.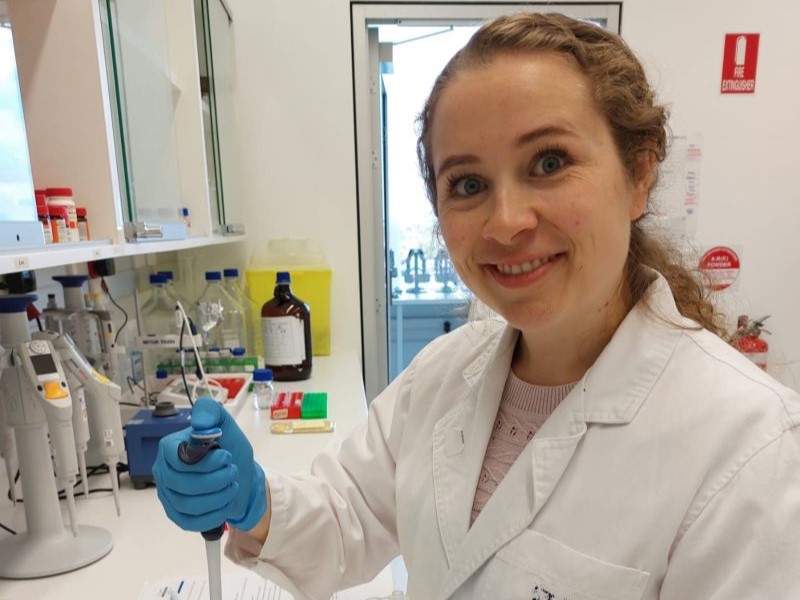 Developing precision nutrition strategies
Rowley's findings will provide detailed molecular data – the baseline information needed to formulate precision nutrition methodologies – as well as the nutritional data needed to enable meaningful comparisons of crops grown and foods produced using future farming and manufacturing practices.
Her research will contribute to the outcomes of the multi-year 'Food metabolomic library' project, a major CRC collaboration between Murdoch University, Bruker, WA DPIRD and food producers state-wide led by senior ANPC researcher Dr Ruey Leng Loo.
"I love that my career allows me to be involved in the latest research in nutrition science as well as working one-on-one with clients to put our findings into practice," Rowley says. "Plus, getting to taste-test the surplus food doesn't hurt!"
Professor Elaine Holmes, a senior research scientist based at the ANPC, is supervising Rowley's doctoral studies.
Lead image: Charlotte Rowley, CRC PhD student. Image courtesy of Charlotte Rowley.