The 2022 Future of Food Summit mini-expo was an exciting mix of future food innovations, upcycled products, agricultural robots, Indigenous crops and healthy pulse-based snacks.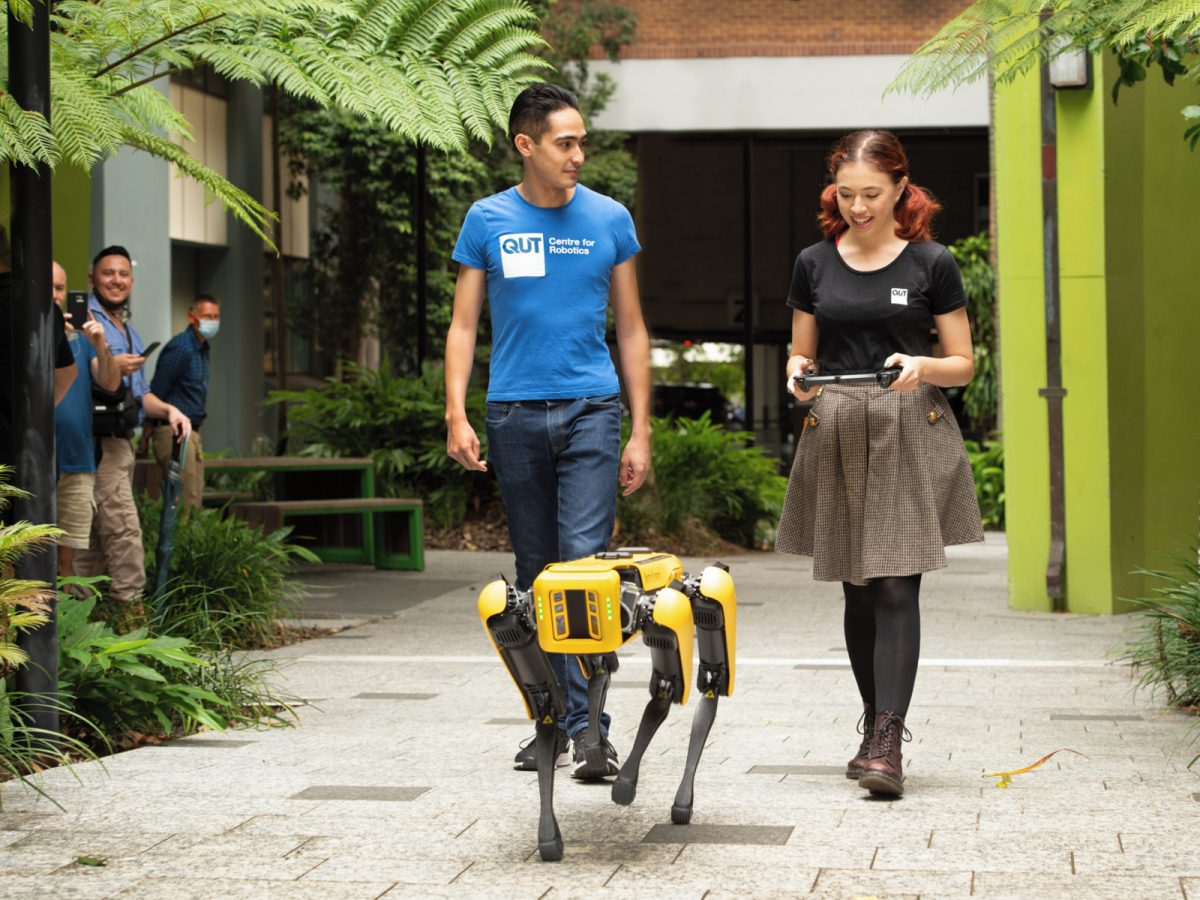 Robotics showcase 'base camp'
Two cutting-edge robots from QUT's Centre for Robotics were on display at the Summit mini-expo.
One was the prototype Greenhouse Platform Robot currently being developed by Dr Chris Lehnert under the Future Food Systems CRC.  Dr Lehnert, Chief Investigator at the QUT Centre for Robotics, is the research lead on the CRC's 'Enabling task automation in protected cropping systems with autonomous mobile robots' project with industry partner and commercial horticulture grower P'Petual Holdings. The prototype autonomous mobile platform he's developed has been customised to enable it to smoothly negotiate the rows and pipe rails of P'Petual's high-tech indoor cropping facility. It can have various crop-tending robots mounted on it.
The other robot that roamed the Summit venue was 'Spot, the robotic dog', which the university's Centre for Robotics spent many months in 2022 putting through its paces. Summit delegates were able to check Spot out at close range during breaks, and chat with some of the Centre's researchers about the various tricks this automated robot canine is capable of.
Research poster exhibition
Also on display were research posters detailing the work of the Future Food Systems CRC's PhD cohort in areas spanning protected cropping, networked sensor systems, nutritional and sensory analysis of foods and herbal supplements, chemical engineering, food science and more.
All the students represented at the Summit mini-expo (and in the Student Research Showcase on the afternoon of Day 1) are engaged on industry-led CRC collaborations with Future Food Systems' partner universities across Australia. 
Their posters were judged by a panel of experts from academia and industry, with winner announced at the Summit Gala Dinner.
QUT capabilities showcase
One room of the Summit conference venue was dedicated to a mini-exhibition of some of the QUT's cutting-edge capabilities in the areas of agrifood, automation, robotics, vertical farming, Indigenous ingredients, biocommodities and future food products.
Among the various exhibits were:
a live feed of virtual vertical farming via MCOW: view the operations of a high-tech experimental indoor cropping facility in real time;
an exhibit of QUT's exciting 'Seeds on the Moon' project (see below), including a fascinating explanatory video, a 3D-printed version of the payload chamber and Tripogon that attendees can pick up, and tissue cultures to check out.
a portable vertical garden display from Australian Urban Growers;
exhibits and information from the QUT Graduate Research and Education Office related to the university's Higher Degree Research (HDR) Internship and Industry Engagement program – an opportunity for industry and government to engage with QUT Masters and PhD students, staffed by an HDR Industry Engagement officer;
Displays, including prototypes, from three of the five winning teams from the 'Designing for Future Food' Youth Research Forum (see below);
a display of the native rice varieties being cultivated with a view to commercialisation by the Future Food Systems CRC's 'Native rice commercialisation' project; and
a tasty display of healthy, plant-based 'bhuja' baked snacks made from flour that's been milled from faba beans, a typically low-value pulse crop previously grown primarily for use as stockfeed.
Seeds on the Moon project display
The Australian Lunar Experiment Promoting Horticulture (ALEPH) will send a selection of plants to the moon in 2025. 3D prints of the payload chamber design as well as samples of one of the 'resurrection plants' considered for the mission were on display at the 2022 Future of Food Summit. Resurrection plants are a species that can survive extreme dehydration and 'resurrect' upon watering.
In addition, there was a display of examples of 'citizen scientist kits' that will form part of the education and outreach activities stemming from the Seeds on the Moon project.
The research team hopes that by testing sustainable methods of growing plants (e.g., for food, medicine and oxygen) in the harsh conditions on the moon, we will learn important lessons for sustainable innovation here on Earth.
Winning 'future food' innovations
'Designing for Future Food' Youth Research Forum: three of the five winning teams showcased their future food innovation prototypes, created for a competition run in August 2022 year by QUT's Centre for Future Enterprise and the Queensland Government, which awarded a total of $20,000 in prize money to the five winning teams. The exhibits included:
Meating Culture: A 'grow your own fungus' kit that combines a kitchen appliance and app to enable do-it-yourself production at home, also building a community through the sharing of recipes (Lauren Fell and Laura Peachey Burgess);
Digital Deli: An online alternative health store providing a personalised 'alternative food' hamper (based on AI), with options to demystify these alternatives and increase consumer confidence, as a way to help grow the market for these foods (Tu-Ai Le, James Darcy-Miles and Amay Small); and
Edencation: A virtual lab providing school students with a VR STEM education on how to mix fermented proteins (Hao Long, Wai Hong, Joseph Lee, Fatima Zuba Ahmed and Grace Weston-Oliver).