Born and raised in Durban, South Africa, Sagadevan Mundree has spent much of his life among plants.
When he's not in the lab poring over new pulse varieties or developing cleaner, greener bioproducts, this prolific researcher can often be found exploring the great outdoors.
An early riser, the remarkably youthful 55-year-old is usually up and about by 5am. He eats a healthy, balanced diet – including at least one serve of fibre-rich pulse legumes daily – and takes long weekend hikes around his adopted hometown Brisbane, solo or with his wife. When time (and pandemics) permit, Saga plans adventurous travel breaks. On one such sojourn, he climbed Mount Kilimanjaro.
His academic credentials are impressive: Fulbright Scholar Sagadevan G. Mundree lists B Paed(Sci), BSc(Hons), PhD and MBA after his name, and is a member of the South African Academy of Science.
His illustrious career spans decades and continents.
A stellar academic career
On graduating from the University of Durban–Westville (UDW) in 1988, Saga spent four years teaching high-school biology while completing a BSc(Hons). Soon after graduation, in 1992, he was awarded a Fulbright Scholarship to pursue doctoral studies in the Department of Botany and Microbiology at Auburn University, USA. Here, he spent four years investigating the molecular determinants of salinity stress tolerance, garnering numerous accolades for academic excellence along the way.
Returning to South Africa in 1997, Saga took up a post-doctoral position in the University of Cape Town's Botany Department, where he was offered a lectureship a year later. The following year, he transferred to the Microbiology Department, researching abiotic stress tolerance in plants. In 2004, Saga netted UCT's Distinguished Teacher Award.
Later that year, inspired by entrepreneurship and innovation in the biological sciences, he took up the role of Chief Executive Officer at PlantBio, the National Innovation Centre for Plant Biotechnology, where he played a significant role in developing South Africa's plant biotechnology sector.
In 2007, Saga was recruited by the Queensland Government's Department of Primary Industries and Fisheries (DPIF) to lead the team responsible for DPIF's RD&E investments across the state.
He joined Queensland University of Technology as Deputy Director of the university's Centre for Tropical Crops and Biocommodities (CTCB) in 2010. Less than six months later, he was promoted to Director.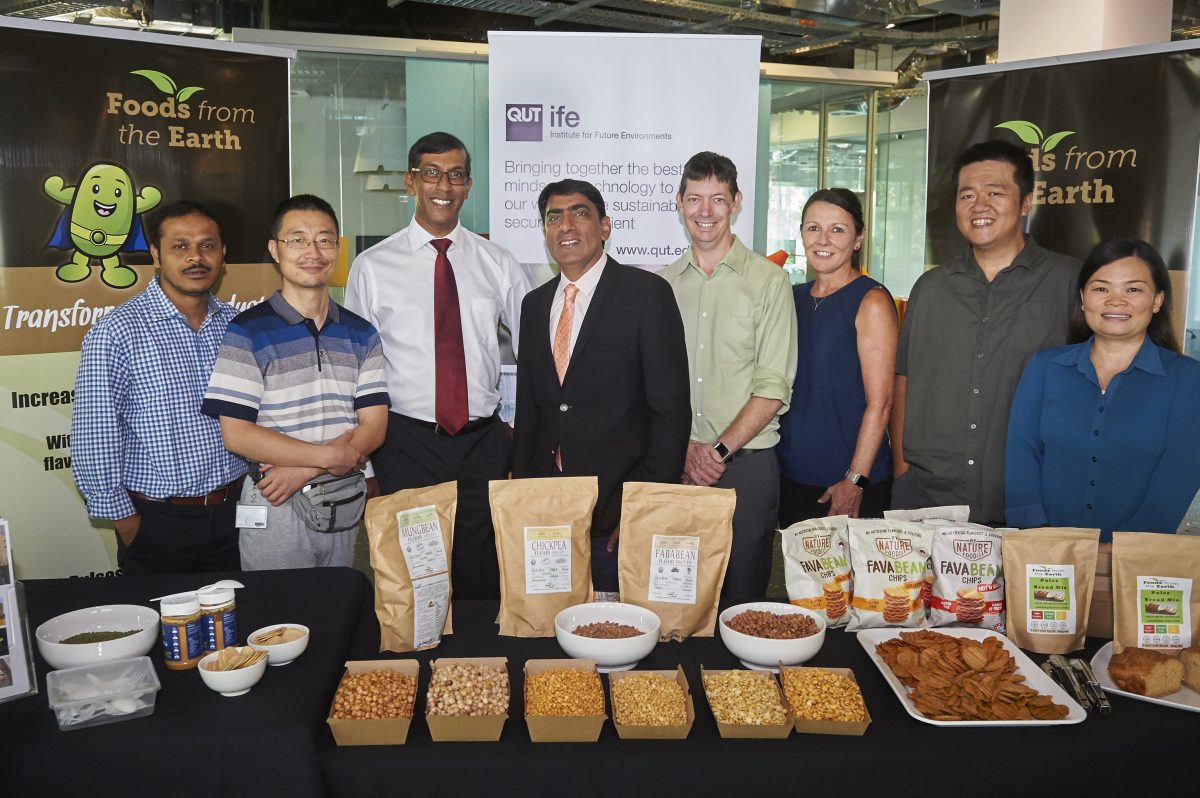 Advancing sustainable plant science with real-world applications
At QUT, Saga wears more than one hat. As Director of the Centre for Agriculture and the Bioeconomy (CAB), part of the university's Institute for Future Environments, he helps feed the world sustainably and develop cleaner, greener bioproducts. As Professor and Director of the CTCB, he specialises in developing commercially-suitable varieties of tropical pulse crops – chickpeas, faba beans, lentils, cow peas and mung beans, working with industry and government to develop nutritionally rich, fibre-dense, pulse-flour fortified products including breads, pizza bases and snack foods.
Right now, Professor Mundree is leading a collaborative CRC project with industry partner Austgrains to modify the taste profiles of these products to suit western palates.
He's also working with crop scientists at Charles Darwin University, NT DPIR, industry and Indigenous enterprises on a multi-stage CRC project aimed at commercialising native wild rice in Northern Australia to benefit Indigenous business and communities.
And the ever-enquiring professor has plenty more project proposals in the wings.
More importantly, perhaps, he has the enthusiasm, energy and intellectual clout to bring them to fruition.
Stay tuned.