Building scale in premium markets
The National Farmers Federation has set a target to double the value of Australian agriculture from $50  Billion to $100 Billion p.a by 2030.
This is achievable with smart investment in the value chain guided by insight into future customer preferences and needs.
Emerging markets in Asia provide sustainable demand to underpin investment in advanced systems for production of high-value, customised goods.
Food Innovation Australia  Ltd (FIAL) research has projected massive growth in demand for goods with verified nutrition and quality attributes with the majority of new demand in Asia.  By 2025:
The global market for foods catering to demand for trusted fine foods and nutritious  'convenience meals' alone is projected to be AU$2.7–$3.6 trillion.
The 'health and wellness' category of food, which includes organic foods, 'free from' foods (for people with allergies) and foods with special environmental credentials such as indigenous foods, is projected to be worth AU$3.4 trillion per annum.
The emerging market for 'targeted eating' – product reformulation to reduce fat and sugar content, functional or fortified foods, and personalised foods designed to address specific nutrient needs and health concerns is projected to be worth AU$690–AU$770 billion per annum.
Leveraging Australia's reputation for quality
The Australian brand is well regarded in Asian markets, with a 2016 survey of high value Chinese consumers rating Australia 2nd out of 20 countries with regards to the quality of agriculture products used in food production.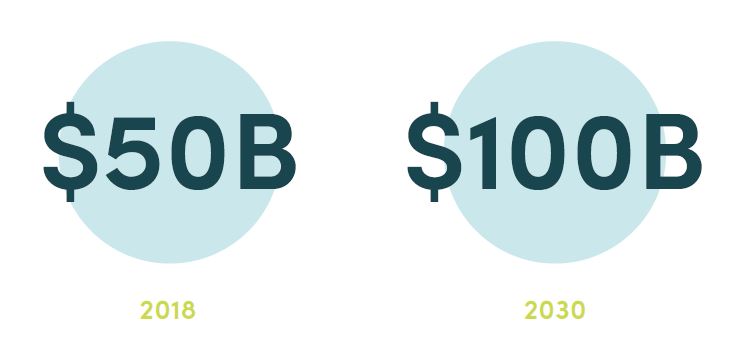 High-tech urban agriculture a potential export industry
Innovation in indoor production and sustainable production of food in urban  and other resource constrained environments is also an important growth sector for technology and services. FIAL estimates that the global opportunities surrounding high-tech urban agriculture are in the order of AU$185– AU$395 billion by 2025.
Note: Figures from Size of the Prize: An Overview of 16 Opportunities for Australian Food & Agribusinesses, FIAL 2017.