In the first phase of this multi-year collaborative commercialisation project, researchers from Charles Darwin University (CDU) and the NT Department of Industry, Tourism and Trade (DITT) – assisted by industry partners, First Nations enterprises Pudakul (NT) and Olive Vale Pastoral (FNQ) – collected three species of wild rice from locations across Northern Australia.
The team survived crocodiles, airboat breakdowns and an unusually rainy wet season to harvest more than 20 kilograms of unprocessed seed, enough to yield around 10 kilograms of processed grain.
The seed collected will be used in ongoing bulking up of seeds, for grain-quality analysis and for the suite of agronomic studies that are the focus of this research.
Agronomic trials underway at CDU with annual species Oryza meridionalis and perennial species O. rufipogon indicate that both wild-rice species are highly responsive to fertiliser application, auguring well for commercial cultivation and yields.
Further south, at Queensland University of Technology (QUT), project team member Professor Sagadevan Mundree has been working with Pudakul and Olive Vale Pastoral to develop protocols for broadacre cultivation. Meanwhile, Prof. Mundree is investigating nutritional and other quality attributes of the Australian native rice species collected, and comparing these with samples of Canadian native rice (Zizania) provided by Manitoba-based First Nations enterprise Myera Group, also a partner in the project.
NT DITT Executive Director of Agriculture Phil Hausler said the project plays to Northern Australia's strengths – adding value to an under-utilised crop and providing jobs and business opportunities for the region's First Nations people.
"This is an exciting opportunity to leverage the Territory's natural advantages to help develop an understanding of the best management practices for the cultivation and processing of native rice," Mr Hausler said.
"We know agribusiness is one of the economic drivers of the Northern Territory and this research will assist in attracting and facilitating investment, growing our export markets and supporting Aboriginal business development and employment opportunities."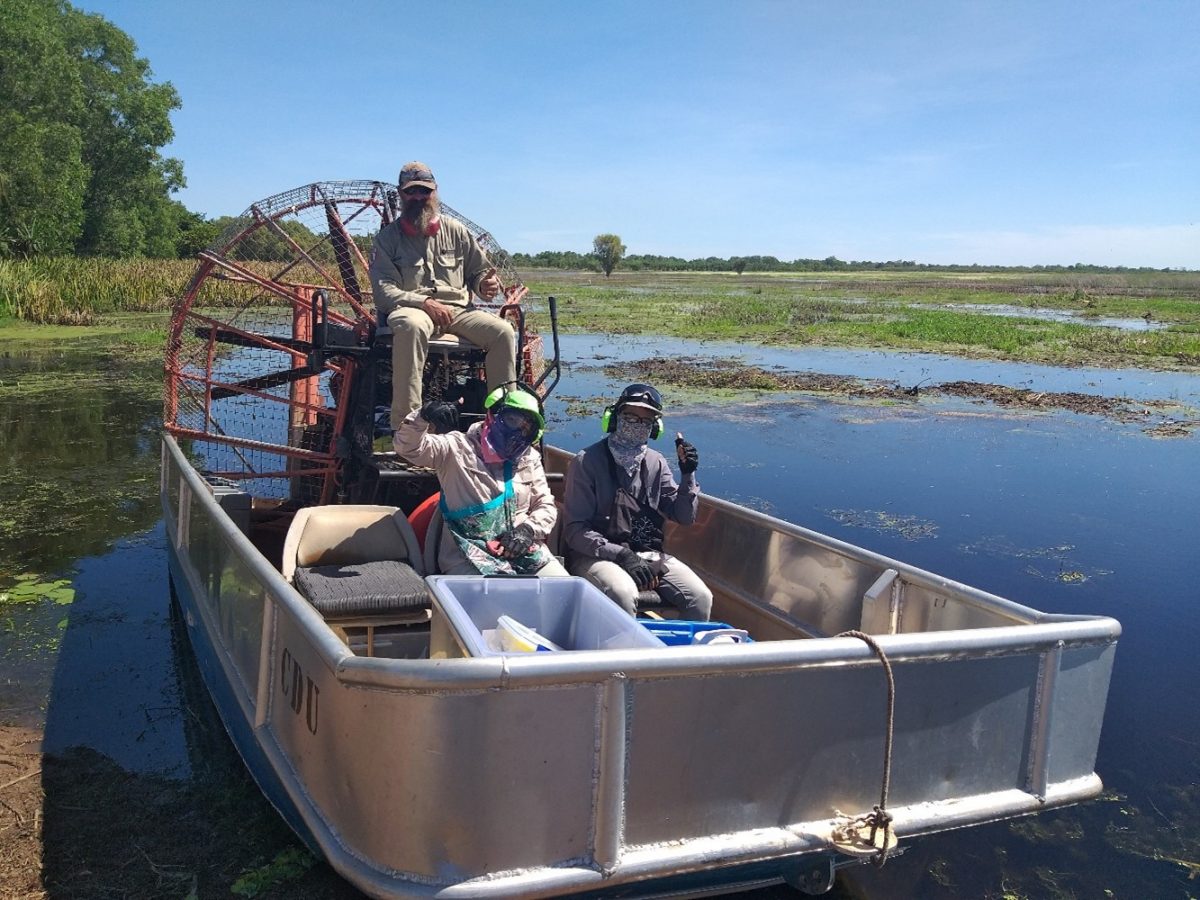 Wild-harvesting northern native rice species
Research staff from CDU and NT DITT have been busy wild harvesting native rice this quarter. The 2020/2021 wet season produced a bumper 'crop' of native rice on the Adelaide River floodplain, Northern Territory.
"Thanks to an above-average wet-season rainfall, water levels were just right for airboat launching well into April. This enabled the collection over 20 kilograms of unprocessed seeds, which will yield close to 10 kilograms of processed grain," says project research lead Dr Sean Bellairs.
The CDU team made five trips onto the floodplains in the Fogg Dam Conservation Reserve, to identify populations of the two native rice species during flowering, and to track the progress of grain filling.
"I have never seen anything like it," said CDU RIEL researcher and project team member Dr Penny Wurm. "After travelling through hectares of native rice, with pollen at peak production, we looked like we'd had saffron thrown all over us by the end of the day – pollen was everywhere!"
The two species, the annual Oryza meridionalis and perennial O. rufipogon, are difficult to identify in the field, with the key distinguishing feature being anther characteristics.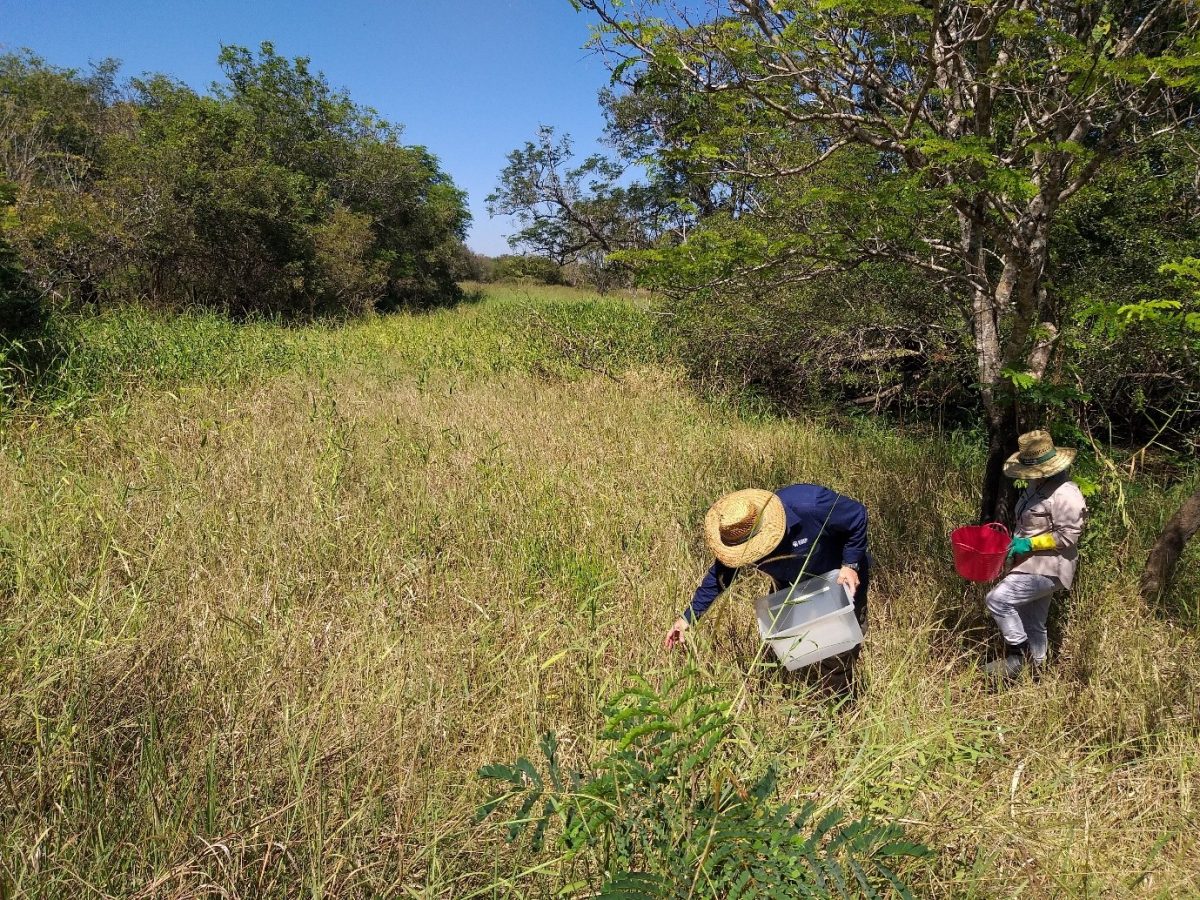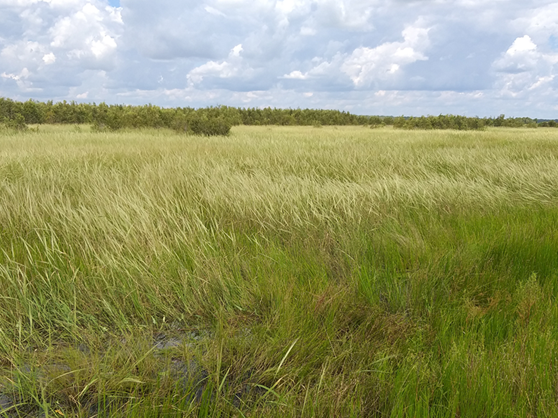 Over the following weeks, seed fill occurred, starting first in the annual species Oryza meridionalis and following two weeks later in the perennial species O. rufipogon. After not one but two airboat breakdowns, airboat collection was stopped in mid-April.
The airboats used in this project are shared under an agreement between CDU and the NT Parks Service, which provides the equipment fuel and pilot for the project.
Greg Williams, Chief District Ranger – Adelaide River Parks, is an enthusiastic supporter of the MoU. "Collaborations with researchers provides mutual benefits for researchers, Parks staff and Traditional Owners, who jointly manage all NT Parks," Williams says.
The team then waited until early May for water levels to drop so that harvesting could occur on foot. Seeding populations of native rice could be safely accessed on foot from areas within the NT DITT Beatrice Hill Research Farm, not far from Fogg Dam. Peak seed production had finished but we managed to collect by hand into late May.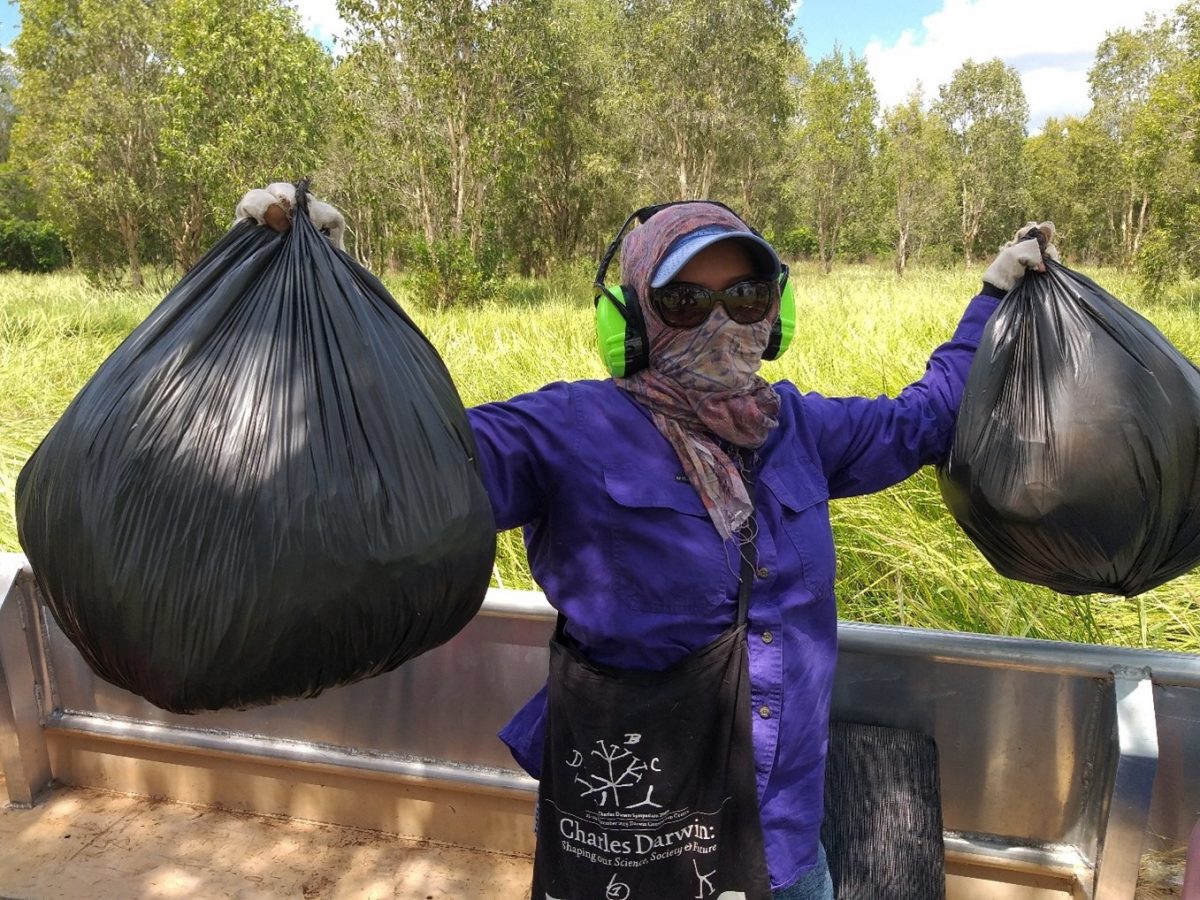 "'Safely harvest' refers to the fact that the vast floodplains are also home to healthy populations of saltwater crocodiles," Dr Bellairs says. "Wading is definitely not an option, so wild harvest has to be supported by access to an airboat."
Regarding crocodile safety: this June, the research team undertook a Crocodile Awareness and Safety Course, run by Adam Britton and Erin O'Brien of Big Gecko Crocodilian Research.
"They are amazing animals, incredibly well adapted to their environment," says Dr Wurm. "We discovered a link to native rice as well. Even large crocodiles eat quite small prey, including the dusky plains rat. This native rat is itself a seasonally abundant floodplain species that relies on native rice seeds to build its populations at the end of the wet season."
This wild harvest contributes to other aspects of the commercialisation of native rice project. The seeds the project team has collected will be used in ongoing bulking up of seeds – for grain-quality analysis, and for the suite of agronomic studies that are the focus of this research.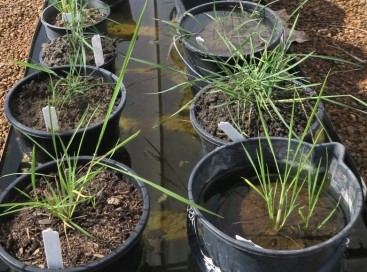 Growth and yield trials
Some experimental trials investigating the effects of fertiliser and soil volume on the growth and yield of Oryza meridionalis and Oryza rufipogon were completed at the CDU plant science research shade houses.
Trials by Master of Environmental Management student Tanvi Patel showed that both species were highly responsive to the application of fertiliser, which affected plant height, biomass, tiller number and yield. Soil volume also affected these traits.
"Our trials show that these species are highly responsive to applied fertiliser, and that it is possible to greatly increase the density of fertile tillers and the resulting yield with appropriate fertiliser management," says project research lead Dr Sean Bellairs, from the CDU Research Institute for Environment and Livelihoods.
"Understanding relationships between native rice plant density, fertiliser application rate and yield is vital for commercial production."
Many of agronomic trials will be carried out by PhD student Gehan Abdelghany. These trials have been delayed due to restrictions of travel due to COVID. However, Ms Abdelghany has now received permission from the Commonwealth Government to travel to Australia.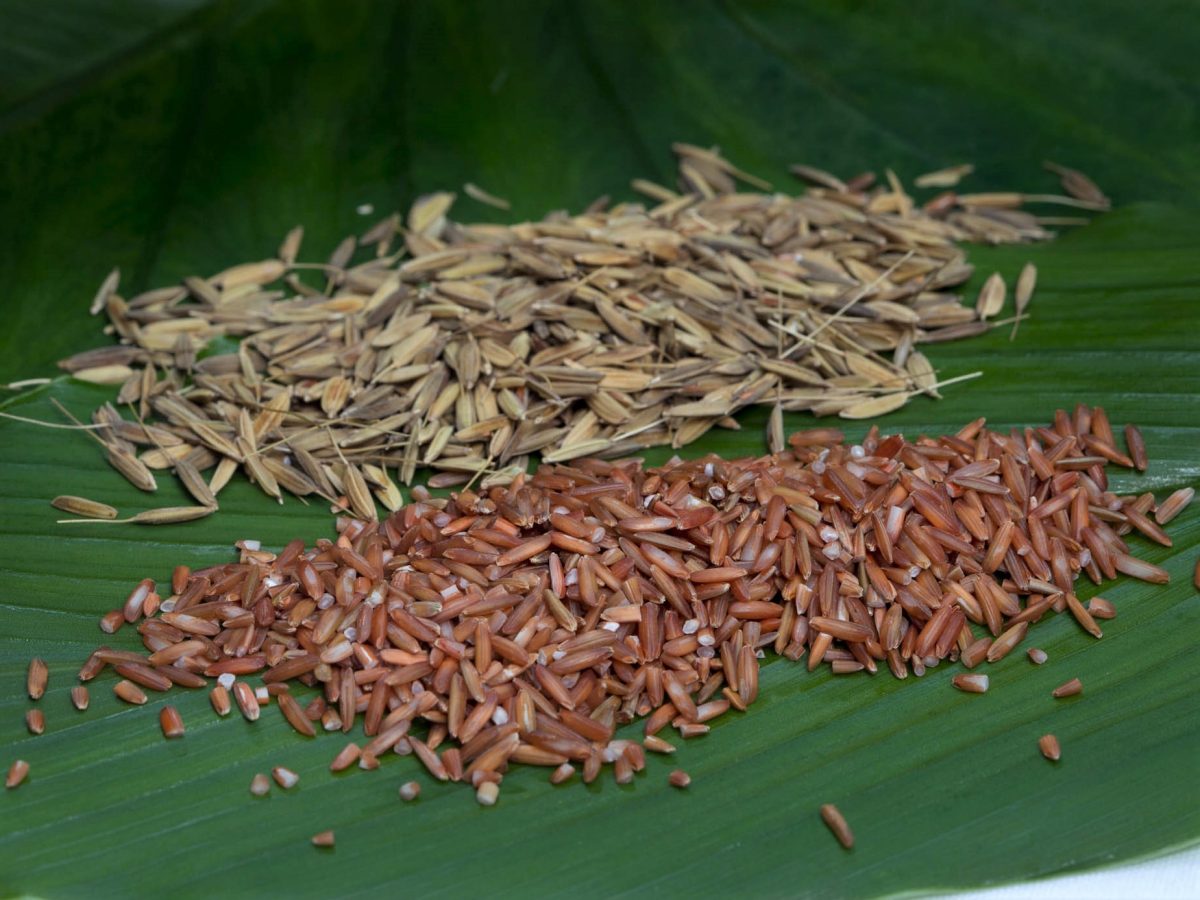 Grain quality analyses
Queensland University of Technology (QUT) research staff are engaged on a number of levels.
"My team and I have been working with the CDU team for four to five years, largely around wild rice," explains QUT's Professor Sagadevan Mundree. "Our Indigenous communities have been using it for a significant period of time, but mainly harvesting it in the wild, never growing it in commercial quantities."
"The project team is looking at agronomical practices and developing protocols that will make it possible to grow native rice intensively, as a broadacre crop," Prof. Mundree explains. "CDU is doing it with Pudakul in the NT; we're doing it with Olive Vale Pastoral in Far North Queensland."
"Olive Vale has native rice growing wild on its properties – more than one species, and different from that growing in the Northern Territory. They've sent us samples for analysis. Additionally, we're working closely with Canadian First Nations company Myera Group [which sent Canadian wild rice (Zizania) samples to us for analysis], looking at how the traditional profile of the Canadian native rice compares to that grain that grows wild in Northern Queensland."
Investigating the grain quality attributes of the samples – attributes that may be affected by growing location and various environmental attributes – meant separating awns, husks and caryopses so the nutritional attributes of each could be determined.
"Now we have protocols in place, we're starting the analyses and bulking up seed to plant at Olive Vale at maximum quantity in the spring," says Prof. Mundree. "We'll design the trial plots; it will be planted mechanically, and we'll help to monitor the resulting crop.
"The time to harvest is four or five months, so it should be ready to harvest by summer.
Nutritional analyses
"We hypothesise that there are health benefits in native rice," says Prof. Mundree. "We think native rice contains certain phenolic compounds that give it its particular properties, as well as minerals such as iron and zinc, and that it is high in protein, low-GI and gluten-free. But we've yet to establish all this scientifically. So we're looking at the protein content and doing elemental analyses.
"Here at QUT, we have some very complex, sophisticated equipment for doing this, known as LAICPMS technology. It enables us to run a laser across say, a flour product, and know precisely its nutritional profile.
"We're starting analyses now.
Developing health products from native rice?
Down the track, QUT is looking at maximising returns from native rice crops, with profits feeding back to Indigenous producers.
"QUT's interest is in the value-addition," he says. "Once harvested, the rice can be milled and integrated into products, such as flours, baked goods and healthy snacks, with superior health and nutritional benefits," Prof. Mundree says.
"The CDU research team will be looking into the mechanisms for dehusking native rice, designing and developing customised milling equipment. With milling, they'll start on a small scale and see what challenges arise. One challenge already identified is that with native rice, the seeds can fall off prior to harvest, so we'll be looking at how to overcome this. We'll look to solve this issue with technology, and by breeding better varieties.
"We'll then experiment with what types of products we can create from it – and, depending on its nutritional profile, looking at target products and target markets for new products made from native rice flours. Because we know a lot of Queensland grain producers and processors, we can utilise DFAT's facilities to develop prototypes and test them."
Further reading
For more information about CDU's work with native rice, read the following documents.