Leading New England businesses, the Tamworth Regional Council (TRC) and the University of New England are partnering to offer four research-related positions designed to drive innovation in the region.
Worth up to $38,597 per year, the positions are with local boutique durum wheat processor Bellata Gold Milling, and ICT International, which is developing a remote sensing system to monitor street trees in the Tamworth CBD.
Tamworth Regional Council General Manager Paul Bennett said Council was excited by the potential benefits of the projects on the Tamworth community.
"This helps to create an opportunity to draw researchers to our community and be involved in innovative projects," he said.
Mr Bennett said the tree monitoring project was of particular interest to council.
"We see great value for our community in supporting a research project which aims to help us better understand the health of our significant trees and the learnings from this are expected to be a real benefit in our ongoing efforts to green and cool our region," he said.
"Our council has embraced the use of technology as a Smart City to improve the way we deliver services to our community and to have this project here and make use of sensors, software and other technologies for tree water use monitoring is exciting."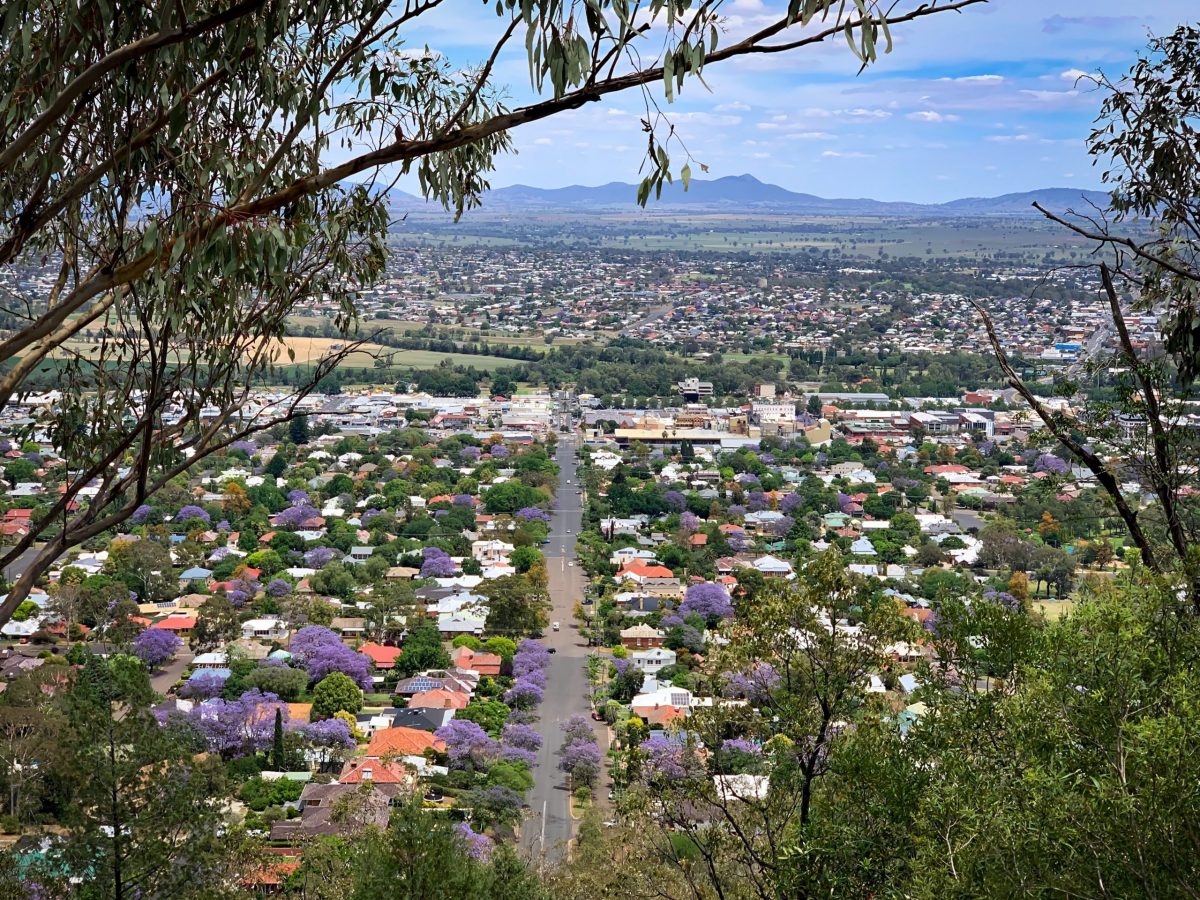 Real-world innovation to capitalise on region's strengths
Bellata Gold Milling General Manager, Hamish Shaw, said the diversity of the food and fibre offering in Tamworth, and broader North Western NSW, makes the region particularly well placed to convert PhD.I opportunities into real-world improvement and innovation.
"The regions and in particular North Western NSW, are in the unique position of being in the heartland of food, fibre, ag business and ag tech," he said.
"We are working for our ideas to put us at the forefront of current global food trends; as a result, the candidate themselves will be at the forefront of these global trends.
"UNE and the broader PhD.I program have the framework, capability and competencies to deliver this opportunity to Tamworth and the broader region."
UNE's Director of Regional Development, Professor David Miron, said the emerging fields of blockchain and data provenance, QR coding, data integrity and consumer confidence, and tree care in an urban environment were a key focus of the four roles.
"Graduates of the UNE PhD.I program have already achieved groundbreaking industry innovation research, resulting in improved productivity and valuable new knowledge and skills that has boosted their careers," Prof. Miron said.
"These four new PhD.I scholarship opportunities not only support educational attainment in regional areas and UNE's commitment to Tamworth. It is also an important building block in UNE's ambitious plan for a greater New England North West STEM region.
"A program specifically designed to power regional growth and resilience by connecting research, industry and investment," he said.
More information
UNE's PhD.I is a sector-first award that allows candidates to earn a doctorate from their workplace that creates productive change without sacrificing academic rigour.
For more information on entry requirements and enrolment periods for the PhD.I positions, visit the PhD Innovation section of UNE's website.
This article was published initially on the University of New England website on 14 September 2021. It has been reproduced here courtesy of the UNE Media team. View the original article here. 
Lead image (L to R): Tamworth Regional Council General Manager Paul Bennett, Bellata Gold Milling General Manager Hamish Shaw and UNE Professor David Miron. Composite image courtesy of UNE Media.