The inaugural Future of Food Summit highlighted pressing challenges facing global food supply and identified innovative, sustainable solutions.
Delegates from across industry, government and academia congregated at Queensland University of Technology's (QUT) Kelvin Grove Campus on 1-2 December 2022 for the inaugural Future of Food Summit.
Organised by Future Food Systems CRC, the summit program featured Australian and international keynote speakers, who provided insights into how we can develop smart, sustainable, resilient food systems that capitalise on Australia's unique strengths, give our agrifood products a competitive edge in key target markets and shore up food security.
A range of topics and solutions were discussed in depth over the two days in Brisbane. These included new approaches to sustainability, protected cropping, alternative proteins, Indigenous agriculture and food, Intellectual Property (IP), waste upcycling, vertically integrated systems, government policy and much more.
Collaboration and innovation emerged as a recurring theme across the two days in Brisbane.
"You can only affect change through sharing ideas in a physical environment," said EcoMag CEO Tony Crimmins. "I need ideas and networks to advance my company and the Future of Food Summit has provided both."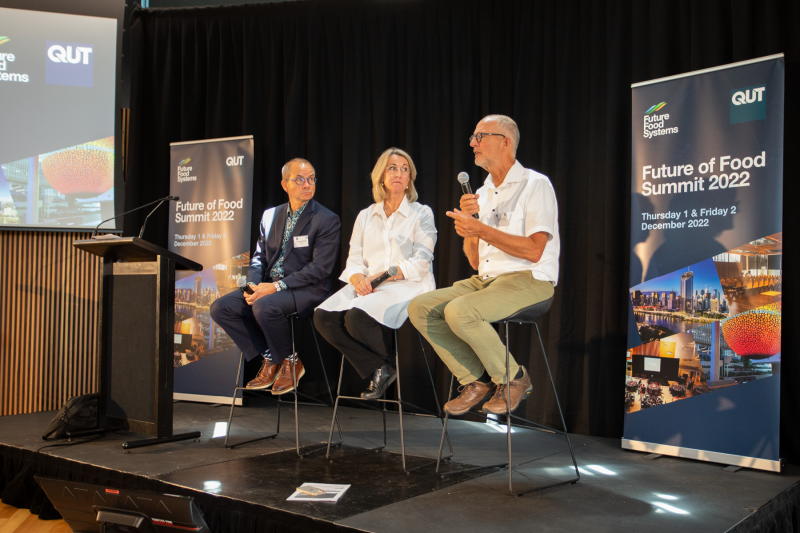 The three Cs
While collaboration and innovation provide a discernible pathway for future aspirations, the current state of play was perhaps best summed up as 'the three Cs'.
Over the past 24 months, COVID-19, climate and conflict have dominated our collective thinking. Each continues to have a significant impact on food production systems and supply chains.
According to Summit keynote speaker and CSIRO senior scientist Dr Thomas Vanhercke, alternative proteins and synthetic biology have potential to provide solutions to challenges associated with a changing climate. Currently, however, the high costs of producing such alternatives are a major hurdle.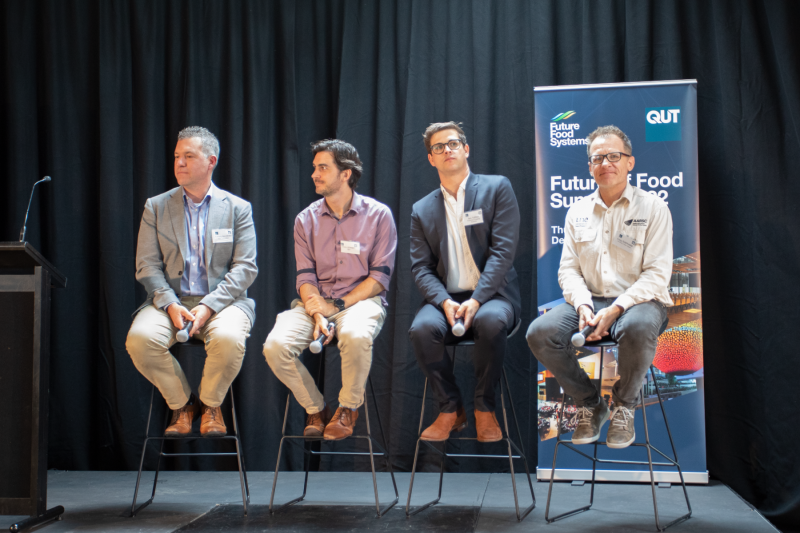 Prioritising Indigenous knowledge
In his keynote Summit presentation, Bruce Hardy, President of Indigenous-led enterprise Myera Group, outlined how the Canadian biotech company is combining cutting-edge software and sensor technology with biotech solutions to solve traditional agricultural problems.
Part Cree Indian, Mr Hardy said Myera Group has made progress collaborating with local communities and Indigenous stakeholders in designing a decentralised food system platform that can adapt depending on a community's nutritional and economic needs.
Currently, Hardy is developing AV tools utilising artificial intelligence (AI) in a digital twin to demonstrate scenario planning and educate communities.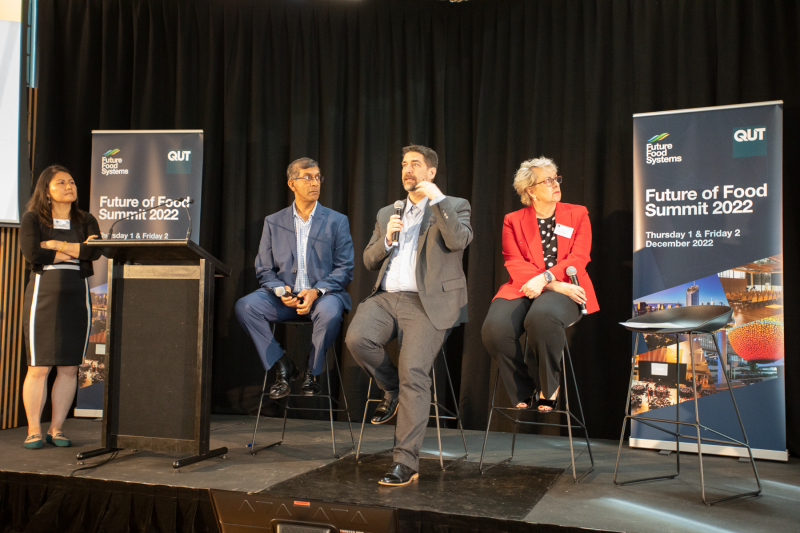 Gala Dinner
Two-time MasterChef contestant and Indigenous chef-restaurateur Mindy Woods was the MC of the Future of Food Summit Gala Dinner, held in the majestic foyer of Queensland Museum.
Ms Woods brought Indigenous foods on the menu to life, awakening a collective sense of pride in Australia's long, rich history of sustainable Indigenous food production systems.
Woods spoke at length about the importance of reconciling with Indigenous food and knowledge and of ways of incorporating indigenous Australian ingredients into everyday use.
"A lot of people just think, 'bush tucker is bush tucker'. But when you look at it from a country-based level, according to clan and tribal groups, there's great diversity across Australia as a continent – environmentally, and in terms of the native foods available in different parts of the country," she said.
"I'm a saltwater and rainforest woman. They're the foods that I love to cook with and connect with because they're from my country. Then you go out to the Central Desert region and find there's a whole different type of cuisine, and a culture attached to it."
Ms Woods said that often, Indigenous foods have multiple applications.
"The stems of the hibiscus plant, for instance, were used to make fishing line; the bark was used as an antiseptic; and then, of course, you could eat the flowers.
"Up to 75 per cent of the native species growing in our little rainforest behind Byron Bay actually had a cultural use. And we're just starting to tap back into that ancient knowledge," Ms Woods said.
"That's sustainable living."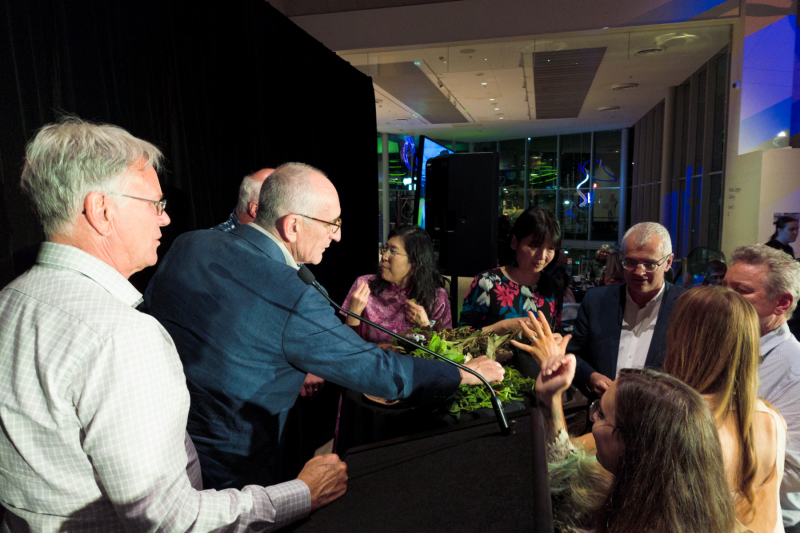 Attention shifts to 2023
On Day One of the Summit, Future Food Systems CRC took the opportunity to introduce its incoming CEO, Dr James Krahe.
Dr Krahe will commence in the role on 16 January 2023, joining the CRC from Food Innovation Australia (FIAL), where he was the Innovation Manager. Read the media release here.
Lead image: L to R – Bob Mullins (Board Director, Future Food Systems CRC), Dr Erin Rayment (Executive Director, Office of Industry Engagement, Queensland University of Technology), Dr Alex Soeriyadi (Co-founder / CEO, LLEAF), Tony Crimmins (CEO, EcoMag) and Dr John Ashton (Strategic Research Manager, Sanitarium) during the Summit's 'Research impact in real-world applications' panel