Tasked with advancing agribusiness development in the Namoi region of north-western NSW, the Namoi Joint Organisation of Councils (JO), comprising Gunnedah, Tamworth, Walcha and Liverpool Plains LGAs, was keen to help local planners determine suitable locations for future agrifood operations and infrastructure.
With FFS co-funding, Namoi JO engaged AI and data-mapping expert Professor Hoon Han and postgraduate research assistant Ripan Debnath at UNSW Sydney's City Futures Research Centre (CFRC) on the 'Supporting agribusiness development in the Namoi' project.
Han and Debnath collected spatial/GIS and tabular (Council and ABR) data on agribusinesses across the Namoi: poultry farms, livestock operations and broadacre cropping as well as feedlots, abattoirs, processing facilities, agricultural feed and equipment firms, etc. They geomapped this to create an online snapshot of existing agribusiness locations and types, also 3-D mapping their spatial density over a 0.25km2 area to show any specific agribusiness clusters (Figure 1).
The team then gathered data on criteria deemed important to the region's agribusiness from multiple, mainly open sources, mapping it to create a web-based multi-criteria decision-making (MCDM) tool.
"To assess land suitability for agribusiness, we had to look at factors such as water availability, land slope, infrastructure such as electricity, road and rail transport, airports; and land use, such as Council land, residential, public buildings and agribusiness facilities such as storage sheds, feedlots, abattoirs etcetera," Prof. Han explains. "We collected data on these variables – a dataset – using government as well as publicly accessible data. About 80% of the data we needed was provided.
"We created a basic layer for the map from Council GIS records. Then we had to manipulate the data – not easy, especially when data is missing or out-of-date – using statistical packages like 'Assess' that geocode data automatically. Then we needed to assign weights to each factor."
Weights were provisionally assigned to criteria on the basis of a literature review but as weightings are contextual, additional input from local experts was needed.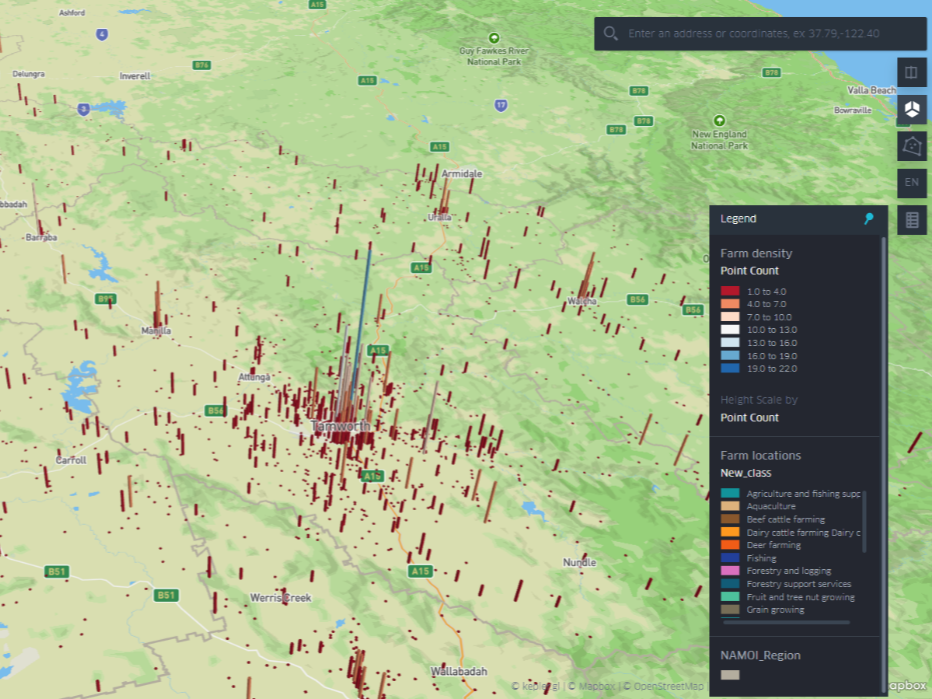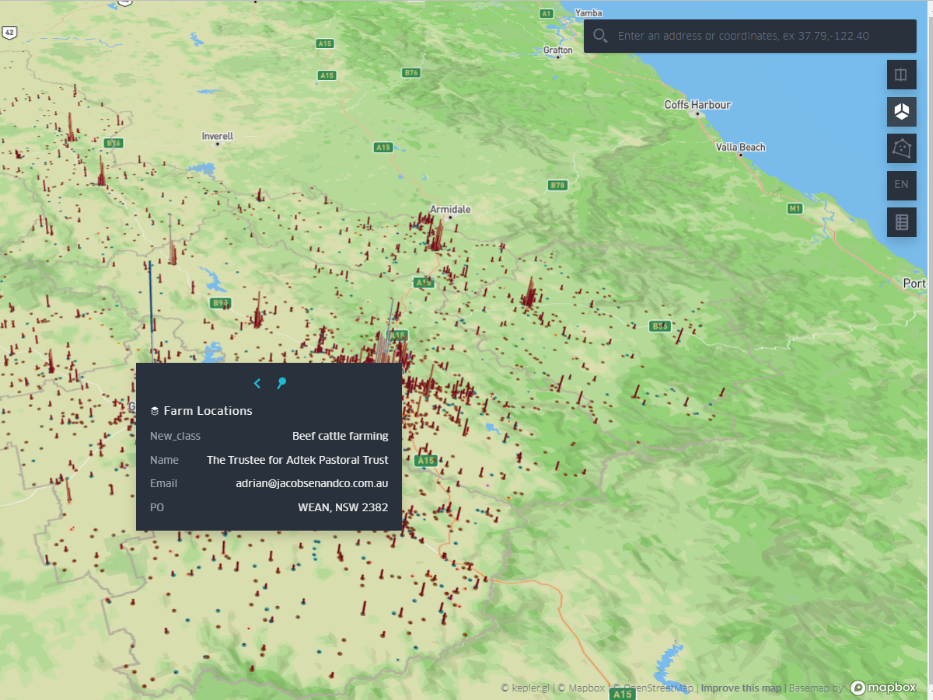 Figure 1: Screenshots of agribusiness locations and density represented as a 3D map over a 0.25 km2 cell area (optimised for reporting; a taller bar indicates a denser cluster). The top map includes all agribusinesses; the bottom map shows the density of beef cattle farms in the Namoi JO region. Courtesy of Prof. Han, UNSW City Futures Research Centre 
Namoi planning tool workshop
The four-hour Namoi Co-Design Workshop, held in Tamworth, NSW, on Friday 24 March 2023, aimed to show stakeholders the new decision-making tool, get feedback on the model and reveal region-specific factors the team could use to adjust the criteria employed and weights assigned to each.
The workshop introduced around a dozen stakeholders – a largeish contingent from Tamworth Regional Council and representatives from the other three Namoi LGAs, Department of Regional NSW and Six Hills Group – to the preliminary version of its MCDM model (Figure 2). The project team demonstrated the Multi-Criteria Analysis Shell for Spatial Decision Support (MCAS-S) tool and showed attendees how suitability results were drawn, creating and sharing 'suitability maps' for poultry, beef and crop farming as well as the 'search' option for checking suitability results for particular locations. The project team then solicited attendees' input to improve the model.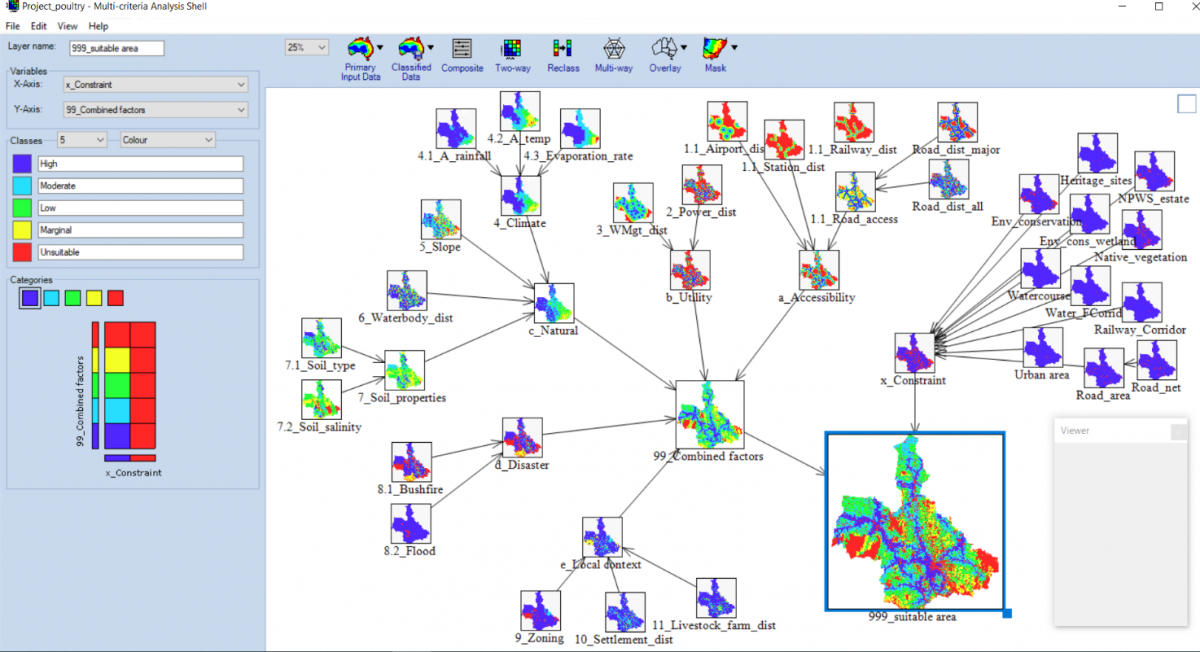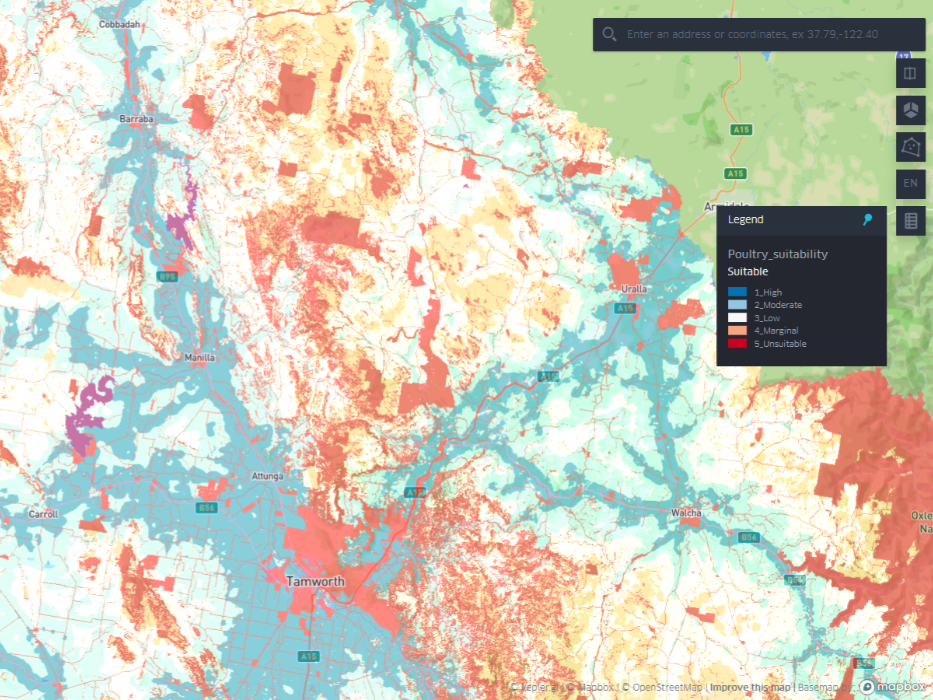 Figure 2: A screenshot of MCDM model developed for the suitability analysis of poultry farms (top); the resultant output is shown via an online map (bottom). Courtesy of Prof. Han, UNSW City Futures Research Centre 
"The Namoi Co-Design Workshop had a significant focus on stakeholder collaboration, to evaluate the local context as well as to identify the region's opportunities and constraints of agricultural development," explains Prof. Han.
"During the interactive session, participants actively provided feedback that resulted in identifying various issues associated with the development of agribusiness in the Namoi JO region, including physical, social and environmental challenges, [and] provided feedback on determining the weights for different criteria pertinent to the MCDM model."
The project team's next step is to use this feedback to improve the model, says Prof. Han.
"The future version of the model and its various suitability maps will reflect those inputs as well as the other critical factors discussed by workshop participants," he says.
Access the current version of online map here.
Stakeholder insights: Beyond water, soil, climate and transport access
The workshop's interactive session – nine brainstorming questions related to agribusiness development in the region – yielded some valuable insights. Asked to state particular advantages of the four Namoi LGAs, stakeholders listed several that were common to all, including availability of fertile soil; availability of water; road and rail connections; and a temperate climate (Figure 3).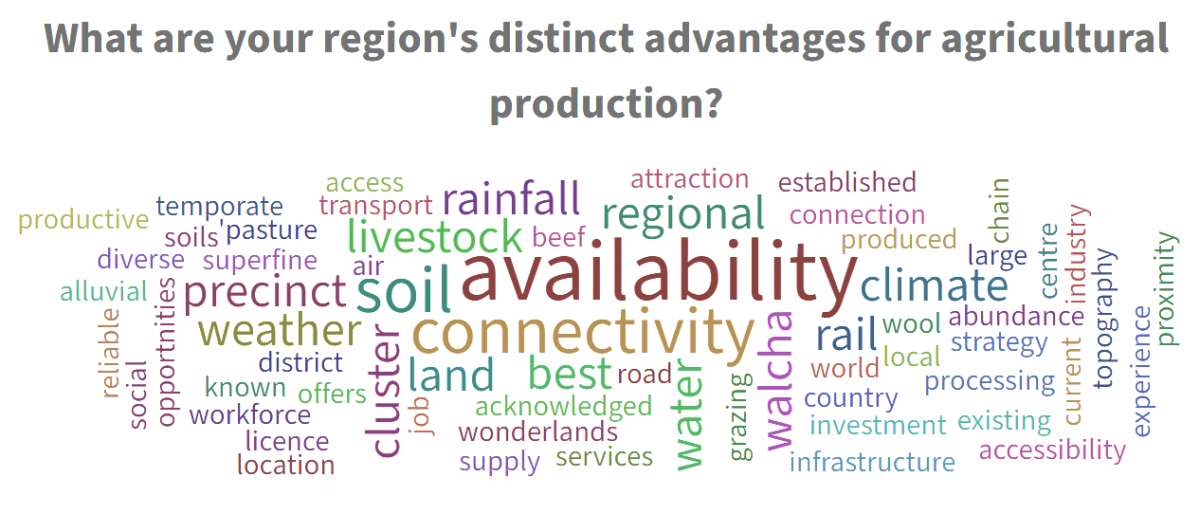 Figure 3: A word-cloud of the contextual advantages to support agribusiness development. Image courtesy of Prof. Han, UNSW City Futures Research Centre 
"In determining the most critical factors for poultry, livestock and broadacre crop farming (Figure 4, a, b and c), some rarely heard criteria were revealed along with water, transportation and climate-related factors widely known through the literature," says Prof. Han. "Other notable local factors discussed … were social licence, land use conflict and limited labour-force."



Figure 4: The critical factors identified by participants for a) poultry, b) livestock, and c) cropping-related agribusiness development. Images courtesy of Prof. Han, UNSW City Futures Research Centre 
'Land use conflict was mentioned as one of the most significant contextual challenges affecting agribusiness development in the region,' state Han and Debnath in their report. 'Changes in climate patterns, such as insufficient rainfall, prolonged heatwave, and drought, are having a significant impact on crop and livestock production. Improper management of freshwater … is adding further stress to the overall agriculture system. External factors like global markets, disease, and biosecurity issues were [also deemed] to have notable effects.'
In addition, stakeholders noted, parts of the region lack digital connectivity, hampering agribusiness development, commodity marketing, and take-up of agricultural technology and tools (including precision agriculture) that enable agribusinesses to 'innovate, grow and adopt more efficient production practices', the report states.
Stakeholders also revealed that 'although the urban centres of the region are well connected through road, rail and air transport networks, these are not evenly distributed. Not all … regions have convenient access to arterials capable of handling … heavy vehicles transporting produce and raw materials.
'The region has [a] shortage of agricultural workers as well as transporters to keep … production and distribution running efficiently,' the report notes.
'Supportive government policies, including the licencing of agribusiness, are much needed for the region to thrive in agriculture.'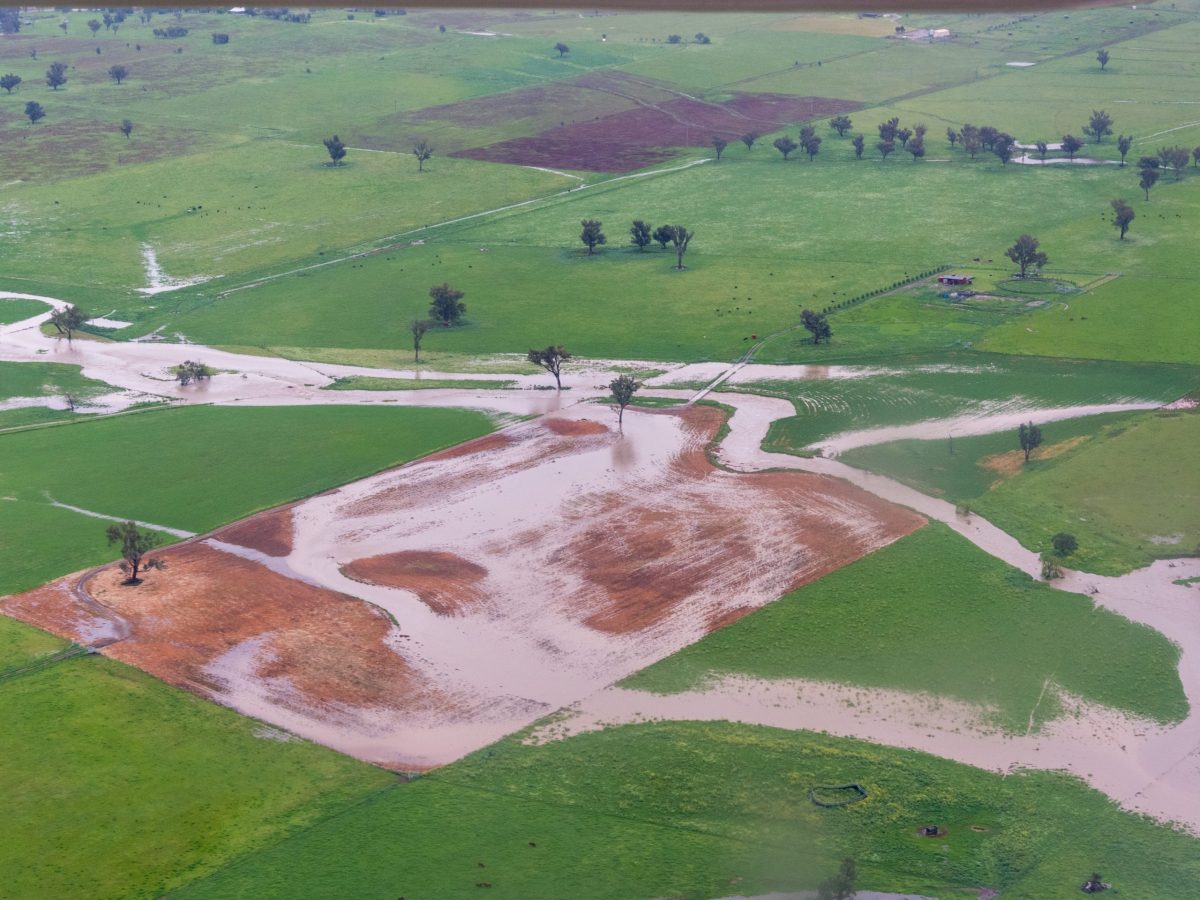 Roadmap of future work
The final MCDM tool can be used to assess the suitability of locations across the Namoi region for particular types of agribusiness. More than a static snapshot, the web-based maps to which the tool is applied can be updated to reflect new and additional data.
Once the project is complete and the results of the stakeholder feedback have been incorporated, "local authorities and stakeholders should manage this information and set up a plan for routine updates to the data and results", Prof. Han says.
Prof. Han believes there's scope to use artificial intelligence to automate map updates. He also sees value in producing maps that take a closer focus, to help agribusiness owners optimise their operations and minimise negative impacts on the local environment and/or community by, say, correct siting and orientation of equipment, sheds etc to minimise noise, odour and runoff.
"Artificial intelligence technology may be used as a future extension of this work to automate the latest data feed and results generation at a finer spatial resolution," Prof. Han says.
Lead image: Screenshot of the Namoi agribusiness land-use data-mapping for a MCDM tool. Screenshot courtesy of Professor Hoon Han, UNSW City Futures Research Centre