Just like beef and lamb, fish eating quality is partially determined by intramuscular fat content – but identifying which fish will yield the biggest and best-tasting fillets while still alive is currently not feasible.
Dr Fiona Anderson, from the Centre for Animal Production and Health in the Food Futures Institute, recently secured a Research & Innovation Seed Funding Grant from the University to kickstart a PhD project by young researcher Dino Milotic.
"The value and quality of a fish is determined by fillet size and fat content," Dr Anderson said.
"But at the moment, there's no real way to measure those two traits other than to fillet the fish, weigh the fillet and then chemically analyse the fillet for intramuscular fat.
"The aim of this new research project is to develop a rapid and cheap method for measuring fillet fat percent while fish are alive, using Computed Tomography (CT) scanning as the gold standard tool for rapid assessment."
For his project, Mr Milotic will have access to Yellowtail Kingfish at the Department of Primary Industries and Regional Development fish hatchery in Fremantle. He will analyse pixels from CT images of the Yellowtail Kingfish and allocate them as either lean tissue, fat, or bone. If a successful testing method is developed, fish could be scanned for intramuscular fat percentage and fillet weight while alive.
These genetically superior fish could then be retained for breeding stock or harvested for eating at the optimum time in their growth cycle.
The research builds on Murdoch's formative work in developing Australia's Meat Standards Australia system for beef – a "tenderness guaranteed" three, four and five-star grading program based on eating quality.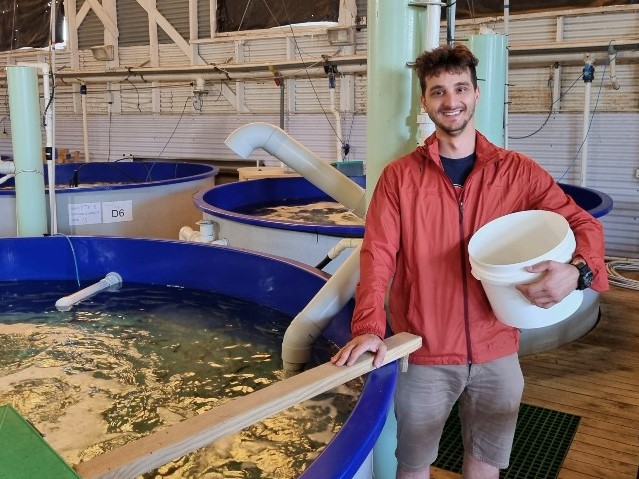 Murdoch was also instrumental in developing scanning technology known as DEXA (dual x-ray absorptiometer) which is now being used in lamb and beef abattoirs around the country. DEXA is a carcass measurement system which can accurately predict lamb carcass composition, providing greater accuracy in measuring meat yield and improving industry profit margins.
Dr Anderson said having the ability to trade and breed based on fish quality would be a game-changer in the industry.
"There's a potential to repeat the same story for fish that Murdoch have played in the sheep and beef industries – to apply the same technologies and actually develop a trait to trade on," she said.
"At the moment you can't readily breed or trade fish based on intramuscular fat content and fillet size. Having a system to guarantee fish quality could change the way we breed and trade fish and potentially, offer the industry a real competitive advantage."
Mr Milotic believes his PhD project will take around three years and is being made possible with the support of DPIRD and industry.
"Aquaculture is the world's fastest growing food production system, and this is reflected in Western Australia, as investment and expansion in aquaculture is growing rapidly," he said. "This technology will allow Yellowtail Kingfish to break into the high-priced premium sashimi market and in future, could be applied to other fish species."
Dr Anderson's research is one of 21 projects funded through Research & Innovation Seed Grants for Murdoch early to mid-career researchers, with a total of $302,000 allocated.
Announcing the grants, Acting Deputy Vice Chancellor Research & Innovation Professor Peter Davies said the standard of application was very high.
"All the successful applicants put forward projects that we felt could develop into full-blown research programs over time – they just needed a kickstart and that's what this funding program is looking to provide," he said.
Dr Anderson's project – The use of Computed Tomography to predict lean yield and intramuscular fat percentage in Yellowtail Kingfish – received $19,360.
The research is a collaboration between Murdoch University's Food Futures and Harry Butler institutes, DPIRD and the School of Biological Sciences at The University of Western Australia.
This article appeared initially on 1 December 2021 on the News section of Murdoch University's website. It has been republished here courtesy of the Murdoch University Media team. View the original story.
Lead image: Dr Fiona Anderson, from the Centre for Animal Production and Health in the Food Futures Institute (L) with PhD student Dino Milotic. Credit: Murdoch University