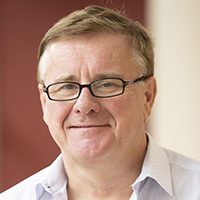 Prof. Jeremy Nicholson
Research Program 3: Program Lead
Professor Jeremy Nicholson is Pro Vice Chancellor of Health Sciences at Murdoch University in Perth, Western Australia, where he leads the recently-launched Australian National Phenome Centre (ANPC).
In 2012, Nicholson was appointed Director and Principle Investigator of the MRC-NIHR National Phenome Centre based at Imperial College London, where he had led the Department of Surgery and Cancer since 2009. In 2018, he became Emeritus Professor of Biological Chemistry at Imperial College. The same year, Prof. Nicholson moved to Perth to take up his role as PVC of Health Sciences at Murdoch.
Nicholson holds honorary professorships at 12 universities and multiple professorships at the Chinese Academy of Sciences, to which he was elected as an Albert Einstein Honorary Professor in 2014. He was recently appointed as a special adviser to the Minister of Health in Western Australia.
He is also founder-director, chief scientist and chief scientist officer at Metabometrix, an Imperial College London spin-off company specialising in molecular phenotyping, clinical diagnostics and toxicological screening via metabonomics and metabolomics.
Prof. Nicholson's research interests include spectroscopic and chemometric approaches to the investigation of disturbed metabolic processes in complex organisms. He is known for having developed metabonomics, also referred to as metabolic profiling.
He brings world-leading research expertise to his role as the CRC's Research Program 3 lead.
Research Program 3: Program Lead