Our Consortium
The Future Food Systems CRC consortium has been initiated by the NSW Farmers Association in consultation with the National Farmers Federation and Food Innovation Australia Ltd (the Federal Growth Centre for Food and Agribusiness).
Our industry partners include large and small firms across farming, food manufacturing, technology services and marketing who share a vision for a new, connected value chain for high value goods.
Our research partners include the University of NSW,  Queensland University of Technology, Murdoch University,  Western Sydney University, the University of New England, Charles Darwin University, Horticulture Innovation Australia, the  George Institute and the NSW Department of Primary Industry.
CRC research and capability programs will support participants in optimising the productivity of regional and urban food systems, taking new products from prototype to market and implementing rapid, provenance-protected supply chains from farm to consumer.
Working with regional stakeholders in towns like Mildura and periurban areas like Western Sydney,  the CRC will analyse local challenges and design integrated  solutions that are grounded in collaborative business cultures:  farms, greenhouse complexes, food factories, freight forwarders, and services providers linked by smart logistics in well planned mosaic landscapes.
Our Chair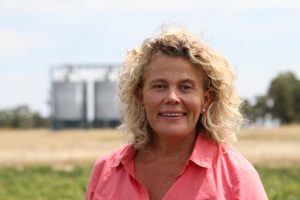 Fiona Simson is the President of National Farmers Federation and is a Board member of NRMA (NSW), the Australian Made Campaign Ltd, and AgStewardship Australia.
"Investment in high-tech, sustainable regional agrifood systems, co-located with airports to enable rapid freight, is central to reaping the rewards presented by domestic and Asian markets for value-added, provenance-protected healthy foods.  Not just new technology but new partnerships, business models and true customer focus is key to future growth in our industry" 
Fiona Simson
Consortium lead
David Eyre, General Manager, Research & Innovation, NSW Farmers.  Contact: eyred@nswfarmers.org.au
"We aggregate non-saleable grade-2 fruit and turn it into pure, pasteurised cherry juice. Previously such fruit had been dumped. We've built a good domestic position and it's also now on supermarket shelves in Singapore and Malaysia. We aim to exploit strong demand between the Southern and Northern Hemisphere seasons, when there are no fresh cherries on the market. Our labour costs make it hard to compete, however. Customised solutions for process automation, agile consumer packing and integrated QA and traceability are needed to help us capitalise on the 'clean, green' image of Australian produce and protect a reputation that's taken a lot of work
to build."
We are building Melbourne's first indoor vertical farm this year at Cranbourne in partnership with Chisholm Institute.  Vertical farming is an emerging sector in the global agricultural industry and we want Australia to be a major player, both exporting equipment and providing technical services and know-how across the region.  The CRC provides a national framework for us to partner with leading companies in the food, technology and horticulture space and a platform to collaborate with government and research institutions.
"The Future Food System CRC is closely aligned with Ruralco's commitment to regional development.  We are looking forward to making a contribution by collaborating in CRC projects focussed on smart processing and packing solutions, traceability and provenance protection and the rapid freight of premium goods.  We will assist our customers  in aligning with export precinct developments around Australia and assist them to embrace capability programs.  As balancing profitability with sustainability is a major challenge, we will also participate in CRC projects focused on optimising energy and water efficiency in the supply chain."
"We supply domestic and export markets with fresh fruits and vegetables, including tomatoes, berries and mangoes  and are constantly innovating to improve products and service to our national and international customers. The Future Food Systems CRC can help us to fast track innovation in automation of pollination and harvest, energy and water efficiency,  design of our future facilities, smart logistics and trade solutions, and "next product"opportunities with partners in the personalised foods and nutraceuticals sectors."
"New international airports are built once in a hundred years. Planning for Western Sydney Airport presents an opportunity for our council to support an advanced STEM based agrifood and education cluster that leverages advanced freight facilities and generates high value jobs. We have 150 nationalities in our region and a growing Asian population. Our vision is to help make Liverpool an agrifood dynamo providing fresh food to local people and also the booming Asian market for premium foods."
"We build smart food factories.  The CRC provides a framework for us to work with partners to develop Australia's next generation of value-adding facilities.  The business case and understanding the full process from farm to consumer is just as important as the technology.  Our clients can't invest in an advanced supply line without knowing the specifics of raw materials, hygiene requirements, ingredient accounting, packaging format, smart labelling etc.   The CRC's collaborative model and systems integration approach is ideal for addressing commercial  industry transformation challenges."
Commercially focused innovation
"Fast-moving companies worldwide are establishing entirely new product and service hybrids that disrupt their own markets and generate fresh revenue streams."
– Austrade, Australian Disruptive Technologies, 2017