Growing up in Sri Lanka, Mahesh Abraham Galappaththi was a keen observer of the world around him, so it was a logical progression to study it.
On completing his secondary education, Galappaththi enrolled in a Bachelor of Natural Sciences at the Open University of Sri Lanka (OUSL). "My thesis was mainly based on factors affecting human-elephant conflict in the Tissmaharama region of Sri Lanka," he says. "I selected that topic because elephants are seen by farmers as an agricultural pest even though they are a keystone species in Sri Lanka. I also was interested in the topic as I am a nature lover."
After graduating with a BSc, Galappaththi undertook a Masters in Environmental Science from the Postgraduate Institute of Science (PGIS) at Sri Lanka's University of Peradeniya. In addition, he worked collaboratively with scientists at the Kunming Institute of Botany, Chinese Academy of Sciences and in China, and with several other universities around the world.
His Masters thesis "successfully revealed the potential effect of edaphic factors on dieback of Manilkara hexandra, which is a pioneer tree in Sri Lanka's Bundala National Park (a Ramsar wetland)," Galappaththi says. Academia wasn't his only gig: "While I was doing my research, I was working as a naturalist and advanced-level biology teacher," he adds.
By the time he graduated MSc, in 2021, Galappaththi had already had several academic papers published. "I was continuously contributing to the science, publishing more than 10 research and review papers, as first author and co-author," he says. "Most of these were focused on fungus."
Galappaththi's interest in mycology was sparked by one of his academic mentors: Samantha C. Karunarathna, a Professor at China's Qujing Normal University and an Adjunct Professor at Sri Lanka's National Institute of Fundamental Studies (NIFS). "Professor Karunarathna inspired me to engage with the fields of macrofungi and mycology," he says. "I also became a member of the Society for Mycology in the SAARC region (SMS)."
In 2022, Galappaththi applied for a Future Food Systems CRC Industry-funded PhD scholarship to join the four-year FFS-backed 'Australian truffle cultivation for industry expansion' ('Australian truffles') project, based at Murdoch University. At the end of February 2023, he crossed the Indian Ocean to Perth, Western Australia to form part of the project research team.
PhD research: Determining optimal conditions for WA truffle cultivation
"I was looking for a PhD related to mycology," Galappaththi recalls. "I saw the project and it piqued my curiosity about truffle cultivation and the truffle industry.
"Truffles have become more popular among food-lovers and have gained the attention of the culinary world. But still, there is no guarantee of producing a truffle harvest from a seedling and most nursery and farming protocols are kept secret; there is still a lot to uncover.
"I was attracted by the opportunity to specialise and share new scientific knowledge for the truffle industry. I think my doctoral work will open new doors in the truffle inoculation and cultivation field because there is so much about truffle cultivation we don't know – and that innovative research science can discover and harness."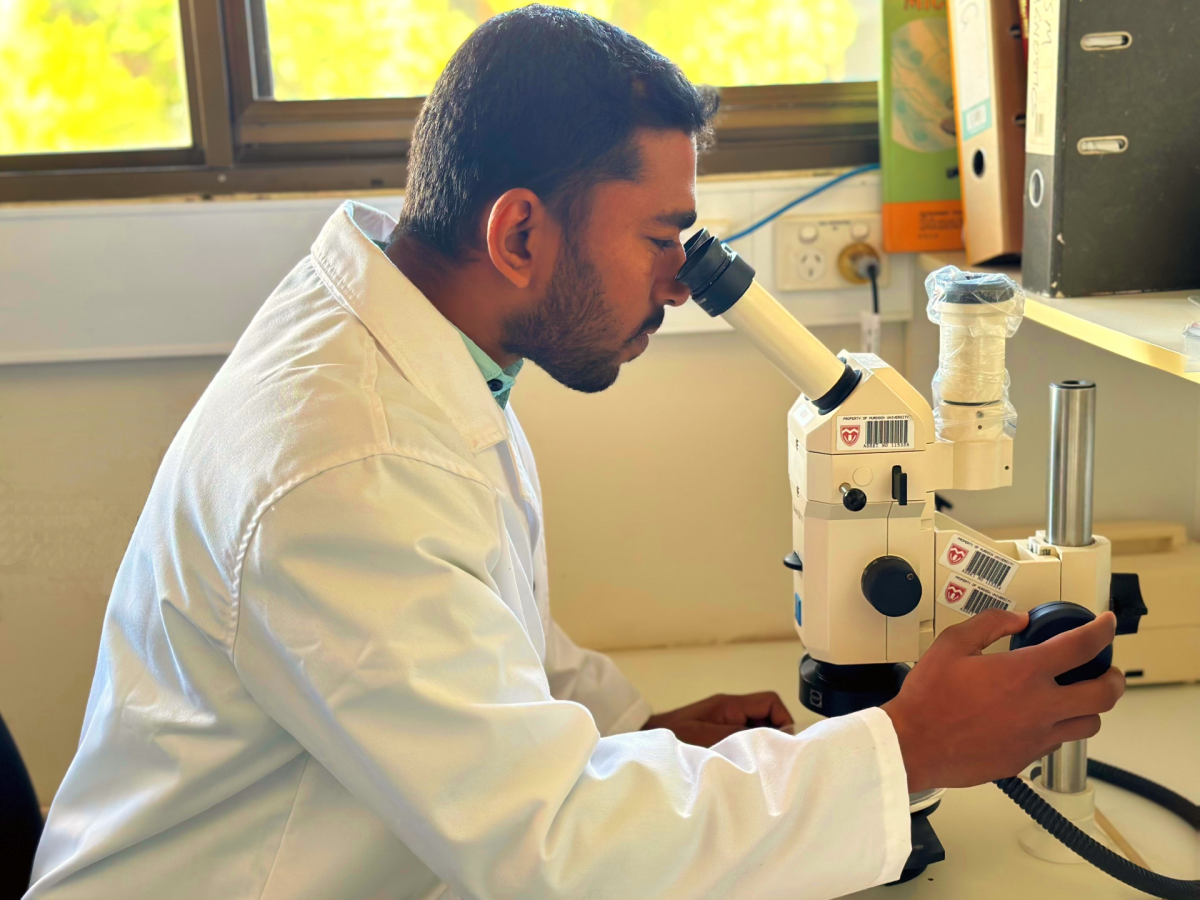 The research
Galappaththi's PhD project will investigate the sorts of conditions that favour successful inoculation of suitable host trees and explore factors that promote healthy growth in the all-important mycelia of truffles.
He'll start by looking at what works for black truffles already being grown in Western Australia, and then focus on more truffle species, new cultivations methods, and new tree hosts
"We anticipate conducting a preliminary study on existing truffle farms to determine the factors that affect the abundance of mycorrhizal mycelia, such as soil composition andcompetitive ectomycorrhizal fungi," Galappaththi explains. "Also, we will develop a cost-effective molecular diagnostic protocol to identify truffle species.
"Further, we will look to determine and document the most efficient substrate in which to grow truffles, [the best ways of] inoculating host-tree seedlings, and other nursery and truffle orchard protocols for yield and biosecurity.
"The experimentally inoculated seedlings will be planted in the field and we will apply appropriate solutions to enhance their growth, while studying the relationships between abiotic and biotic environmental factors and healthy truffle growth.
"Through this project, we aim to gain knowledge about truffles and other ectomycorrhizal fungi, with the focus on how to improve truffle cultivation on an industrial scale in areas once thought unsuitable and also using several novel and exciting technologies."
The supervisory team
Galappaththi's PhD studies are being supervised by an impressively experienced team led by Murdoch University's Professor Treena Burgess and global truffle expert Professor Alessandra Zambonelli from the University of Bologna, in addition to Murdoch's Emeritus Professor Giles Hardy and Dr Bill Dunstan, and with guidance from Emeritus Professor Jen McComb and truffle expert/mycologist Mr Federico Paci. Galappaththi is also working closely with project lead and truffle grower-producer Mr Adam Wilson and Dr Mark P McHenry, co-directors of WA-based agrifood firm Silverplace.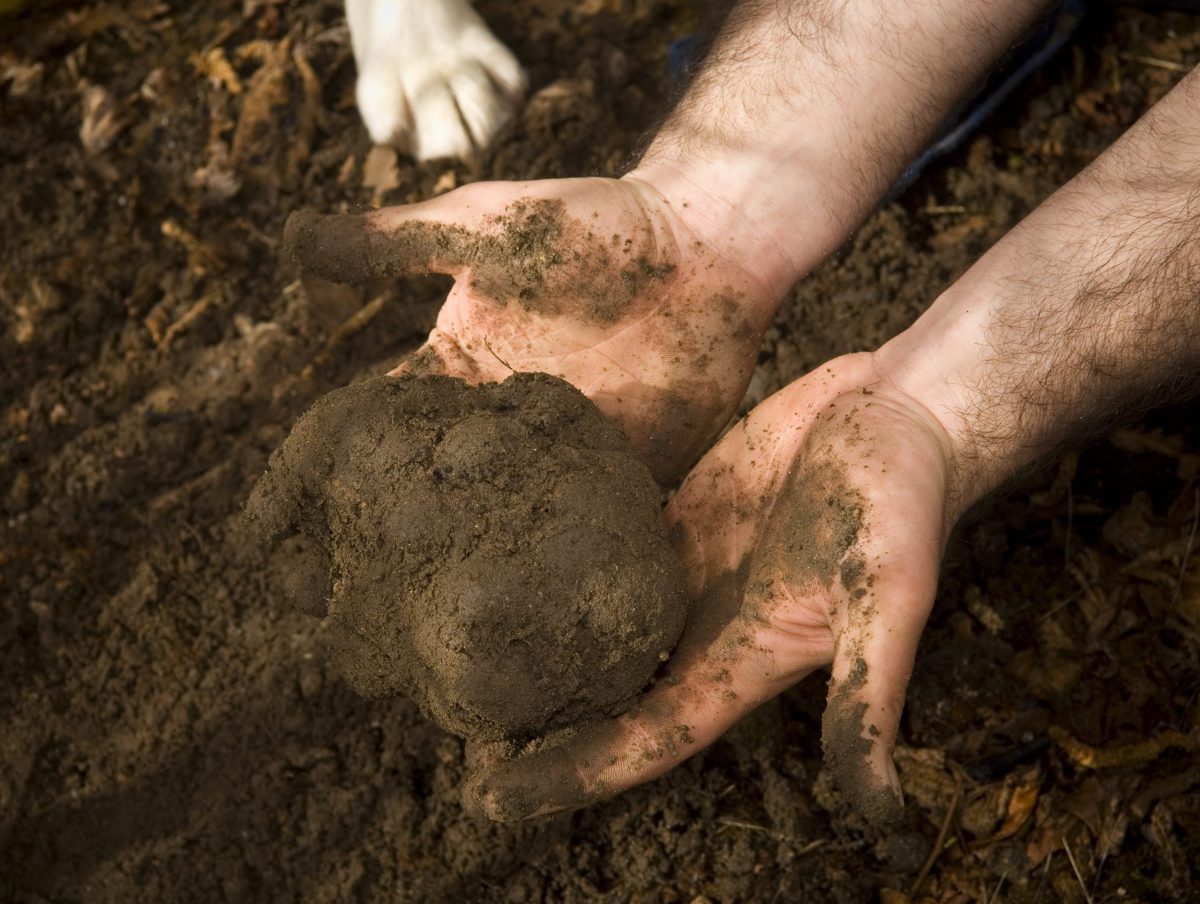 Next steps
After completing his PhD, Galappaththi's goals are "to conduct independent research into truffles and how to expand and diversify the truffle industry". He also hopes to continue to collaborate with the project's industry partner Silverplace and his PhD supervisors "to enhance truffle cultivation in Western Australia, and to make a valuable contribution to the field of truffles and ectomycorrhizae".
We at the FFS are keen to help him achieve those goals.
Lead image: Mahesh Abraham Galappaththi, FFS Industry PhD scholar and mycology researcher in the lab at Murdoch University in Perth, Western Australia. Courtesy of Mahesh Galappaththi, Murdoch University