As an agri-biotech company, Greenbio Group looks forward to working with automation experts in the Australian Centre for Robotic Vision at Queensland University of Technology to develop high-tech automated facilities in which to grow food and medicinal plants for use in high-value functional foods as well as clinically validated nutraceuticals and cosmeceuticals.
Greenbio's stated goal is to contribute to human and animal wellbeing by providing food security through the development of advanced vertical grow systems and the supply of personalised biopharmaceuticals.
The company, comprising a team of Australian entrepreneurs and business owners with significant expertise in the agricultural, veterinary and pharmaceutical industries, is well-positioned to achieve its goal.
First, however, it needs to find ways to grow these medicinal crops securely, sustainably and cost-effectively.
The company's business model for 'next-generation' protected cropping demands advanced automation and informatics solutions, says Greenbio CEO Chris Spies. Foundation projects include co-investment in phenotyping using machine vision; and specific engineering solutions for growing systems that maximise production efficiency with regard to labour, water and energy usage.
According to Spies, advanced engineering and horticultural expertise and rapid prototyping methodology will be critical to achieving stated R&D milestones for its automated cropping facilities.
With this technology, the company aims to 'bring food production into cities, on a small or large scale'. Its automated vertical growing units will be available for purchase by industry clients worldwide.
Down the track, Greenbio intends to use these high-tech intensive protected cropping solutions to grow medicinal crops that will become the inputs into 'high-specification, elaborately processed goods' in its target precision-health product categories.
"We see food security as a combination of optimised growing through innovative technology to minimise external impacts and optimum nutritional value per square metre of cultivation area," says Spies.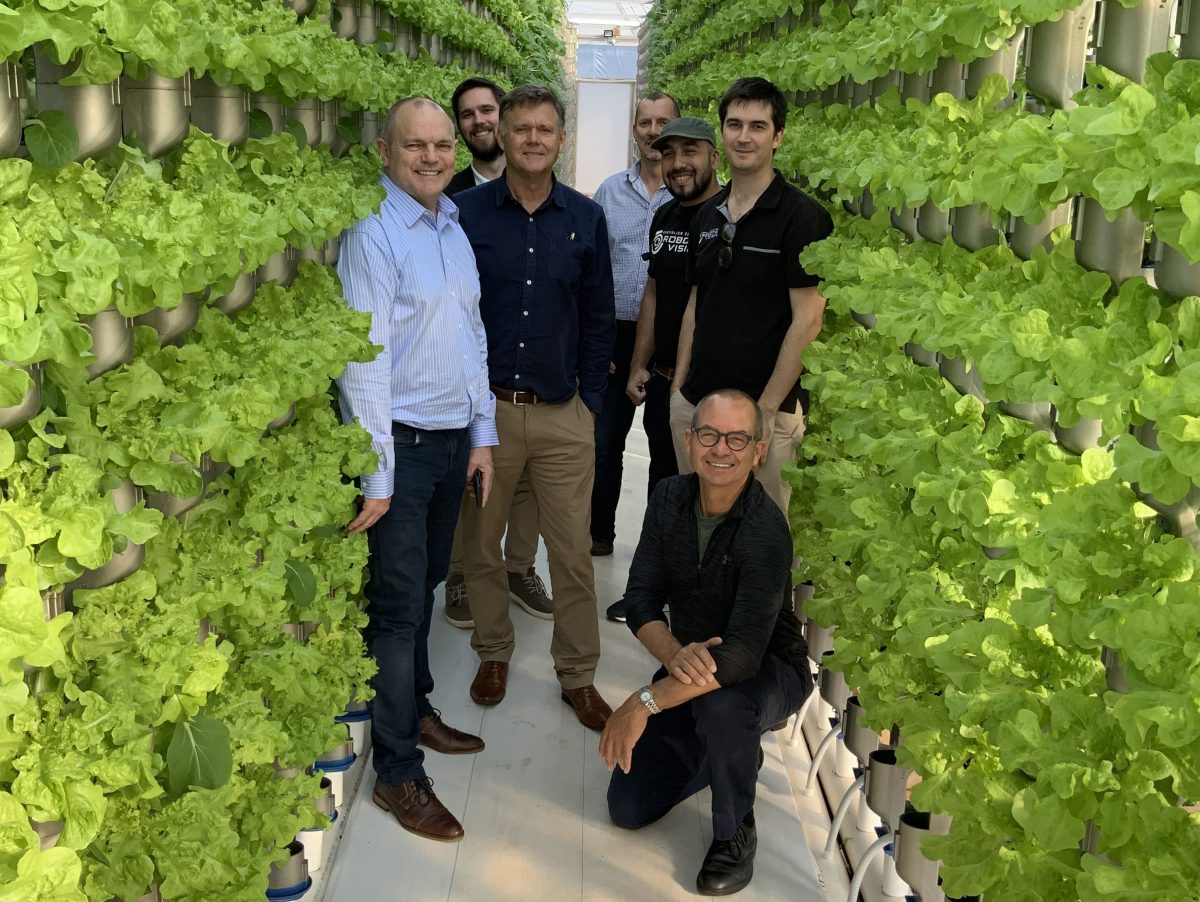 Why work with the CRC?
"Greenbio is a privately funded company that is developing intellectual property covering all three CRC research programs," Spies explains. "We present private-sector, real-world problems for innovative solutions."
"We are developing IP in the protective cropping space, including robotics and automation, and will seek practical, solution-orientated partners.
"We also want to collaborate with suitable CRC partners around functional food formulations, as well as personalised medicines and supplements – such as nutraceuticals and cosmeceuticals utilising, among other [ingredients], cannabinoids.
"To achieve our mission and vision, Greenbio will require research to be carried out utilising sophisticated infrastructures and services, such as laboratories and analytical services.
"It is also essential for us to have access to expert resources with diverse skillsets, and we could think of no better way to access this than through our CRC partners."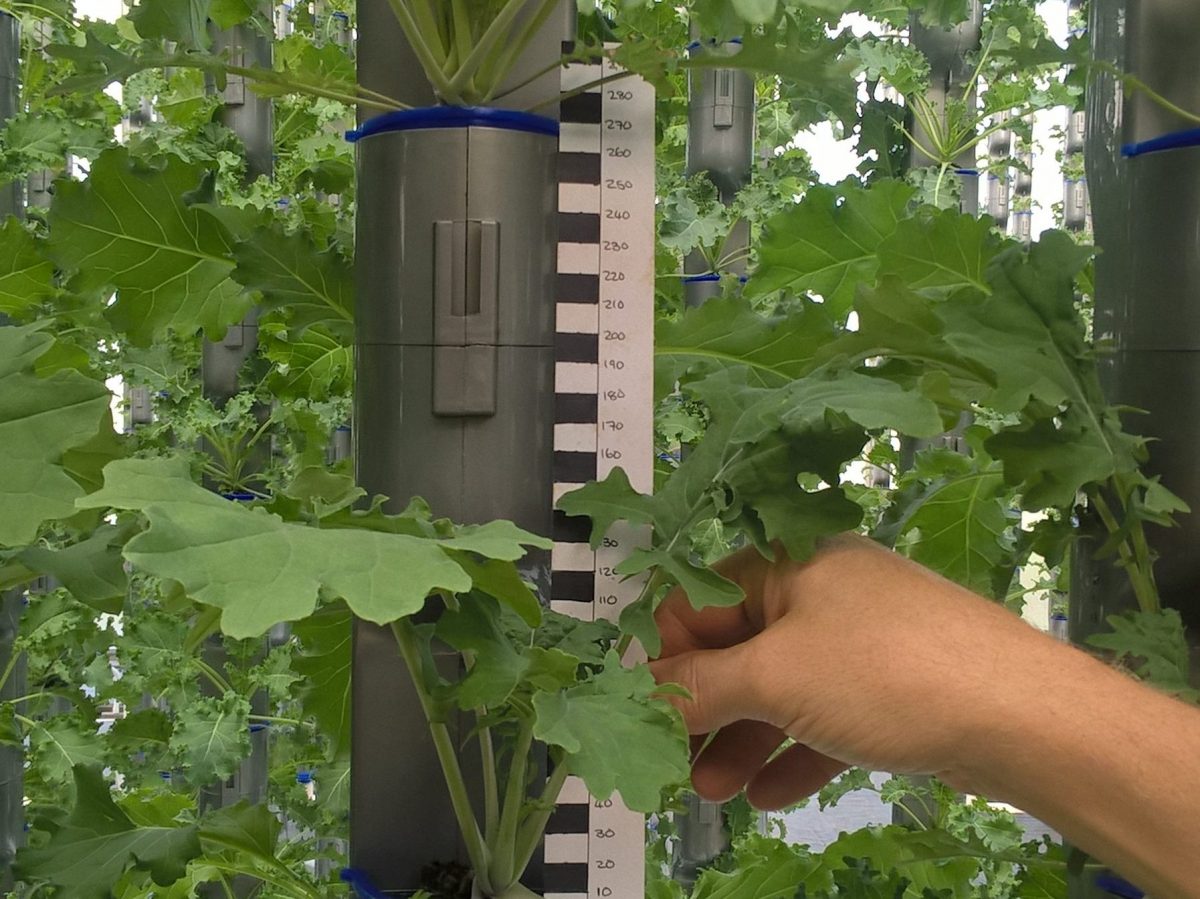 Inside Greenbio's protected-cropping facility, inputs can be precisely controlled and outputs accurately measured. Credit: Greenbio
Automating the vertical hydroponics facility
Right now, the company's 600m2 vertical hydroponics facility in Redlands, Brisbane, can accommodate 25,000 plants at a time, achieving productivity equivalent to that of a 2,500m2 conventional hydroponic greenhouse with just 24 per cent of the footprint and less than half the water usage of a standard greenhouse equipped with conventional hydroponics.
"We hope, through the CRC, to develop novel protective-cropping solutions, such as automated vertical grow systems, with a focus on robotics and automation," Spies says.
To that end, Greenbio is talking with robotic-vision expert Dr Chris Lehnert, of the state-of-the-art Australian Centre for Robotic Vision at QUT, about potential automated crop planting, tending and harvesting solutions for food and medicinal plants in vertical grow facilities and has a project in the pipeline under the CRC's Research Program 2.
Collaborating to develop clinically proven products
Growing medicinal plants is just part of a bigger long-term picture: once Greenbio's crops have been harvested, the company plans to work with various CRC participants to isolate their bioactive ingredients, establish their medicinal and/or health benefits scientifically, and turn them into clinically-validated, premium, pharmaceutical-grade products.
"We will, through the CRC, develop novel nutraceutical, cosmeceutical and functional food products for global markets," says Spies.
Greenbio is looking at labs available at a number of the CRC's participating universities and institutions – including UNSW, TGI and ANPC at Murdoch University – to perform the research tasks.
Advanced processing for personalised medicines and nutriceuticals
Greenbio will create these products in its own advanced processing centre, a highly licenced and secure facility for extraction, R&D, manufacturing and distribution. Here, it can develop personalised medicines based on 'Greenbio nutritional reports' as well as custom 'cannabis-health' reports generated for individuals by leveraging DNA and machine learning.
It uses its 'Greenbio saliva test' to conduct DNA analysis, employing an algorithm that scans an individual's genome for more than 150 single-nucleotide polymorphisms (SNPs) that can impact their cannabis consumption, as well as 300+ biomarkers (SNPs x allele variants). The centre also has integrated cannabinoid, terpene and flavonoid testing data on various strains and products.
From all this data, it produces individually tailored reports that include recommendations on which cannabinoids should be used, including existing products (if available in-country).
The company is also gearing up to provide specific formulations: personalised cocktails of compounds including extracted cannabinoids, native extracts and foods. These will be developed by Greenbio's onsite compounding pharmacist in line with scientific findings from participating CRC research institutions and created in the processing centre from natural molecules.
From here, personalised medicines and nutriceuticals can be dispatched to destinations across Australia and the world, packaged and labelled appropriately for rapid, secure distribution.
With the scientific edge provided by its CRC-participant partners, the future is looking painlessly profitable to these green-leaning entrepreneurs.
For more information, visit the Greenbio website.