A new Drought Resilience Adoption and Innovation Hub based in Darwin is set to transform the way that Top End producers and communities prepare for and respond to drought.
Senator for the Northern Territory, Dr Sam McMahon, said that the Hub would oversee the co-design and delivery of innovative projects and practices aimed at boosting drought resilience and agricultural productivity.
"This Top End Hub will be based at the Charles Darwin University with four nodes in Katherine, Alice Springs, Broome and Perth," Dr McMahon said.
"The Top End Hub and nodes will be a shopfront for producers to access innovative technologies and practices that will benefit the whole Top End of the Northern Territory and Western Australia agricultural sector with people on the ground.
"The Hub and nodes will engage directly with producers, traditional owners and agribusinesses and take on the challenges of drought.
"The major focus of the Top End Hub will be on co-creating innovative tools, techniques and practices to support producers and their communities to achieve greater efficiency and sustainability in agricultural lands management. I would expect the Hub will work closely with the network of existing research farms in the Northern Territory and Western Australia to avoid duplication.
"Getting regional people working together to ensure research and development is useful for Top End producers and a vital step towards successful drought management in our communities.
"The Hub has a consortium involving the Northern Territory Cattleman's Association, Kimberley Pilbara Cattlemen's Association, Northern Territory Farmers Association, Territory Natural Resource Management, the Rangelands NRM Coordinating Group, Regional Development Australia NT and the WA and NT governments."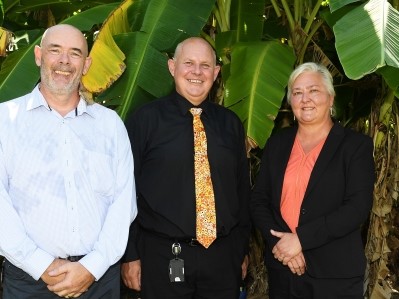 Charles Darwin University Vice-Chancellor, Professor Scott Bowman AO, said it was vital to support those primary producers who continue to do it tough and to help prepare them for future seasons.
"Charles Darwin University is thrilled lead the Top End Drought Resilience Adoption and Innovation Hub on behalf of our partners," Professor Bowman said.
"The Hub will empower primary producers with the practical tools and information they need during future dry conditions to maintain productivity, remain competitive and increase community resilience to drought impacts."
Minister for Agriculture, Drought and Emergency Management David Littleproud said the Top End Hub is one of eight across the country to be established that will support development and uptake of innovative technologies and practices that improve drought resilience.
"Drought Resilience Adoption and Innovation Hubs have come about through the forward-thinking Future Drought Fund – a long term, sustained investment of $100 million each year to build drought preparedness," Minister Littleproud said.
"Drought is a natural part of the Australian landscape and these hubs will play a critical role in helping farmers and agricultural communities to be better prepared."
This story initially appeared on 15 April 2021 in the News section of Charles Darwin University's website. It has been republished here courtesy of the CDU Media team. Read the original story.
Lead image: L to R – Charles Darwin University Director of Research Dr Steve Rogers, Vice-Chancellor Professor Scott Bowman and Senator Sam McMahon at the launch of the Drought Resilience Hub for the Northern Territory Top End and Western Australia. Image courtesy of Charles Darwin University (CDU).