From October 2021, Sanitarium Health Food Company will include the Australasian Recycling Label (ARL) on its Weet-Bix boxes, letting customers know the packaging is now fully recyclable.
The all-Australian healthfood manufacturer will add the Australasian Recycling Label (ARL) to the packaging of other products in its range over coming months.
ARL is an evidence-based labelling system that helps consumers recycle packaging correctly via easily-understandable recycling information on the product pack.
The firm's iconic Weet-Bix boxes are the first of Sanitarium's range to feature this label.
REDcycling Sanitarium soft plastics
Displaying the ARL on Weet-Bix boxes is an important step in Sanitarium's sustainable packaging efforts, with the Australiasian Recycling Label Consumer Insights Report 2021 finding that use of the ARL doubled the likelihood of consumers recycling soft plastics.
Soft plastics, including the soft plastic inner bag of a Weet-Bix™ pack, can be dropped into REDCycle bins at Coles and Woolworths stores, nationwide. The soft plastic collected in REDCycle bins is used to create an array of products, including fitness circuits, sturdy outdoor furniture, bollards, signage and more.
The company notes that if every Weet-Bix consumer recycled the inner plastic liner through a REDCycle bin, 200 tonnes of plastic would be diverted from landfill each year.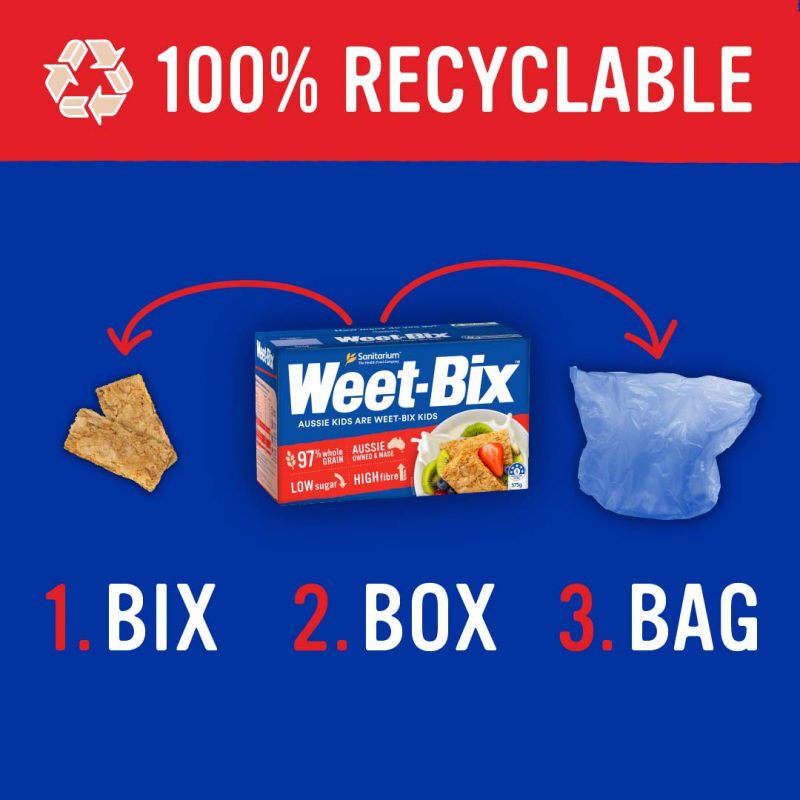 Sanitarium's sustainable packaging push
According to the company, the packaging of more of its products will soon be 100% recyclable, too. It plans to add the ARL to Sanitarium Peanut Butter and Marmite™ spreads over coming months.
"We're adopting this system because the multitude of logos recycling labels on products available in the Australian marketplace have caused confusion for many years,' Sanitarium stated in an October 2021 media release.
'By providing you with information about how to recycle our packaging through the appropriate systems currently in place, together we can reduce the impact on the environment.'
By 2025, Sanitarium aims to make 100% of its product packaging recyclable, reusable or compostable.
Source: Sanitarium adopts Australasian Recycling Label I Sanitarium media release, October 2021
Lead image: The packaging of Sanitarium's best-selling breakfast cereal, Weet-Bix, is now fully recyclable. Credit: Sanitarium Health Food Company