A group of crop scientists at the National Vegetable Protected Cropping Centre (NVPCC) on Western Sydney University's Hawkesbury campus has received an Award of Merit from the Australian Institute of Horticulture for 'raising awareness of the importance of horticulture in today's world', reducing food waste and helping those in need during a particularly challenging period.
The AIH Award of Merit recognised the contribution of WSU's Professor Zhonghua Chen and his team to community health and food security in the Western Sydney region.
Prof Chen and his team have been donating produce grown in the NVPCC's state-of-the-art glasshouse to surplus-food distribution charity Foodbank for the past three years.
Over that period, more than 58 tonnes of fruit and vegetables, including cucumbers, chillies, eggplants, tomatoes, melons and more, have been grown at the facility as part of glasshouse-horticulture optimisation research and production trials.
Getting premium fresh produce to those in need
The 1,800-square-metre high-tech glasshouse facility at WSU, which runs multiple crop trials a year, is a source of clean, 'green' and highly nutritious fresh fruit and veg.
After it has been harvested, 'non-destructively' sampled and analysed, the bulk of this produce is in perfect condition – so rather than wasting it, Prof. Chen and his team have been donating the fruits of their experiments to the NSW and ACT divisions of Foodbank.
Indeed, production in the glasshouse is so prolific that at peak harvest times, Foodbank collects several full bulk crates a week from the NVPCC. Within 24 hours of pick-up, all this fine fresh produce has been distributed to communities in need across the Western Sydney region.
The research team's donations have been especially welcome since the arrival of COVID-19 and associated supply shocks, which have added periodic supermarket-shelf stripping to the produce price hikes stemming from fresh-fruit-and-veg shortages following summer 2020's widespread bushfires and drought.
According to Foodbank NSW and ACT Chief Executive Officer Gerry Andersen OAM, speaking with WSU Media's David Thompson in August 2020, "demand [for donated food] … increased massively, by almost 50 per cent, and yet 25 per cent of the food coming into our warehouses had dropped because demand [was] so great in the supermarkets".
Foodbank: helping to combat food insecurity across Australia
Foodbank, billed as 'Australia's largest hunger-relief organisation', collects surplus food from all along the supply chain – farms, food factories, supermarkets and independent grocers, cafes, restaurants, even crop research facilities – and distributes it to charities servicing food-insecure communities, schools and individuals nationwide. It provides 77 million meals a year – or 210,000 meals a day – with fresh produce and groceries from Foodbank accounting for 79 per cent of all food received by Australian charities from food-rescue organisations. At the same time, it is helping to reduce food loss and waste.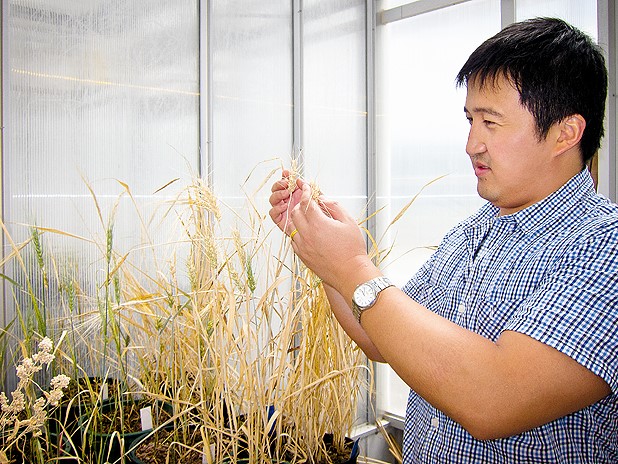 NVPCC: advancing resilient, sustainable food production
"The NVPCC glasshouse delivers high-quality research outcomes that improve Australia's ability to produce food crops in advanced protected cropping systems," Prof. Chen explains.
Current research at the experimental facility includes trials of 'smart glass' films that could help growers cut the cost of cooling glasshouses; indoor crop pollination using native stingless bees; and variety trials of eggplants, cucumbers and melons aimed at expanding the options for regional food production, he says.
According to the AIH, 'The centre has undertaken development work in glasshouse technology that has important implications for better food production in regional areas and developing countries'.
'Their research work in advancing Australia's horticultural capabilities is especially crucial in a world facing increasing food production demands and constraints,' the AIH noted.
Sources
Protected cropping team gets recognition I Undercover (Protected Cropping Australia eNews)
Western's Glasshouse yields over 58 tonnes of donations to Foodbank I Western Sydney University News