The NSW Government and UNSW Sydney have teamed up to strengthen the Randwick Health & Innovation Precinct by integrating additional health education, training and research with acute healthcare services.
UNSW Sydney has secured the State Significant Development Approval for the UNSW Health Translation Hub (UNSW HTH) for a dedicated 15-storey, 35,600 square metre clinical health, education and research building.
Scheduled to open in 2025, the HTH will deliver a range of purpose-built spaces enabling researchers, educators and industry partners to work collaboratively with clinicians and health partners from Randwick Hospitals Campus.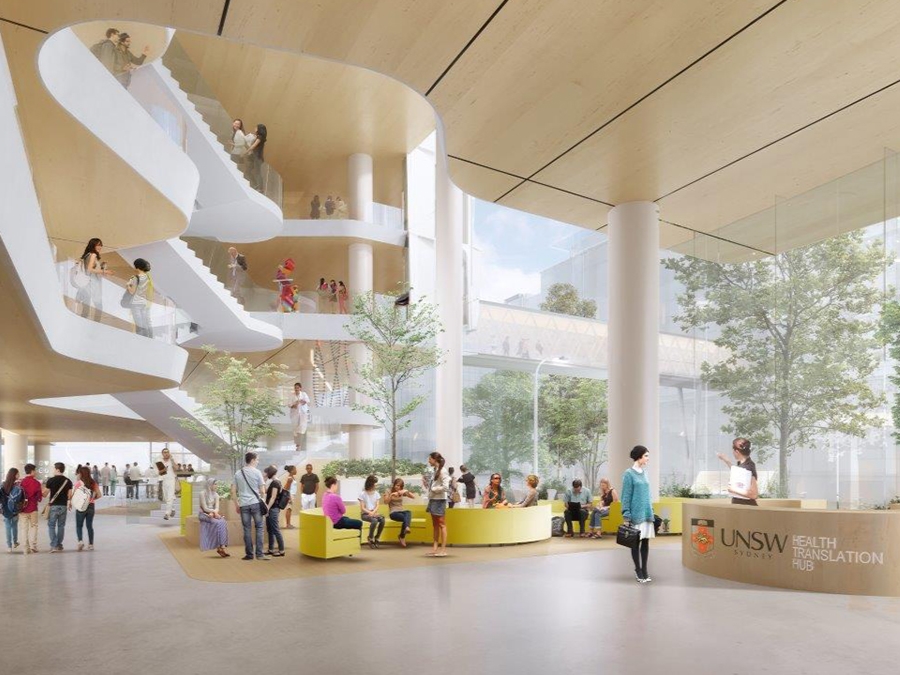 Professor Ian Jacobs, President and Vice-Chancellor at UNSW welcomed news of the development approval.
"This is an exciting milestone in a visionary collaboration, decades in the making. We are one step closer to bringing together academics, clinicians, industry partners and public health officials with the shared goal of advancing health outcomes locally and further afield," Prof. Jacobs said.
"This development will improve health in NSW and Australia while also achieving physical and working integration between the hospitals and the new Health Translation Hub. It will elevate us to the forefront of health research and education internationally.
"UNSW has had teaching hospital affiliations on the Randwick Hospitals' Campus for nearly 60 years. This new building and our commitment to major investment in the precinct will take our partnership to a new level."
The UNSW HTH has been developed to support the acceleration of improved health services for communities locally and globally.
It will sit adjacent to the Sydney Children's Stage 1 and Children's Comprehensive Cancer Centre building. These two buildings will accompany the Acute Services Building (ASB), currently in construction, to expand the Randwick Health & Innovation Precinct. UNSW has approximately 5000 square metres of space in the ASB which will promote the physical and working integration between UNSW and the Hospital.
Promoting diet-based preventative health initiatives
We at Future Food Systems CRC are looking forward to some exciting collaborative research directed towards finding research-driven, cost-effective solutions to public health issues including diabetes, obesity and psychological wellbeing.
On a broader level, we'd like to see research collaborations around preventative health initiatives and programs that support people in improving their diets I ways that lower 'bad' cholesterol levels, stabilise blood sugar, control weight, promote healthy gut bacteria; support immune function; improve mood, et cetera. Fresh healthy food, as part of a well-balanced diet, along with fortification of staple foods and if needed, supplementation, can reduce a person's risk of developing a raft of lifestyle-related diseases.
This article appeared initially on the UNSW news page on 16 December 2022. It has been republished here courtesy of the UNSW Media team, with minor editorial modifications and an additional comment at the end. View the original article.
Lead image: Artist's impression of the main HTH building. The UNSW HTH will sit adjacent to the Sydney Children's Stage 1 and Children's Comprehensive Cancer Centre building. Credit: Image sourced from NSW Government's Randwick Campus Redevelopment portal, courtesy of UNSW Media