Combining a food and beverage manufacturing trade show, a two-day conference and networking events, foodpro's FoodTech Qld 2022 on Queensland's Gold Coast is your opportunity to connect and share ideas with manufacturing and packaging stakeholders from across Australia.
Since the 1960s, FoodTech Qld has been Australia's leading triennial food and beverage manufacturing trade show.  This year's in-person event, tagged 'Pushing Boundaries, Feeding Innovation', is focused on innovations in equipment and technology, processing and packaging that are set to transform food and beverage manufacturing in Australia.
It combines FoodTech Qld's traditional trade expo and networking events with a two-day conference stream led by foodpro affiliate the Australian Institute of Food Science & Technology (AIFST) with input from the Australian Institute of Packaging (AIP).
Exhibition 
A line-up of world-leading exhibitors spanning the breadth of the food manufacturing sector will  showcase products, services and expertise covering everything from processing machinery and plant equipment to packaging solutions and ingredients, supply-chain technologies and food science.
Conference
This year, for the first time, FoodTech Qld includes a dedicated two-day conference stream with content led by the Australian Institute of Food Science and Technology (AIFST), longtime industry partners of FoodTech Qld and foodpro, with input from the Australian Institute of Packaging (AIP).
Content will focus on topical issues in the F&B manufacturing sector including technology initiatives, the wider commercial landscape and emerging global market trends.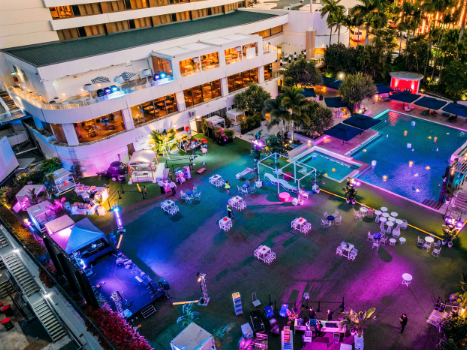 Networking events
The program gives visitors and exhibitors ample opportunity to connect (and reconnect) face-to-face, including a pre-show drinks party on the evening of Wednesday 6 July, hosted poolside at The Star Gold Coast; and a cocktail function on Thursday evening at the Home of the Arts (HOTA).
Tickets to both networking events are available to all attendees, with transfers included in the price.
View the networking event details. 
Key details
The event exhibition showcase takes place within the Gold Coast Convention and Exhibition Centre, 2684-2690 Gold Coast Highway, Broadbeach, Queensland.
Show and conference timetable: 10am-4pm, Thursday 7 and Friday 8 July 2022
For more information on exhibition, conference and networking function venues, accommodation and getting around (including an annotated Google map), click here. 
Further event information and registration

For more information about FoodTech Queensland 2022, phone 1300 348 266, email foodtech@divcom.net.au or visit the FAQs section of the official event website. 
To receive updates and registration details, click here. 
Lead image: FoodTech Qld audience. Credit: foodpro