Combining a food and beverage manufacturing trade show, a two-day conference and networking events, foodpro's FoodTech Qld 2022 on Queensland's Gold Coast is your opportunity to connect and share ideas with manufacturing and packaging stakeholders from across Australia.
Since the 1960s, FoodTech Qld has been Australia's leading triennial food and beverage manufacturing trade show.  This year's in-person event, tagged 'Pushing Boundaries, Feeding Innovation', is focused on innovations in equipment and technology, processing and packaging that are set to transform food and beverage manufacturing in Australia.
It combines FoodTech Qld's traditional trade expo and networking events with a two-day conference stream led by foodpro affiliate the Australian Institute of Food Science & Technology (AIFST) with input from the Australian Institute of Packaging (AIP).
Exhibition
A line-up of world-leading exhibitors spanning the breadth of the food manufacturing sector will  showcase products, services and expertise covering everything from processing machinery and plant equipment to packaging solutions and ingredients, supply-chain technologies and food science.
Conference 
This year, for the first time, FoodTech Qld includes a dedicated two-day conference stream with content led by the Australian Institute of Food Science and Technology (AIFST), longtime industry partners of FoodTech Qld and foodpro, with input from the Australian Institute of Packaging (AIP). Content will focus on topical issues in the F&B manufacturing sector including technology initiatives, the wider commercial landscape and emerging global market trends.
Each day's agenda is built around two concurrent streams:
Trends and technology initiatives: the agrifood industry of the future and global markets for food innovations.
Solutions and insights from FoodTech exhibitors: lnnovations around sustainability.
Topics include:
·       how evolving trends and changing consumer expectations will shape the future of food and beverage manufacturing and the broader agrifood-tech sector – from the health and wellness trend to personalised nutrition, protein alternatives, precision fermentation and cellular agriculture;
·       how personalised food will change retail and food production, opportunities for disruptive tech in the food sector;
·       sustainability practices in food production, manufacturing, transport and packaging;
·       technology's role in driving safer, more sustainable food production;
·       the role digital platforms play in resilient manufacturing;
·       innovative packaging design for food and beverage products; and
·       the role of collaboration in the future of food innovation.
A strong line-up of speakers and panellists includes AIFST CEO Fiona Fleming; Jacqueline Wilson-Smith from the Sustainable Innovation Company; Grant Davidson of Davidson Branding; food scientist Dr Anneline Padayachee; Robin Sherlock from Safe Food Production, Queensland; Brett Wiskar, Chief Future Officer at Wiley Food; CSIRO's Michelle Colgrave; Andrew Forrest from QDAF; KC Carswell of KC Carswell Consulting; Heather Smyth, cell-cultured meat expert from University of Queensland; and QUT fermentation specialist Professor Robert Speight.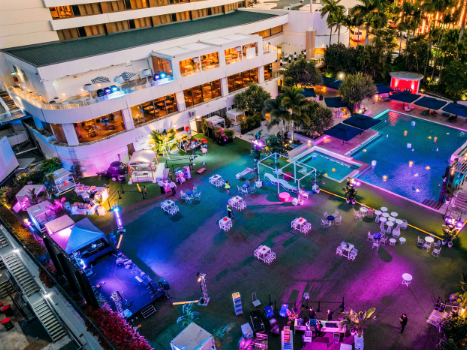 Networking events
The program gives visitors and exhibitors ample opportunity to connect (and reconnect) face-to-face, including a pre-show drinks party on the evening of Wednesday 6 July, hosted poolside at The Star Gold Coast; and a cocktail function on Thursday evening at the Home of the Arts (HOTA).
Tickets to both networking events are available to all attendees, with transfers included in the price.
View the networking event details.
Key details
The conference and exhibition take place concurrently on Thursday 7 and Friday 8 July 2022 from 10am-4pm daily, AEST.
The main venue is the Gold Coast Convention and Exhibition Centre (GGECC), 2684-2690 Gold Coast Hwy, Broadbeach QLD 4218. View on map.
For more information on exhibition, conference and networking function venues, accommodation and getting around (including an annotated Google map), click here. 

Accommodation deal6
FoodTech Qld 2022 visitors can get discounted rates at The Star Grand. Use the code 'FOODTECH2022' at checkout for 25% off your stay. Find out more here.
Registration and further information
Attendance to the accompanying trade exhibition is free of charge; tickets to the conference sessions and networking events are $300 per person + GST (half-day); $540 + GST (1-day); and $990 +GST (2-day).
To register and buy conference passes, click here.
For more information about FoodTech Queensland 2022, phone 1300 348 266, email foodtech@divcom.net.au or visit the FAQs section of the official event website.
Lead image: FoodTech Qld audience. Credit: foodpro