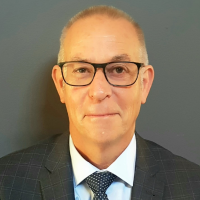 Tony brings a breadth of food and agricultural experience with a deep understanding of markets in Asia, particularly China. In a career spanning 25 years in Australian and international agribusiness, manufacturing, fast moving consumer goods, seafood and commodity exports he has proven expertise in designing long-term business sustainability solutions in highly complex and competitive industries.
His experience is both board and executive, with responsibilities including, risk management, finance, accounting, corporate strategy and governance; having held senior operational and financial roles in SE and East Asia for Tate & Lyle PLC, as well as a Director for Tate & Lyle Group subsidiaries and related companies
He is currently an Independent Non-Executive Director of the Geraldton Fishermen's Co-operative Ltd, Western Australia Exporter of the Year in 2019, Hay Australia Pty Ltd and Chair of Kalyx Australia Pty Ltd. Tony is also active in the not-for-profit sector including as a Non-Executive Director of The Collaborative Research Centre for Honey Bee Products and a Non-Executive Director of Chorus Australia Limited.
Tony holds a Bachelor of Business and an MBA from Curtin University, is a Member of CPA Australia and is a Graduate of the Australian Institute of Company Directors.