What is the Coffs Agrifood Living Lab?
Led by Future Food Systems (FFS), in partnership with the City of Coffs Harbour and Queensland University of Technology (QUT), the Coffs Agrifood Living Lab or CALL, is a collaborative platform bringing together multiple stakeholders from industry, government, academia and community to exchange information, knowledge and ideas for the purpose of creating new opportunities for the region's agrifood sector.
CALL will facilitate stakeholder collaboration through a dedicated physical space hosted by the City of Coffs Harbour, as well as a virtual (online) space, and will be a hub for a variety of activities, including workshops and marketing initiatives to encourage innovation and boost returns for the region.
Whether its entry into domestic or international markets, marketing initiatives, value addition, product expansion, brand awareness or overcoming business challenges, CALL will play a key role in unlocking the amazing opportunities on offer to Coffs' agrifood sector.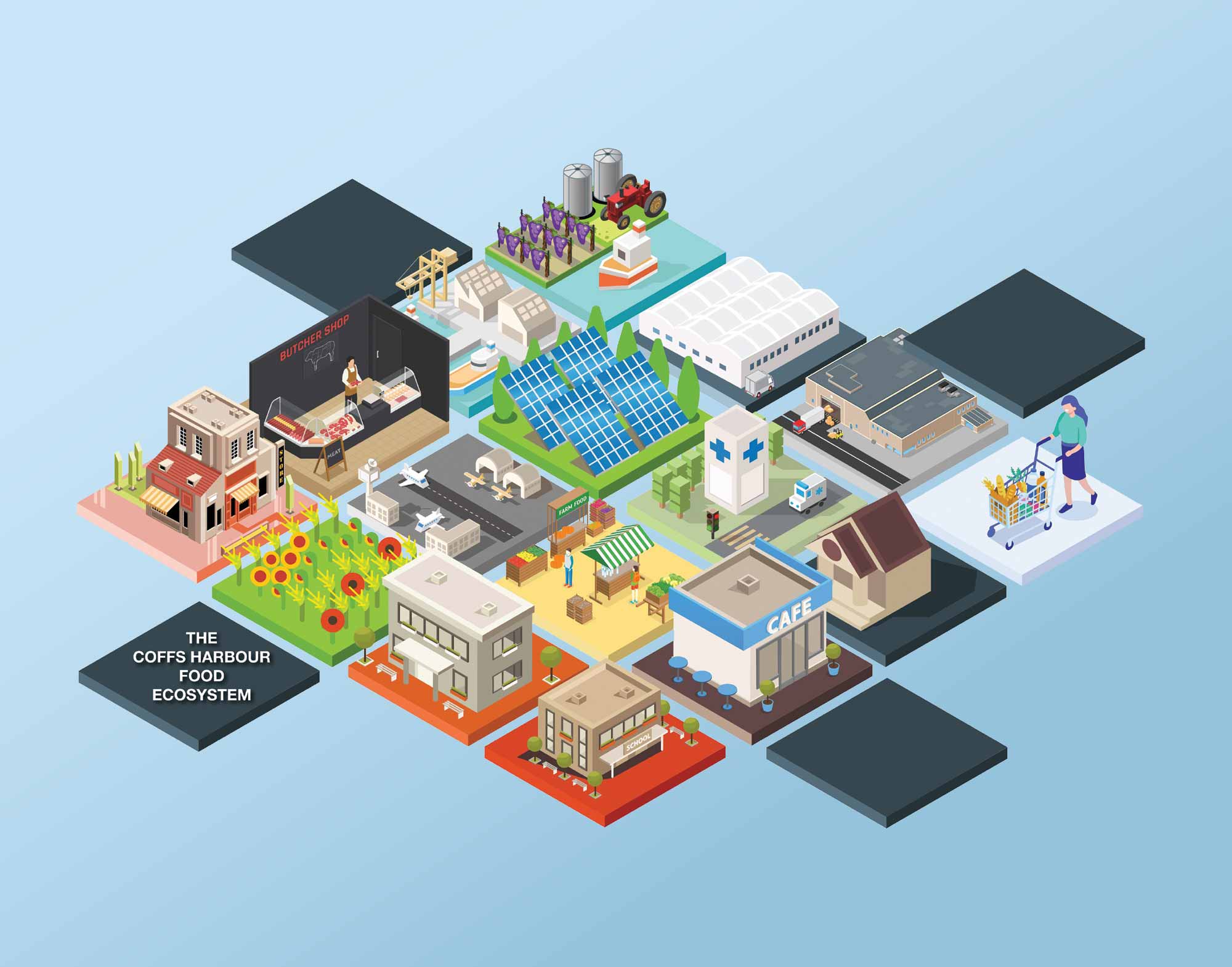 What are the expected outcomes and benefits of the Coffs Agrifood Living Lab for local producers and food and beverage manufacturers?
Collaboration and innovation for mutual benefit: Coffs Agrifood Living Lab aims to facilitate improved collaboration, shared knowledge and innovative partnerships among agrifood businesses and other stakeholders in the region. This collaborative spirit is expected to yield improved agrifood and economic outcomes.
Enhancing Coffs' reputation: Building on the existing 'Coffs Coast Harvest' brand to establish and promote a recognisable agrifood brand for Coffs region, leading to a reputational boost and increased awareness of Coffs' diversity of food producers and products.
Skills development: Opportunities for locals to gain practical knowledge and skills in agrifood-related areas, leading to a more sustainable, better equipped agrifood-sector workforce for the region.
Strategic planning: A co-designed Coffs Agrifood Precinct concept and a fully articulated business case for improving food production, technology, processing and distribution in the region.
Stakeholder participation
There are a number of stakeholders from across Coffs' agrifood ecosystem that we want involved in the Coffs Agrifood Living Lab, to create a solid foundation for the project and to ensure representation from across a diverse range of businesses, academic institutions and government. Do you represent one of the following stakeholder groups? If so, we want you involved.
Industry: fruit and vegetable growers, animal producers, wineries, breweries, green grocers, bakeries, restaurants, cafes, agritourism operators, independent food stores, food and beverage manufacturers, food and beverage exporters
Academia: universities, TAFE institutions, colleges, schools
Government: federal, state, local
Do you have a question about the Coffs Agrifood Living Lab project or would like to be involved? Contact info@ffscrc.com