'Program 2030: Doubling Australian Food and Agribusiness' is a multi-year program led by the Commonwealth Government's Food and Innovation Australia Limited (FIAL).
In its report Capturing the Prize: The A$200 billion opportunity in 2030 for the Australian food and agribusiness sector, released in October 2020, FIAL identified 19 key growth opportunities for the sector as well as 10 trends that will be critical in shaping its future over the coming decade.
Now, FIAL is setting the strategic direction of Program 2030, with a view to making the most of the opportunities identified in Capturing the Prize.
One of its initial tasks is to develop a roadmap for the coming decade. To that end, FIAL has brought together experts and decision-makers from across the food and agribusiness value chain, including industry and research participants in the Future Food Systems CRC.
In the period leading up to Christmas 2020, FIAL ran initial working-group briefings, four roadmap development workshops, and several cross-team roadmap development sessions to discuss each of the 19 identified growth opportunities and develop draft 'opportunity roadmaps'.
These roadmaps will guide strategies for expansion in their respective areas over the next decade and will feed into the formulation of a single, overarching Roadmap to 2030 for the sector that capitalises on the identified opportunities for job-creation, value-adding and resilience-building.
Future F&A sector trends: FIAL's top 10
The 10 future trends identified in Capturing the Prize and corroborated by recent industry and independent reports as key in shaping the future of the food and agribusiness sector are:
urbanisation and the growth of the global 'consuming class';
increasing physical connectivity;
dietary shifts for health and ethical reasons;
environmental constraints impacting production;
technological advances;
an ageing population;
government regulations and policy;
growing concerns about food security;
a 'new age' of geostrategic concerns; and
the rise of food provenance.
Economic growth opportunities for the sector
The 19 major opportunities for economic growth in Australia's F&A sector, identified by AlphaBeta and grouped under four key themes, are as follows (ranked by overall size of the potential 'prize'):
health and wellness;
traditional proteins (meat, egg, dairy);
supply-chain transformation;
direct-to-consumer models;
targeted eating;
food loss and waste;
soil, water and land management;
animal feed and health;
energy-smart foods;
food fraud and safety;
plant-based and alternative proteins;
urban agriculture;
sustainable fisheries;
reducing packaging waste;
protected cropping;
technology in smallholder farms;
precision agriculture and big data;
sustainable inputs; and
advanced breeding and fertilisation.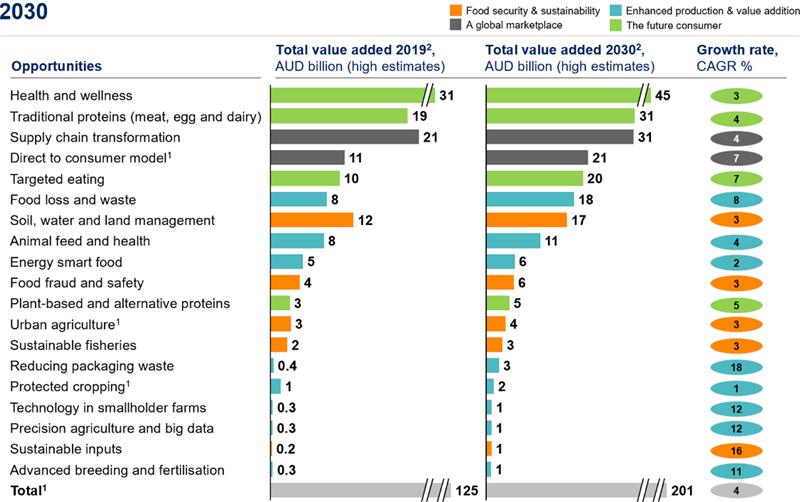 Note that in some instances, such as for the opportunities presented by Sustainable inputs, or Precision agriculture and big data, the category growth potential is large but starts from a low base. In the case of other opportunities, such as Health and wellness, the market is already large, so even though the expected growth potential percentage is relatively small (just 3 per cent), the size of the potential additional value represented by growth in this area is great.
Why is this important?
Few food and agribusinesses have been unaffected by the COVID-19 pandemic. Disrupted food supply chains and social distancing have led businesses to innovate, and have heightened recognition of the essential role the sector plays in food security, locally and globally.
The nation's food and agribusiness sectors are set to play a key role in Australia's economic recovery post-pandemic, with several growth areas ripe for further expansion over the next decade, including health and wellness, supply-chain transformation, direct-to-consumer models and more.
This outcome is far from a forgone conclusion, however. To fulfil its potential, Australia's F&A sector needs to operate differently, contends FIAL, explaining its Program 2030 initiative.
'Currently, the sector operates in many cases in isolation from each other, along different supply chains, often to the same market,' FIAL states. 'We operate as multiple commodities, organised independently from each other, duplicating effort and resources. Often we compete rather than are co-creators of value-added food products.
'This needs to change for us to build a more sustainable food and agribusiness value chain at least double its current value.'
Sector transformation means more skilled jobsFIAL analysis found that by 2030 there could be an additional 304,000 people employed in the sector, with a total of 842,000 additional jobs. The greatest job opportunities – many of them skilled – will likely be in the areas of health and wellness, supply-chain transformation and targeted eating.
Given the sector's current labour shortage and demographics, however, 'significant effort, coordination and focused investment will be required to retain and retrain existing employees, and attract new entrants to the sector', FIAL cautions.
Many of these new positions will require upskilling but presumably, better-paid jobs (as well as ancillary jobs, such as in education and training) will be the result.
A collaborative, sector-wide response
FIAL is calling for sector-wide collaboration to determine the best collective response to the growth opportunities, trends and themes its research has identified for Australia's food and agribusiness industry.
'Operating as separate commodities and sectors, chasing individual targets has already cost us dearly,' it states. 'The Growth Centre's analysis shows the sector, currently valued at $61B*, could be valued at $125B if we had pursued the 19 growth opportunities earlier.'
Now is the time for action, FIAL asserts: If our F&A industry makes a concerted effort, it can recoup the losses of 2020 (and then some) over the next decade, transforming insights into substantial, sustainable returns.
Sources
'Doubling Food & Agribusiness by 2030' brochure (Sept 2020) I FIAL
'Program 2030:Doubling Australian Food and Agribusiness' PowerPoint presentation (Sept 2020) I FIAL