Launched on 26 February by NSW Spatial Services and CSIRO, phase one of the NSW Spatial Digital Twin – a virtual 4-D (3-D plus time) model of Western Sydney's built and natural environment – represents a 'step change' for urban and infrastructure planning, giving policy-makers, planners and the public a detailed view of what our future environs could look like.
Developed by CSIRO's digital technology arm Data61 in collaboration with NSW Department of Customer Service's Spatial Services division, the Digital Twin is built on Data61's TerriaJS platform, which also powers the National Map and National Drought Map. The secure-by-design, federated platform, incorporating Data61's open-source catalogue technology MAGDA, aggregates vast amounts of information drawn from public agencies and the private sector, combining this with data from sensor, satellite and drone technologies, to show how Western Sydney has changed, is changing and will change over time.
The detailed visualisation is accessible via web browser, with most of its data publicly available. Built-in security ensures sensitive data can be accessed only by authorised individuals.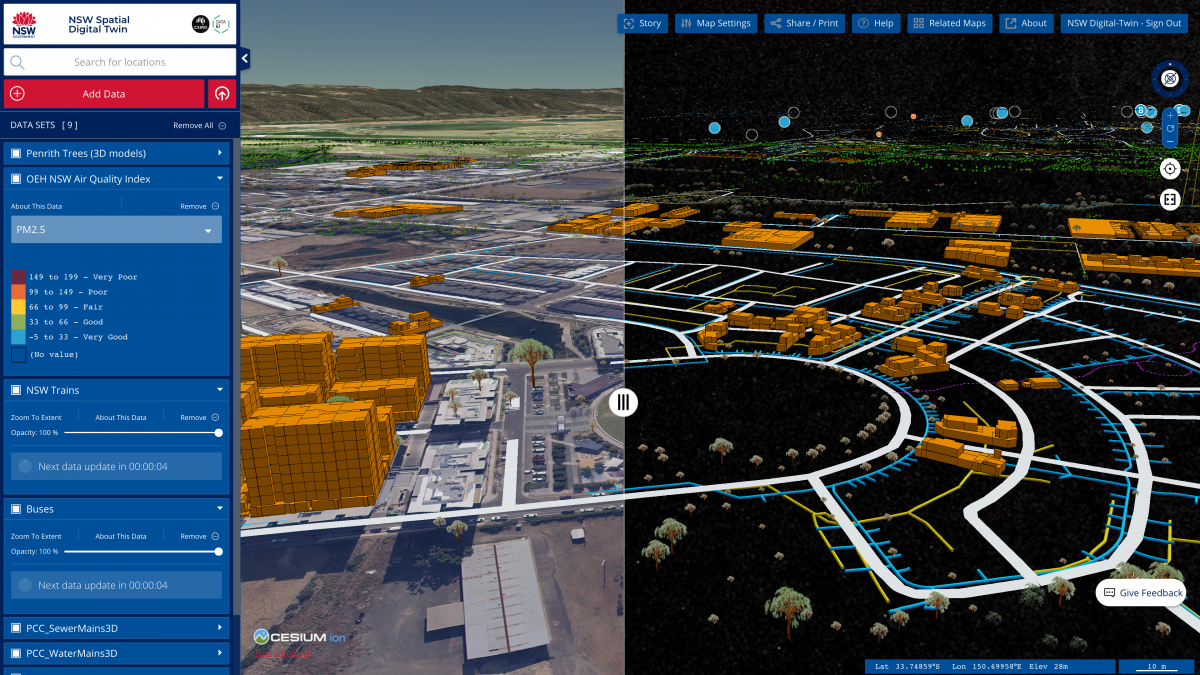 Mats Henrikson, Geospatial Web Systems Group Leader at Data61, which developed the technology behind the model, says the NSW Spatial Digital Twin will enable better-informed planning decisions, cutting costs and boosting efficiencies.
"The digital twin represents a step change in how we visualise environments and processes taking place in them," Henrikson explains.
"Cities have never been so data-rich as a result of connected sensors and … this creates incredible opportunities to overlay 3-D/4-D data from satellite and drone technologies, which is spatially accurate, to show the bigger picture of what's happening above and below the ground over time.
"An infrastructure developer can now use the digital twin to identify the location of underground utilities before building works commence or see the potential impact of planned future infrastructure," Henrikson says.
This first phase of the NSW Spatial Digital Twin includes visualisations of the local government areas (LGAs) that make up the Western Sydney City Deal and Greater Parramatta, extending to the Olympic Peninsula. The model will be extended to include various regions of New South Wales in coming years.
By 2028, data-driven urban management is forecast to be a $5-10 billion export opportunity across the Asia-Pacific region, says CSIRO.
Source: CSIRO