Ripening tech is a crucial part of the mango supply chain – but ensuring mangoes reach consumers at the right time, and in peak condition, isn't easy.
A soft-fleshed tropical fruit, mangoes are exceptionally temperature-sensitive; to ripen, they're typically kept at 25 degrees Celsius for three days in special ripening rooms, then cooled at around 13 degrees C – chill them at anything below 10 degrees C and browning will occur.
Not only are ripening chambers pricey, they create 'lag time' in supply. And by the time the pre-ripened mangoes reach consumers, who may be thousands (or tens of thousands) of kilometres away, they may have passed their peak.
If this process could be simplified, speeded up and made more flexible, it would have a huge positive impact on mango supply chains globally.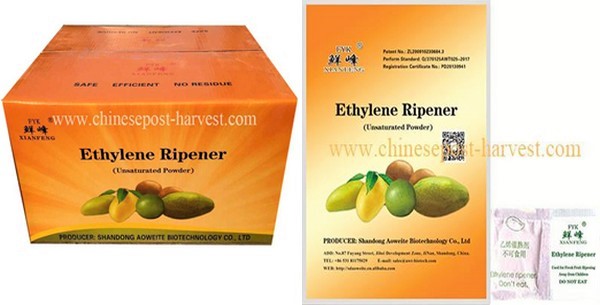 What is FNK and how does it work?
China-based company Shandong AWT Biotech Co Ltd, a leading firm in the field of ripening stimulants, believes it has solved all these problems with a small, simple and cost-effective product that it calls 'FNK'.
The company assures that FNK is a 'safe, healthy' ripening stimulant that allows growers to bring mangoes to peak eating condition quickly and simply, in transit or in storage.
It comes packaged in small sachets that can be popped into fruit boxes, turning them into flexible 'mobile ripening chambers' that can be used in transit, in retailers' storage rooms – basically, wherever and whenever they're needed.
The product's active element, ethylene gas, stimulates mango ripening through a combination of RNA and proteins, which together speed up the fruit's 'breathing' process, thereby hastening ripening.
"Small packets of ethylene ripener can be added to the cardboard box with mangoes, during transport or in the store. The packet is added to the cardboard box, and plastic around the box controls the input of air and the expulsion of CO2," AWT Biotech manager Li told Fresh Plaza in early 2021.
"When kept around 25 degrees Celsius, two small packets of ethylene ripener can bring a 10-kg cardboard box of mangoes to the right degree of ripeness in 2-3 days."
Shandong AWT biotech – which has also developed ripening stimulants for bananas and grapes – is currently looking for international partners in its FYK technology.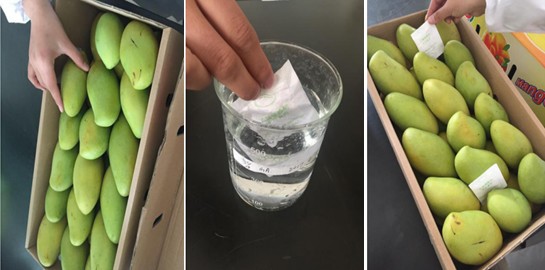 Partner with Shandong AWT in ripening technology
To discuss business opportunities, contact Shandong AWT Biotech Manager Wang via WhatsApp on +86 186 1522 5880, WeChat on +861 861 522 5869, or via email on sales@awt-biotech.com
For more information on this and other ripening products from Shandong AWT Biotech, visit the company's website.
Read more
Read the full Fresh Plaza story.
Source: "FYK" mango ripening stimulant turns cardboard box into ripening room I Fresh Plaza