San Francisco-based food-tech firm Eat Just has gained the world's first regulatory approval for commercial production of cell-cultured chicken.
In a major win for Eat Just – and for the lab-grown meat industry generally – the Singapore Food Authority (SFA) has confirmed that the firm's cell-cultured chicken meat meets the island nation's food-safety standards.
Eat Just's cultured chicken pieces will be used as an ingredient in fried 'chicken nuggets' for sale as a premium specialty in high-end Singaporean eateries. Eat Just also has plans to develop cultured-chicken fillets.
This cultured chicken doesn't come cheaply; in 2019, the company guesstimated, each piece could cost a customer as much as $50, meaning that it will probably remain a 'super-premium' product for at least the first few years.
SFA tick of approval
SFA regulatory approval for Eat Just's cultured chicken meat was granted after an extensive safety review of the 'novel food'.
According to Eat Just, the firm's team of scientists, product developers and regulatory experts provided extensive documentation on its cultured chicken and the propriety process used to produce it, and demonstrated the consistency of its manufacturing by making more than 20 production runs in its 1,200-litre bioreactors.
Testing showed that Eat Just's harvested cultured chicken met Singapore's safety and quality standards for poultry meat, with exceptionally low and significantly cleaner microbiological content than conventionally raised chicken, and that no antibiotics were used in its production.
The SFA's analysis also found that the firm's cultured chicken product has 'high protein content, diversified amino-acid composition, high relative content in healthy monounsaturated fats and is a rich source of minerals'.
Eat Just's cultured chicken was confirmed to be nutritious, and safe for human consumption by an external panel of scientific authorities in Singapore and the United States with expertise in medicine, toxicology, allergenicity, cell biology and food safety.
Eat Just says the approval shows Singapore's support for innovative, sustainable solutions addressing its future food supply.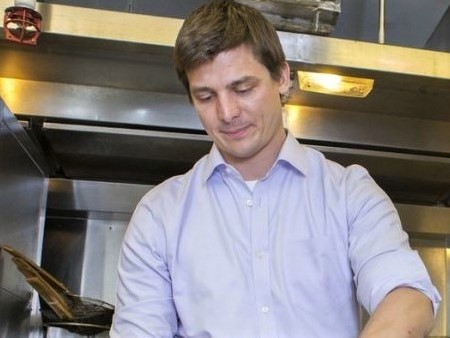 Manufacturing cultured meats – and other alt-proteins – in Singapore
Eat Just's cell-cultured chicken product was manufactured at the Food Innovation and Resource Centre, co-run by Singapore Polytechnic and Enterprise Singapore.
Josh Tetrick, co-founder and CEO of Eat Just, said he'd chosen Singapore as the launchpad for the firm's first cultured chicken product because of its support for food technology.
"Singapore has long been a leader in innovation of all kinds, from information technology to biologics to now leading the world in building a healthier, safer food system," he said.
Eat Just has teamed with Singaporean manufacturers to formulate the final product. The cultured chicken meat will be 'grown' initially in a 1,200-litre bioreactor that can produce enough to supply a handful of restaurants.
Initially, it will use a growth medium that includes foetal bovine serum (extracted from cattle foetuses), mixed with mung-bean-based plant protein and breadcrumbs to form the final product.
According to Eat Just, it will replace the bovine starter with a 100 per cent plant-derived serum in its next production line –not included in the SFA review simply because it wasn't ready when the testing process started two years ago. This will reduce the price considerably, Tetrick told the US's Food Dive.
Some industry observers, such as Cambridge, UK-based emerging-tech research/consultancy group IDTechEx, have questioned whether the bioreactors used by Eat Just will be sufficiently large to enable commercial-scale production, noted a recent story in Farm Online.
In that story, IDTechEx contended that manufacturing economically viable cultured meat 'may require bioreactors dozens of times larger than currently exist', and that 'serum alternatives to bovine-sourced growth mediums were also expensive [albeit dropping, Tetrick asserts] and a major contributor to production costs'.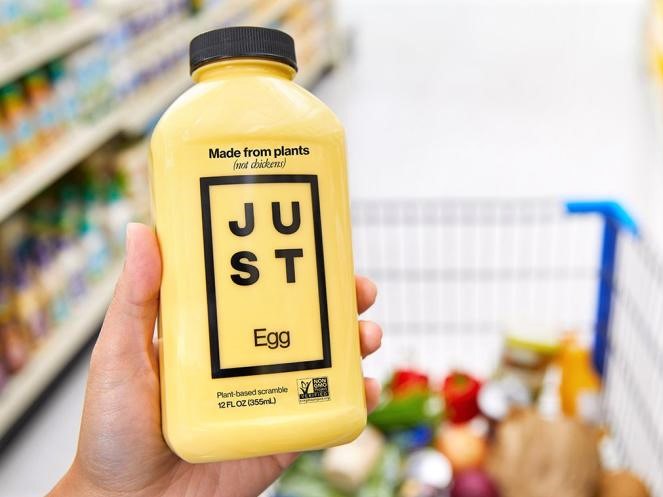 Plant-protein-based JUST egg production in Singapore
Earlier in 2020, Just Eat formed a partnership with a consortium led by agribusiness investor group Proterra Investment Partners Asia to construct and operate a plant-protein production facility in Singapore. The facility will make Eat Just's mung-bean-based JUST Egg products to fulfil Asian demand for the vegan egg-substitute.
Proterra, an investment arm of US-based Cargill, also has stakes in large-scale cropping, mixed farming and sugarcane-growing operations across eastern Australia.
Food self-sufficiency and sustainable production
Singapore is the first country in the world to approve any form of cell-cultured meat for commercial sale.
Regulatory approval for cell-cultured meat is in line with the island state's plan to become 30 per cent self-sufficient in food production by 2030 (currently, it imports 95 per cent of what its citizens eat) – in part by developing microbial protein production and cultured meat.
It is expected that Singapore's cultured-meat testing standards, adopted to evaluate Eat Just's products, will prove useful to other regulators and may help persuade other nations of the safety – and superior environmental credentials – of cultured meat.
"I'm sure that our regulatory approval for cultured meat will be the first of many in Singapore and in countries around the globe," Tetrick said.
Sources
Eat Just to sell cultured chicken nuggets in posh Singapore eateries I Farm Online
World first: Eat Just gets regulatory approval for cell-based chicken ingredient in Singapore I FoodNavigator Asia
Singapore becomes first country in the world to approve lab-grown meat I Mashable
Eat Just lands first regulatory approval for cell-based meat I Food Dive